August was a wonderful, crazy month at Chez Jones. Construction on our kitchen hit a crescendo with the cabinets, countertops, new sub-floor, and tile all going in. During all the dust and hammering we had two sets of very patient house guests and had lots of fun sharing all our favorite Summer LA activities.

This recipe is just the thing for those hectic days. This simple flatbread takes only a few ingredients and 15 minutes to pull together but the result is so comforting and satisfying. It's also fresh and light enough for hot end of Summer days. I make this in my little toaster oven so I don't have to heat up the whole kitchen.
You can buy Za'atar spice mix in most markets but I love to make my own.  Either will work for this recipe.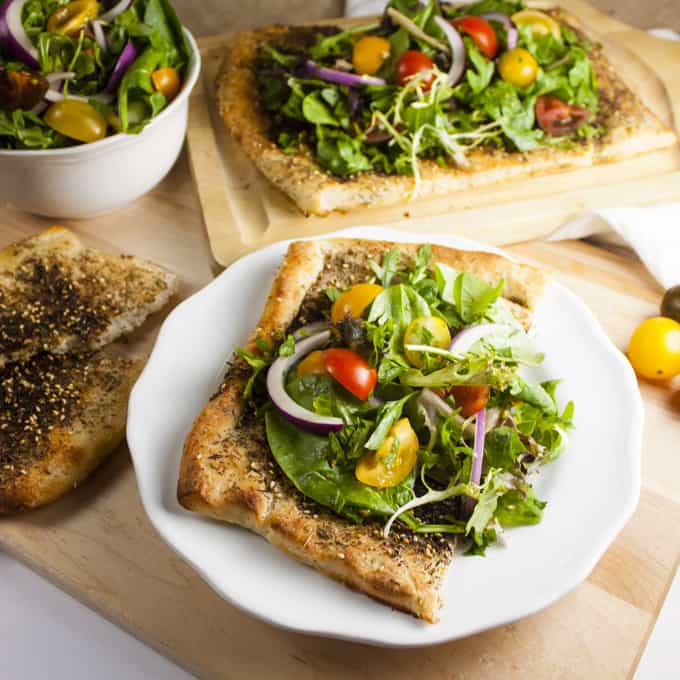 Ingredients
1 lb pizza dough
1/3 cup Za'atar (recipe below)
olive oil spray (I use my misto)
4 c Spring Mix
1/4 c fresh parsley
1/4 c fresh cilantro
1 pint heirloom cherry tomatoes, halved
1/2 small red onion, thinly sliced
1 tbs olive oil
1 small lemon, juiced



Za'atar

3 tbs thyme
2 tbs sumac
2 tbs roasted sesame seeds
1 tbs oregano
1/2 tsp salt
1/2 tsp cumin
Instructions
Preheat the oven to 425F.
Spray a cookie sheet with olive oil.
Divide the dough in half and roll each half into a long oval and place on the cookie sheet. Spray the dough with olive oil and sprinkle with Za'atar.
Bake until the crust is golden brown, about 7-9 minutes.
Meanwhile, combine lettuce, parsley, cilantro, tomatoes, and onion in a large bowl. Toss with olive oil and lemon juice.
Divide the salad between the flatbreads and serve. Top with light feta, if desired.
Nutritional Information
Calories 355 / Total Fat 6.7g / Saturated Fat 0.6g / Trans Fat 0.0g / Cholesterol 0mg / Sodium 553mg / Potassium 372mg / Total Carbohydrates 58.0g / Dietary Fiber 10.5g / Sugars 4.6g / Protein 1.7g
Weight Watchers Points: 7 / PointsPlus: 8
https://www.homesweetjones.com/2014/09/zaatar-flatbread/