This recipe comes courtesy of my friend Bann Roy .  I first encountered Bann through his incredible short film Aashpordha.  If you ever have a chance to watch it, I can't recommend it highly enough.
Apparently, his talents extend beyond filmmaking. This recipe has so much flavor it's hard to believe how easy and healthy it is.
Bengoon-Pora is Bengali for Burnt Eggplant and the signature flavor comes from charring the eggplant over an open flame. A grill is preferred but, in times of need, Bann swears a gas stove or even electric range covered in foil is an adequate, if messy, alternative.  What isn't acceptable, I understand, is roasting in the oven.
Eggplants come in both male and female varieties.  The female has more seeds and, since seeds are responsible for the bitterness often associated with eggplant, I always hunt for the males.  Males have a flatter dimple on the non-stem side and feel lighter for their size than seed-heavy females.
The other critical flavor for this dish is mustard oil.  I easily found a bottle at my local Indian market but didn't notice until I returned home that it didn't have nutritional information and was labelled "for external use only."  Apparently some lower quality oils do this in order to avoid USDA requirements on import.  The oil was safe to eat but, when Bann shared some of his higher quality oil, I couldn't believe the difference in flavor.  I'll definitely be splurging for the good stuff from now on.
Finally, if you like, Bann recommends adding a pinch or two of sugar.  I left it out to keep this dish paleo-friendly but I can see it being delicious either way.
As tasty as this is when served immediately, I swear it gets even better after letting it sit overnight while the flavors blend making it a great make-ahead option.  Prep the other ingredients while charring the eggplant and you'll have a tasty vegan dinner on the table in under 30 minutes.  We served this with whole wheat chapatis per Bann's recommendation although it would also be wonderful over rice for a gluten-free dinner.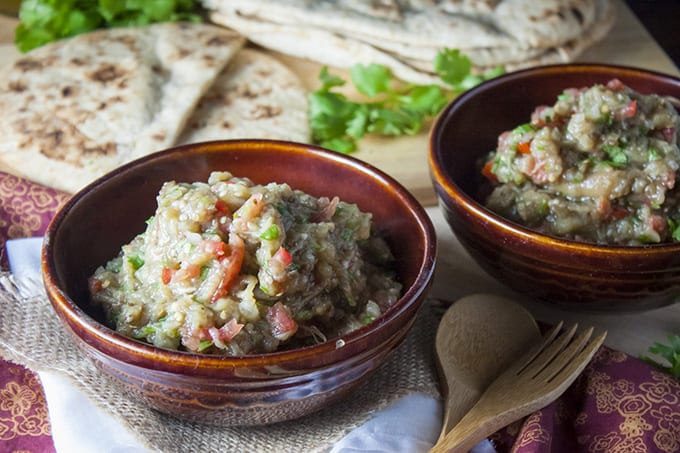 Ingredients
2 large eggplant
2 tbs mustard oil
1/4 c onion, finely diced
2 small plum tomatoes, finely diced
2-4 cloves garlic, minced
3 serrano chiles, seeded and minced, more or less to taste
1/2 bunch cilantro, chopped
1/2 tsp garam masala, optional
salt and pepper, to taste
Instructions
Heat grill to high and cook eggplant, turning to expose all sides to the flame, until charred and deflated, about 20 minutes.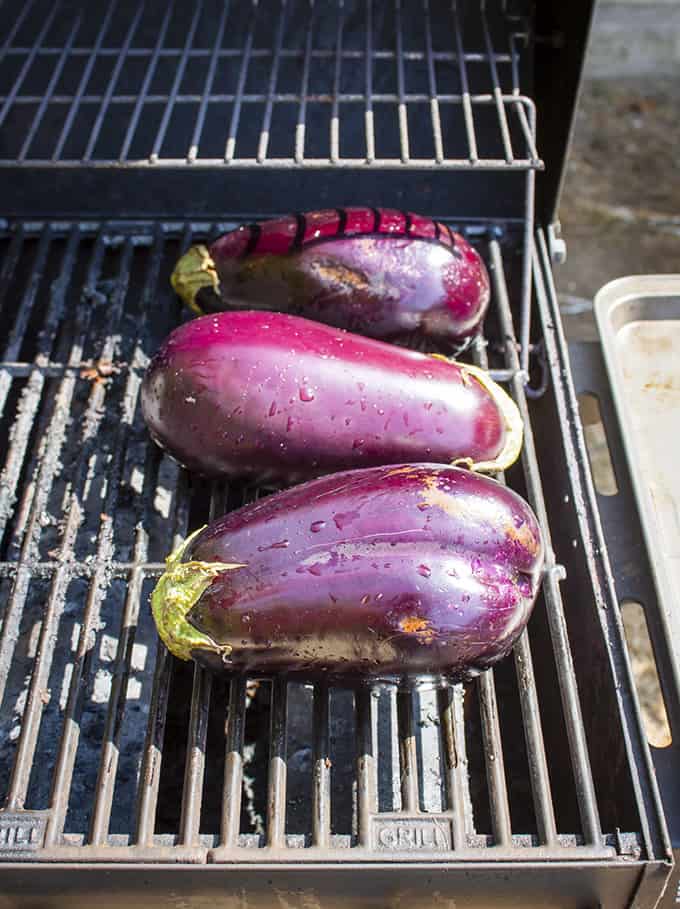 Let sit until cool enough to handle.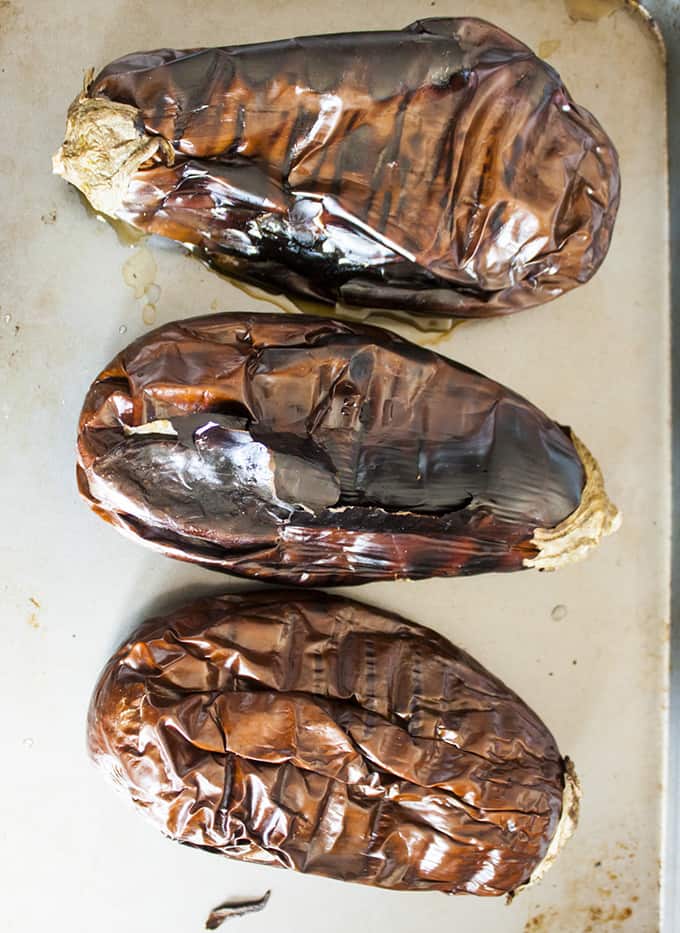 Peel skin and place eggplant flesh in a medium bowl.
Add remaining ingredients and mash until well-blended.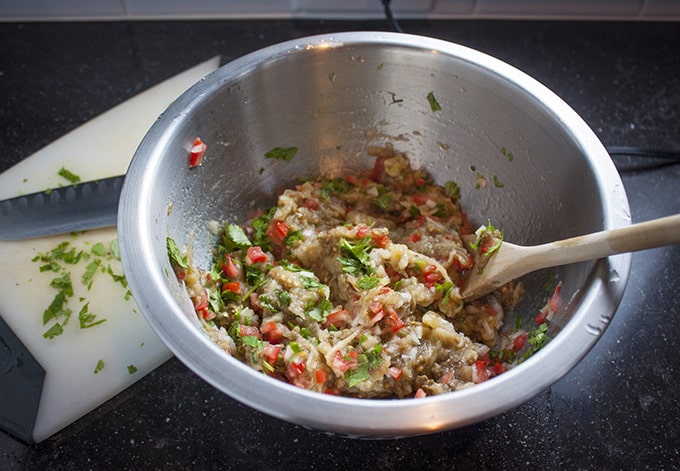 Serve with chapatis, also called rotis, or over basmati rice.
Nutritional Information
Calories 135
Total Fat 7.5g
Saturated Fat 0.8g
Cholesterol 0mg
Sodium 13mg
Potassium 645mg
Total Carbohydrates 17.1g
Dietary Fiber 8.8g
Sugars 9.0g
Protein 3.0g
Weight Watchers Points: 3
PointsPlus: 3
https://www.homesweetjones.com/2014/10/begoon-pora-burnt-eggplant/