This recipe was inspired by the Curried Israeli Couscous from Mendecino Farms, a restaurant that often caters my company meetings. Unfortunately, the salad is only on their catering menu.  After about 10 lunch meetings in three weeks my team at work was ready to revolt and I finally admitted that I'd need to find a smaller-scale way to get my fix.
Not only is this version just as delicious as the LA restaurant's tasty offering, I suspect it's a whole lot lighter.
Use about as good a curry powder as you can get your hands on and this will become a new favorite.  It might be a good idea to double the recipe – Brad and I fight over the leftovers every time I make this and I always regret not making more.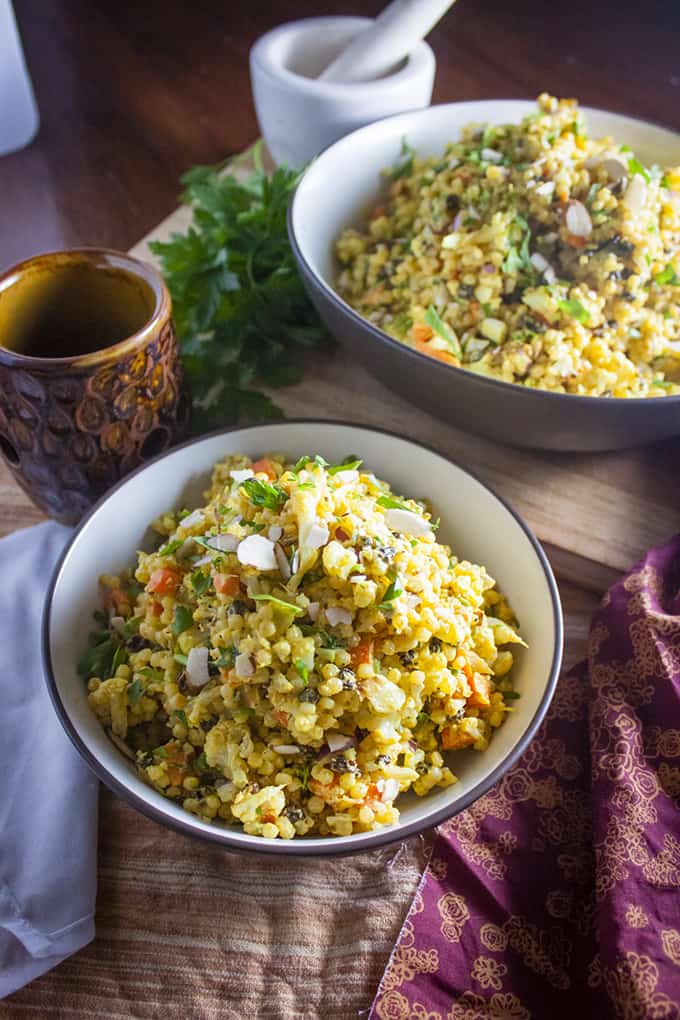 Ingredients
1 medium head of cauliflower
olive oil spray
1 1/2 c pearl couscous
1 c nonfat Greek yogurt
4 tbs olive oil
2 tsp white wine vinegar
2-3 tbs curry powder, to taste
1/2 tsp kosher salt
1 tsp freshly ground black pepper
1/2 c small-diced carrots
1/2 c minced fresh flat-leaf parsley
1/2 c currants
1/4 c small-diced red onion
1/4 c sliced almonds
Instructions
Preheat oven to 450F and cover a baking sheet with foil. Break the cauliflower into florets, season with salt and pepper, and arrange in a single layer on the baking sheet. Spray with olive oil and roast until beginning to brown, about 20-25 minutes, turning once during cooking.
Meanwhile, cook couscous according to package instructions.
Whisk together the yogurt, olive oil, vinegar, curry, salt, and pepper. Stir into cooked couscous. Add the carrots, parsley, currants, almonds, and red onion. Add roasted cauliflower, stirring and breaking up the florets to desired size. Mix well, and season to taste. Serve warm or at room temperature.
Nutritional Information
Calories 341
Total Fat 11.8g
Saturated Fat 1.5g
Trans Fat 0.0g
Cholesterol 0mg
Sodium 297mg
Potassium 652mg
Total Carbohydrates 49.3g
Dietary Fiber 7.3g
Sugars 6.5g
Protein 14.1g
Weight Watchers Points: 7
PointsPlus: 9
https://www.homesweetjones.com/2014/10/curried-israeli-couscous/