Brad has officially declared this his favorite shirataki noodle dish.  For me, I can't decide between this, the cold sesame noodles, or curry noodles.
If you haven't read my spiel before (I really need to create an information page I can link to rather than launching into this every post), shirataki noodles are vegan, gluten-free, calorie-free noodles made from the konjac yam.  They have very little taste on their own but absorb the flavors of the rest of the dish.  The packing liquid that they're stored in is a little stinky so it's a good idea to boil them for a minute to remove the odor.  I'll sometimes just run them under hot water when I'm lazy (which is almost always).  I use Miracle Noodle brand and actually have them set up for monthly delivery.
Get 10% Off on All Miracle Noodle Products  Coupon Code: AFF10 
In this particular dish, the noodles soak up all the spicy, complexly flavored sauce.  They also make it possible to eat a gigantic portion for only 326 calories.
The secret to the flavor of this dish is the Szechuan peppercorns which have a flavor unlike anything else.  They almost have a numbing effect on the tongue.  You can leave them out or swap with red or black pepper but I really recommend using them.  Other than the peppercorns there aren't any exotic ingredients that you can't find at the local supermarket or anything so critical that you can't leave it out if necessary.
All in all, this is a super tasty, gluten-free meal that comes together quick enough to make it a great choice for weeknights.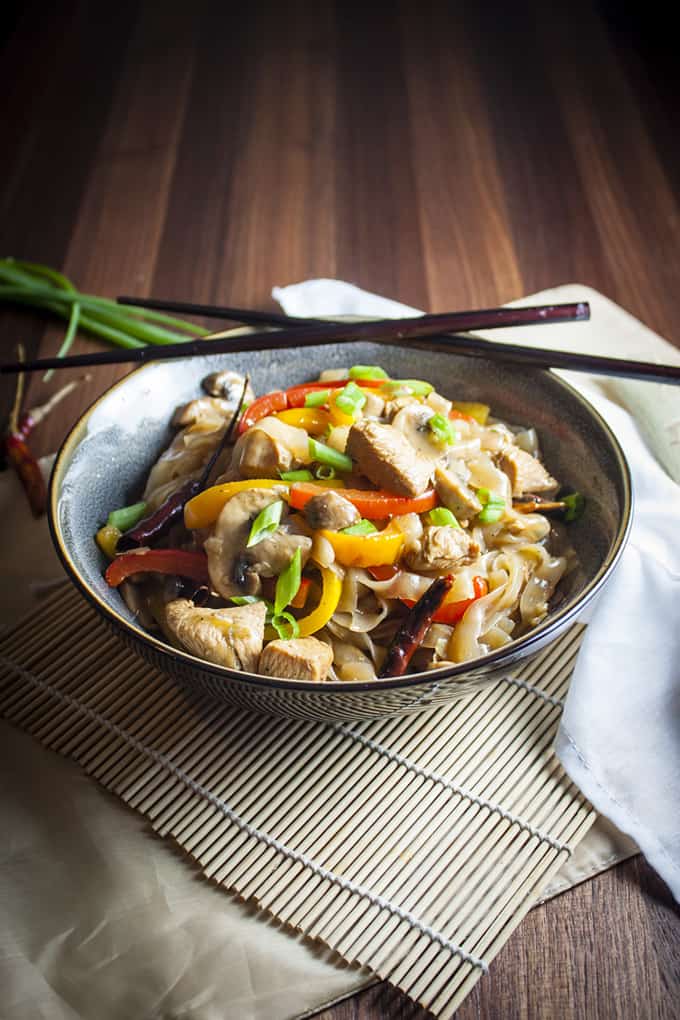 Ingredients
1 lb boneless, skinless chicken breasts, cut into 1" cubes
6 6-oz bags shirataki noodles
1 tsp vegetable oil
8-10 dried red chiles, adjust to taste
6 oz mushrooms, sliced
2 bell peppers, julienne
1/4 c unsalted peanuts
2 green onions, green parts, finely chopped



Marinade

2 tbs low sodium soy sauce (gluten-free if preferred)
1 tbs dry sherry
2 tsp cornstarch



Sauce

1/2 c chicken broth
6 tbs low sodium soy sauce
2 tbs balsamic vinegar
1 tbs sherry
2 tbs sesame oil
1 tbs hoisen sauce
2 tbs sugar
1 tbs cornstrach
2 tsp szechuan peppercorns, ground
Instructions
Combine the marinade ingredients in a medium bowl. Add cubed chicken breast and let sit at least 20 minutes.
Meanwhile, rinse shirataki noodles and boil in a large pot for 1-2 minutes to remove packing liquid odor. Drain and set aside.
Whisk together sauce ingredients in a medium bowl and set aside.
Heat a large wok or skillet over high heat. Turn on the vent because this will get smoky. Swirl the vegetable oil to coat the pan and add the chilies. Stir fry until the chilies begin to show brown spots, about 30 seconds to a minute.
Add the mushrooms, peppers, and chicken, discarding excess marinade. Cook until chicken is browned, about 3-5 more minutes.
Stir in the sauce and peanuts and cook another 1-2 minutes until sauce is thickened.
Garnish with green onions and serve.
Nutritional Information
Calories 326
Total Fat 14.9g
Saturated Fat 1.7g
Trans Fat 0.0g
Cholesterol 55mg
Sodium 1527mg
Potassium 623mg
Total Carbohydrates 20.6g
Dietary Fiber 2.9g
Sugars 12.9g
Protein 28.5g
Weight Watchers Points 7
PointsPlus 8
https://www.homesweetjones.com/2014/10/kung-pao-chicken-shirataki/