While this isn't my best photographic effort, it is one of my best tagine efforts.  Don't let the mediocre pictures fool you – this is crazy delicious.  The lemon and olive mingle unexpectedly well to create a zesty sauce for the tender chicken. Traditional Moroccan spices add depth and a mouthwatering aroma.
This dish uses preserved lemon which is easy to find at Persian markets.  I think it's easiest to cut them into quarters and then peel away the skin.  Discard the innards and thinly slice the peel.
The leftovers make a delicious lunch the next day after the flavors have had a chance to blend even more.
This dish is gluten-free and paleo.  Although we serve it with couscous to soak up all the juices, it would also be wonderful over rice or steamed vegetables.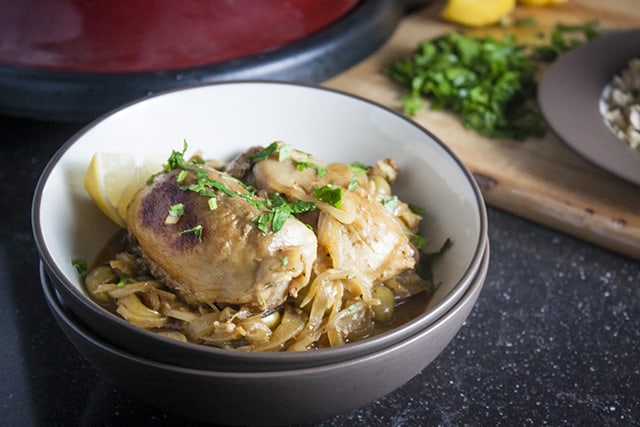 Ingredients
1/4 chicken broth
1 pinch saffron
1 cinnamon stick
1 tbs extra-virgin olive oil
6 boneless, skinless chicken thighs
Salt and freshly ground pepper, to taste
2 tbs Ras al-Hanout, more or less to taste
2 small yellow onions, thinly sliced vertically
4 cloves garlic, minced
2 bay leaves
4 preserved lemons, pulp removed, cut into thin strips
1 c green or black olives, coarsely chopped
1/2 c fresh flat-leaf parsley, chopped
1/2 c fresh cilantro, chopped, plus more for garnish
1/4 c fresh lemon juice
Instructions
Add saffron and cinnamon stick to the chicken broth and set aside to soak.
In a tagine or Dutch oven over medium-high heat, heat 1 tbs olive oil. Season the chicken with salt and pepper. Brown both sides, about 5 minutes per side, and transfer to a plate.
Add the onions to the tagine and cook, stirring, until soft and translucent, about 5 minutes. Deglaze as needed with the saffron soaking liquid. Add garlic, remaining saffron soaking liquid with cinnamon stick, bay leaf and Ras al-Hanout. Simmer an additional 1-2 minutes, until fragrant.
Add olives and preserved lemon. Stir to combine and nestle chicken in onion mixture.
Cover the tagine and cook until the chicken is tender and cooked through, about 20 minutes. Discard the bay leaves and cinnamon stick. Stir in parsley, cilantro, and lemon juice.
Nutritional Information
Calories 293 Total Fat 13.9g Saturated Fat 0.8g Trans Fat 0.0g Cholesterol 105mg Sodium 1004mg Potassium 215mg Total Carbohydrates 10.1g Dietary Fiber 2.5g Sugars 2.8g Protein 25.6g Weight Watchers Points: 7 PointsPlus: 7
https://www.homesweetjones.com/2014/10/lemon-olive-chicken-tagine/