Pumpkin and Butternut Squash Soup is perfect for Fall.  Serve it in these gorgeous pumpkin bowls for an extra special touch or in a regular bowl for a quick and easy weeknight dinner.  Don't hesitate to adjust the squash proportions to your preferences. You can even swap in other varieties such as acorn squash.
Peeling and carving raw squash can be a chore so I used pre-cut butternut squash from Trader Joe's and canned pumpkin (NOT pumpkin pie filling).  If you follow my lead, this soup requires only 5 minutes of active time. Scraping out the pumpkins to make the bowls was the most time consuming part of this dish. If you peel and seed your own squash for the soup you're a much better person than I am but I hope to be like you someday.
To create the bowls, preheat the oven to 400F. Cut the lids off small cooking pumpkins and scrape out the seeds.  Place the pumpkins and lids on a baking sheet and roast until softened, about 25-35 minutes depending on their size.  If you're doing this in advance, you can add an additional pumpkin and use the flesh for the soup in place of the canned stuff.
When you're done using them as bowls, rinse them out and scrape out the flesh for use in pie, pumpkin bread, or even another batch of soup.
If you're making these for Halloween, consider topping with this cute spider web design.  Just fill a sandwich bag with fat free sour cream and snip off a corner.  Draw a spiral in sour cream and then run a toothpick from the center to the edge.
There are so many options with this soup.  Play around and make it your own. It's gluten-free, paleo, and you can replace the butter with olive oil to make it vegan.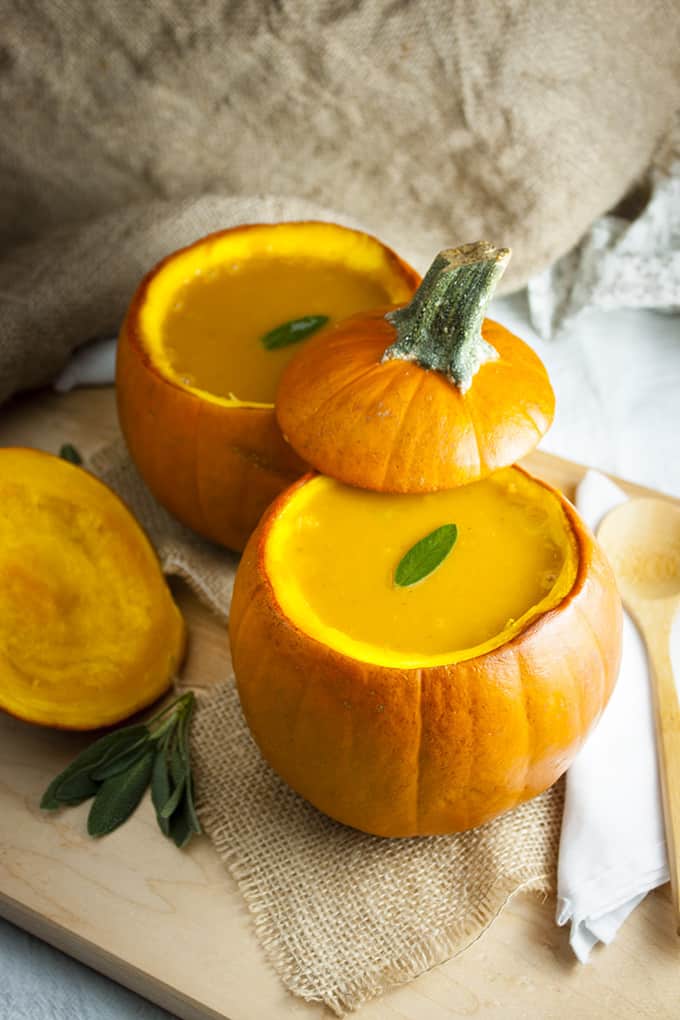 Ingredients
1 tbsp light butter (use olive oil for vegan)
1 onion, diced
4 cups fat free, low sodium chicken broth (use vegetable broth for vegan/ vegetarian)
3 cloves garlic, peeled
1-1/2 lb butternut squash, cut into chunks
1 lb sugar or pumpkin pie pumpkin, cut into chunks (can substitute 1 15-oz can pumpkin)
1 tbsp fresh sage, plus more for garnish
1 tsp fresh thyme
salt and fresh pepper to taste
Instructions
Heat butter in a large pot over medium heat. Add onion and saute, stirring, until translucent, about 4-5 minutes.
Add broth, garlic, squash, and fresh pumpkin (if using). Increase heat to high and bring to a boil. Reduce heat and simmer, covered, until squash is soft, about 20 minutes.
Add sage, thyme leaves and canned pumpkin (if using).
Puree using an immersion blender or very carefully in a standard blender. Simmer 5 more minute and season to taste. Serve garnished with additional sage and sour cream, if desired.
Nutritional Information
Calories 145
Total Fat 2.0g
Saturated Fat 1.0g
Trans Fat 0.0g
Cholesterol 1mg
Sodium 418mg
Potassium 689mg
Total Carbohydrates 26.2g
Dietary Fiber 6.5g
Sugars 7.4g
Protein 8.8g
Weight Watchers Points: 2
PointsPlus: 4
https://www.homesweetjones.com/2014/10/pumpkin-squash-soup-sage/