I can't explain to you how much I love this recipe.  I don't know how just 5 ingredients (not counting salt and pepper) can create such a uniquely flavorful meal. You're just going to have to try it yourself.
Grapes and chicken might sound crazy to some but there's no denying that fruit pairs well with poultry – think cranberry sauce.  The sweet grapes, savory shallot, and fragrant thyme create both a delicious compote for the chicken and a light but mouthwatering sauce.
This dish is so easy – just mix the grapes, shallots, and thyme with olive oil in a large skillet or braiser, put the chicken on top, and cook until the chicken is done and the fruit is tender.  In the end, you only have one dish to wash. 
If you have leftovers (and you might want to double this to see that you do), they make an incredible chicken salad. Chop chicken, grapes, and shallot coarsely and mix with a bit of the sauce and perhaps a spoonful of mayonnaise.  It's fantastic on either a sandwich or a bed of greens.
It's been almost three weeks since I make this meal and took the pictures but just talking about it now I know I'm going to have to make it again very soon. You should, too!
Ingredients
1-1/4 lb seedless grapes
6 to 8 large shallots, peeled and cut into 1-in chunks
1 tbs chopped fresh thyme plus more for garnish
2 tablespoons olive oil, divided
1 4 to 4 1/2 lb chicken
salt and freshly ground black pepper
Instructions
Preheat oven to 400F.
In a large, heavy skillet, roasting pan, or brasier, toss grapes, shallots, and thyme with 1 tablespoon olive oil.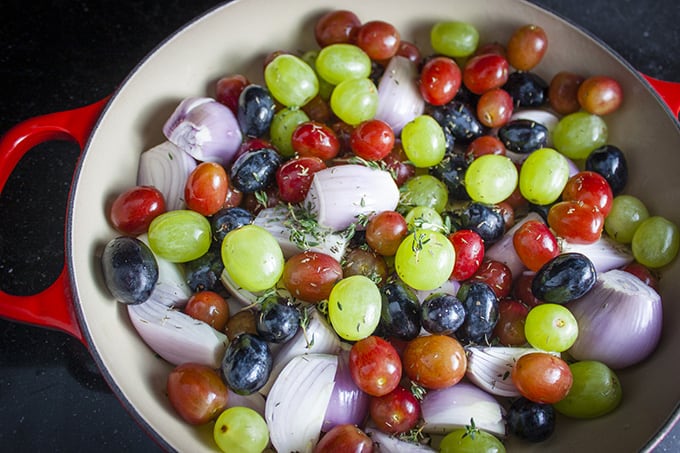 Dry chicken with paper towels and season inside and out with salt and pepper. If you like, truss the chicken to hold the wings and legs close to the body. Place chicken atop the grape mixture.
Roast until the chicken reaches an internal temperature of 165F, about 1 hour.
Transfer chicken to a platter, tent with foil, and let rest 10 minutes. Remove the grapes and shallots with a slotted spoon and place next to chicken.
Transfer pan juices to a small pitcher and skim off any fat. Serve chicken, grapes and shallots with pan juices alongside.
https://www.homesweetjones.com/2014/10/roasted-chicken-grapes-shallots/
Adapted from
Bon Appétit
 via
Epicurious