The recipe for this fantastic Roasted Red Pepper and Pepperoni sauce comes courtesy of my badass supermom sister.  She serves it over pasta which I plan to do next time.  We've been eating a lot of pasta lately so we poured the savory sauce over pan-fried polenta rounds.  No matter what the vessel, you'll be licking you plates.
I never even knew there was such a thing as turkey pepperoni but it turns out it's sold in just about all super markets so this recipe has opened a whole new world of cured meats for me.  Despite the super indulgent ingredients, this hearty meal still comes out under 300 calories and is gluten-free. Though easily fancy enough for entertaining, it's speed and simplicity will make it a weeknight favorite. Serve with a side of mixed greens for a decadent but healthy dinner.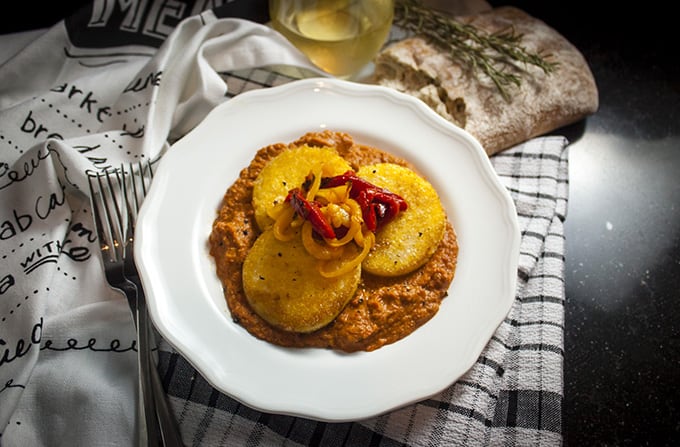 Ingredients
1 18-oz tube polenta
1 bell pepper, seeds removed (I used 1/2 yellow and 1/2 red)
1 tbs olive oil



Roasted Red Pepper and Pepperoni Sauce

3 red bell peppers, seeds removed
1 shallot, peeled
olive oil spray (I use my Misto)
4 oz turkey pepperoni
3 tbs balsamic vinegar
2 tbs olive oil
1 tbs basil pesto
1 tsp fresh rosemary, optional
freshly ground black pepper
Instructions
Preheat oven to 450F and line a baking sheet with foil. Cut all 4 peppers and shallot into quarters. Arrange in a single layer on the baking sheet and spray with oil. Roast, skin side up, until skin is blistered and browning, about 20 minutes.
Transfer vegetables to a bowl and cover with plastic wrap. Let sit 10 minutes to steam the skins. When cool enough to handle, peel skins of peppers and discard.
Add 3 bell peppers, shallot, turkey pepperoni, vinegar, 2 tbs olive oil, pesto, rosemary, and black pepper to a blender or food processor and blend until smooth. Set aside. Thinly slice remaining bell pepper and reserve.
While peppers are roasting, slice polenta into 8 approximately 1-inch discs. Heat 1 tbs olive oil in a skillet over high heat and pan fry polenta discs until brown and crispy, about 5-6 minutes per side.
Serve polenta with sauce. Garnish with roasted pepper slices.
Nutritional Information
Calories 292
Total Fat 14.6g
Saturated Fat 3.0g
Trans Fat 0.0g
Cholesterol 38mg
Sodium 1007mg
Potassium 295mg
Total Carbohydrates 28.1g
Dietary Fiber 3.8g
Sugars 6.3g
Protein 12.5g
Weight Watchers Points: 6
PointsPlus: 8
https://www.homesweetjones.com/2014/10/roasted-red-pepper-pepperoni-sauce/