Let me introduce you to my new shirataki noodle crush.  This recipe is perfect.  Just 15 minutes to make and under 170 calories per massive serving.  Honestly, this should probably be 5 servings but, you know, they're really good.
If you're not familiar with shirataki noodles, then first, you probably don't read this blog often and second, this is  a great introduction.
Shirataki noodles are made from the konjac yam and are vegan, gluten-free, and calorie-free.  They have very little taste on their own but absorb the flavor of whatever sauce you use – which makes them a perfect vessel for this savory sesame broth.  The packing liquid that they're stored in is a little stinky so it's a good idea to boil them for a minute to remove the odor.  I'll sometimes just run them under hot water for a minute but since they're the star of this dish, I figure we can give them the full treatment.  The extra step of dry-frying for 10 minutes is optional but helps the texture become even more like that of a traditional rice noodle.
Get 10% Off on All Miracle Noodle Products  Coupon Code: AFF10 
This dish can be served at any temperature and, because of the way the noodles absorb flavor, they're just as delicious the next day.  In other words, this is a perfect make-ahead meal.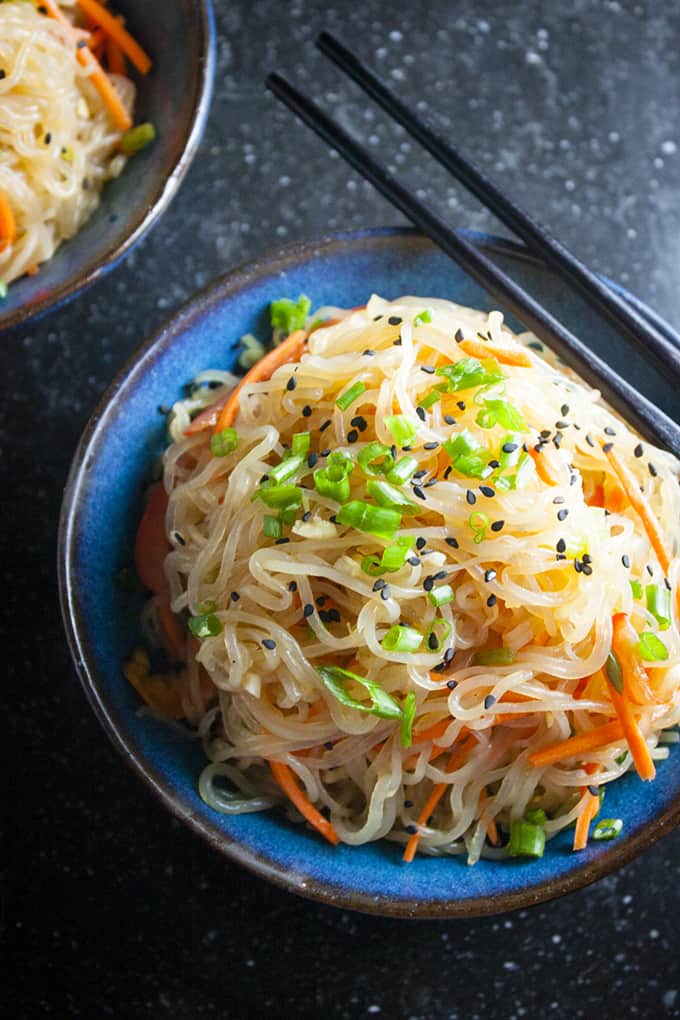 Ingredients
6 6-oz packs angel-hair Miracle Noodles
1/4 cup soy sauce
2 tbs sugar
1 tbs garlic, finely minced
1 tbs ginger, finely minced
2 tbs rice vinegar
3 tbs toasted sesame oil
1/2 tsp hot chili oil
2 tbs water
1/2 c shredded carrots
1/2 c bell pepper, finely sliced
6 green onions, sliced
Instructions
Drain shirataki noodles and boil in unsalted water for 1-2 minutes to remove the smell of the packing liquid. Heat a large skillet over high heat and add noodles. Dry fry, stirring occasionally, until noodles and dry and squeaky, about 10 minutes.
Meanwhile, in a large bowl, whisk together soy sauce, sugar, garlic, ginger, sesame oil, chili oil, and water. Add shredded carrots, bell peppers, and green onion. Add dry noodles and toss to coat. Season with additional green onion and sesame seeds.
Serve cold or at room temperature.
Nutritional Information
Calories 168
Total Fat 12.1g
Saturated Fat 1.7g
Trans Fat 0.0g
Cholesterol 0mg
Sodium 913mg
Potassium 202mg
Total Carbohydrates 13.1g
Dietary Fiber 1.8g
Sugars 8.0g
Protein 2.3g
Weight Watchers Points: 4
PointsPlus: 5
https://www.homesweetjones.com/2014/10/shirataki-sesame-noodles/