Even after calculating the nutritional info about 14 times I still can't believe that this creamy, cheesy lasagna is under 400 calories a serving.
The trade-off for all this deliciousness is that it takes some time to cook up and assemble the component parts.  No-cook lasagna noodles help speed the process – and reduce the amount of noodles in the dish.  This is a favorite of mine to prepare on weekends, bake on a busy weeknight, and then enjoy the leftovers all week long. 
This is a super hearty option for Meatless Monday or any other night of the week.  Serve it with a light salad on the side (it really is filling) for a comforting, healthy Autumn meal.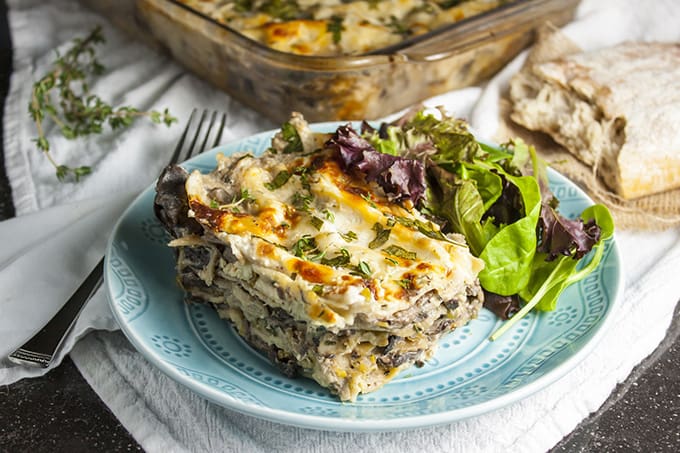 Ingredients
12 no-boil lasagna noodles (1/2 lb.)
4 oz Parmesan cheese, shredded, divided
8 oz light mozzarella cheese
4 c nonfat milk
1/2 c light butter
1/2 c flour
1/2 tsp ground nutmeg
salt and freshly ground black pepper
3 garlic cloves, minced
3 tbs chopped parsley, divided
1 tbs chopped fresh thyme leaves, divided
2 tbs olive oil, divided
2 medium leeks, sliced into thin rings
1-1/2 lbs portabella mushrooms, sliced
1/2 lbs shiitake mushrooms, stemmed and sliced
Instructions
Place the noodles in a container of hot water to soften while preparing the filling.
Preheat oven to 375F.
Combine mozzarella and 2 oz Parmesan in a small bowl and set aside.
Make the Béchamel Sauce
In a medium saucepan, bring milk to a simmer over medium heat.
Heat butter in a large saucepan over medium heat. When melted, add flour and cook, stirring, until fragrant and beginning to turn golden, about 2 minutes.
Add warm milk to roux and whisk until smooth.
Add nutmeg and season to taste with salt and pepper.
Continue to simmer, stirring, until sauce thickens enough to coat the back of a spoon.
Remove from heat and stir in garlic, 1/2 the parsley and a pinch of thyme. Set aside.
Prepare the Mushrooms
Heat 1 tbs oil in a large pan.
Add leeks and cook, stirring occasionally, until beginning to turn golden, about 3 minutes. Transfer leeks to a bowl and set aside.
Heat remaining tablespoon of oil and add mushrooms. Season to taste and cook, stirring occasionally, until mushrooms release their juices and soften, about 5 minutes.
Stir in leeks and remaining thyme. Set aside.
Assemble the Lasagna
Spoon a small amount of béchamel in the bottom of a 13x9 baking dish. Arrange 3 noodles across the dish.
Spread 1/3 of the mushroom mixture atop the noodles.
Pour about 1/2 cup béchamel over the mushrooms and sprinkle with 1/4 of the cheese.
Repeat twice more then lay the final three noodles across the top. Pour remaining sauce over the top and sprinkle with remaining cheese.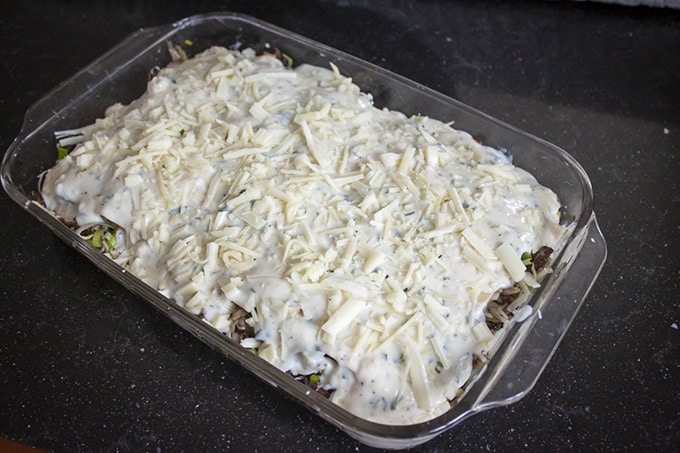 Cook immediately or store the lasagna up to two days in the refrigerator. Let sit at room temperature 1 hour before baking. Alternatively, you can freeze the uncooked lasagna up to 3 months.
Bake the Lasagna
Bake lasagna until browned and bubbling, about 45 minutes.
If frozen, thaw in the refrigerator overnight or baked straight from the freezer for 1 3/4 hour, covered for the first hour.
Sprinkle with remaining 1 tbsp. parsley and let sit at least 15 minutes before slicing.
Nutritional Information
Calories 393
Total Fat 21.3g
Saturated Fat 11.4g
Trans Fat 0.0g
Cholesterol 63mg
Sodium 561mg
Potassium 709mg
Total Carbohydrates 31.6g
Dietary Fiber 2.7g
Sugars 9.5g
Protein 21.1g
Weight Watchers Points: 9
PointsPlus: 11
https://www.homesweetjones.com/2014/10/skinny-creamy-mushroom-leek-lasagna/
Adapted from Sunset Magazine.