It's the most wonderful time of the year: Pumpkin Spice Latte time!
Except… do you know what's in those?
Neither do I.  Let's make our own!

It's so simple. Just simmer 2 cups of your favorite non-dairy milk (I like almond) with 2 tbs pumpkin, 2 tbs maple syrup, cinnamon sticks, nutmeg, cloves, allspice, and vanilla beans.
This is probably best with freshly roasted pumpkin but I've had success with canned.  Since we're only using 2 tbs you can just roll the remainder in saran wrap and store in the freezer for future pumpkin bread or pies.

If you don't have vanilla beans lying around (why do I have so many vanilla beans lying around?) there's no downside to substituting a tsp or so of vanilla extract when you're done simmering.  You can also swap ground spices for the whole but it's not quite as good as the spices will form a film on the top. Mix up the spices to your taste – cardamom and star anise would also be delicious. The one substitution I wouldn't recommend is to use cow's milk.  It's too likely to scorch  and won't last as long.

Add a big glug of this to your coffee and you have a pumpkin spice cocktail as tasty as that from any coffee shop but so much healthier.  Just a word of warning that if you drink super acidic coffee this may curdle.  We drink fairly acidic coffee and it hasn't happened to me but I know it's possible.

This recipe is vegan, gluten-free, and paleo so enjoy it all season long.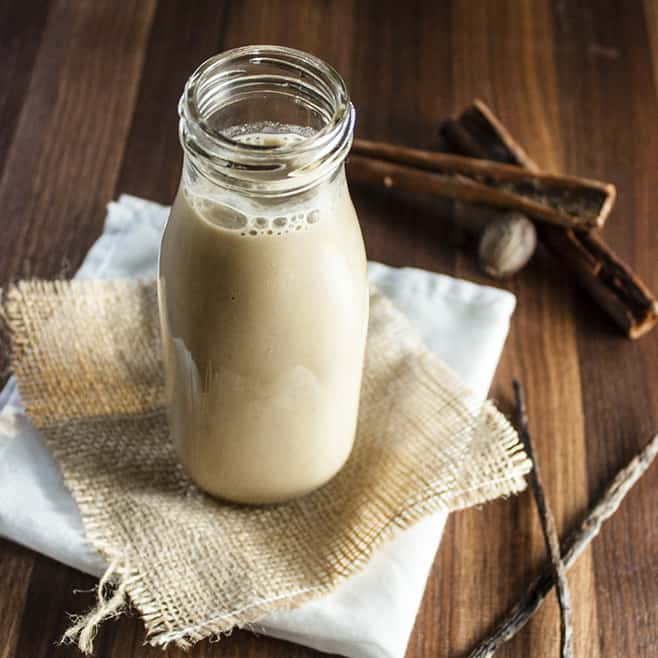 Ingredients
2 c almond milk or your favorite non-dairy milk
2 tbs maple syrup
2 tbs pumpkin puree
2 cinnamon sticks
1 clove
1 nutmeg
2 allspice
2 vanilla beans, sliced lengthwise
Instructions
Bring milk to a simmer over low heat and whisk in maple syrup and pumpkin puree. Add spices and simmer until flavorful and slightly thickened, about 20 minutes. Strain into an airtight container and store, refrigerated, up to 1 week.
Nutritional Information
Calories 11
Total Fat 0.3g
Trans Fat 0.0g
Cholesterol 0mg0%
Sodium 23mg
Potassium 30mg
Total Carbohydrates 2.0g
Sugars 1.6g
Protein 0.1g
Weight Watchers Points: 0
PointsPlus: 0
https://www.homesweetjones.com/2014/10/vegan-pumpkin-spice-creamer/