If I could eat as much as I wanted of anything I wanted without any health consequences, I'd stuff myself with stuffing. I've never had a sweet tooth; my weakness has always been bread.  Bread in any form is kryptonite for me but serve it up cooked in butter and herbs and I'm completely powerless in it's thrall.
The only defense is to limit stuffing to once or twice annual splurge. But as long as I'm splurging, I go all the way.
This recipe is the result of years and years of tweaking my ultimate dream dish.  All the very best things are represented: wine, sausage, fruit, nuts, butter, fresh herbs, and, of course, bread.  I go with a sort of Scarborough Fair theme with the herbs but you can adjust to your palate.
I add egg for a sort of custardy inside and then cook it in muffin tins for an extra crispy outside.  Both steps are completely optional as this is no less delicious cooked in a casserole dish or without the egg.
You can also make this with pre-seasoned boxed stuffing mix (just don't add additional salt) if you don't have time to toast your own bread.  I've cheated with Mrs. Cubbinson's as often as not. If you're starting with fresh bread, cut it into one inch cubes and toast in an oven preheated to 350F for 7-10 minutes.
Finally, the stuffing can be prepared a day in advance and stored in the refrigerator until you're ready to cook it.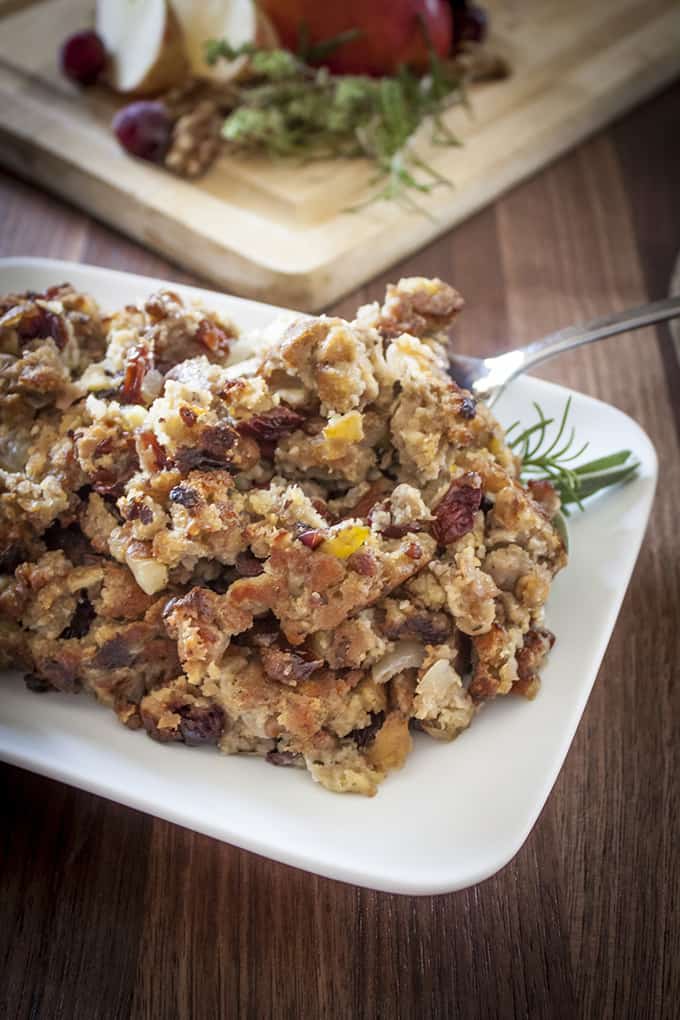 Ingredients
12 oz sweet chicken sausage
6 tbs butter, divided
1 onion, diced
1 c celery, diced
1 Granny Smith apple, peeled, cored, and diced
1 Golden Delicious apple, peeled, cored, and diced
3 cloves garlic, minced
2 tbs fresh sage leaves, chopped
1 tbs fresh thyme leaves, chopped
1 tbs fresh rosemary leaves, chopped
3/4 c dried cranberries, rehydrated in boiling water for 15 minutes and drained
3/4 c walnuts, chopped
6 c dried bread cubes, any combination of corn, white, or wheat bread
1/3 cup chopped fresh parsley leaves
1/2 c white wine
1 egg, beaten
1-1/ to 2 c chicken stock
salt and freshly ground black pepper, to taste
Instructions
Preheat the oven to 375 degrees F.
Melt 1 tbs butter in a heavy skillet over medium-high heat. Add sausage and cook, breaking up with a spoon, until brown, about 10 minutes. Transfer to a large bowl and set aside.
Melt 3 more tbs butter and add onions and celery. Cook, stirring, until onions are translucent and celery is softened, about 5-6 minutes, scraping up any browned bits from the bottom of the pan.
Add apples, garlic, fresh sage, thyme, rosemary, cranberries, and walnuts and cook, stirring, an additional 2-3 minutes until fragrant. Season to taste with salt and pepper.
Stir apple-onion mixture into sausage. Add cornbread cubes and parsley. Mix to combine.
Stir in egg white and white wine. Add chicken stock until breadcrumbs are just moistened but not soggy.
Transfer the mixture to a casserole dish. Melt remaining 2 tbs butter and drizzle over the top. Bake, uncovered, about 20-30 minutes until the top is crispy.
Alternatively, for extra crispy stuffing, bake in in a muffin tin 15-18 minutes.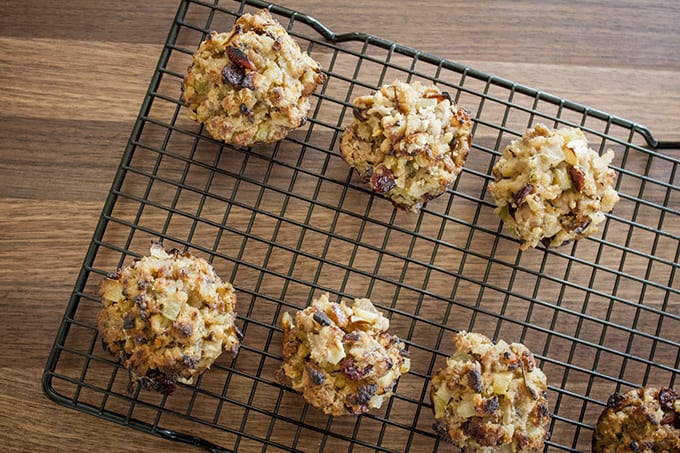 Nutritional Information
Calories 249
Total Fat 13.7g
Saturated Fat 4.8g
Trans Fat 0.0g
Cholesterol 52mg
Sodium 510mg
Potassium 149mg
Total Carbohydrates 20.6g
Dietary Fiber 4.0g
Sugars 4.2g
Protein 9.6g

https://www.homesweetjones.com/2014/11/apple-sausage-stuffing/