Last year I had the most amazing carrot ginger soup at a little French bakery in Seattle.  I was sick and nothing sounded very appetizing except soup. Just a few sips of the creamy, sweet, faintly spicy soup and I started feeling better.
I'm sure that soup was laden with butter and cream so I started experimenting with healthified versions.  A year of experiments later and this recipe from Gina at Skinny Taste is the official winner. As creamy and comforting as the French original for a fraction of the calories, it's a great soup to have on hand with more cold weather – not to mention flu season – on the horizon.
Paleo and gluten-free, this soup can easily be made vegan by using tofutti sour cream or leaving it out completely.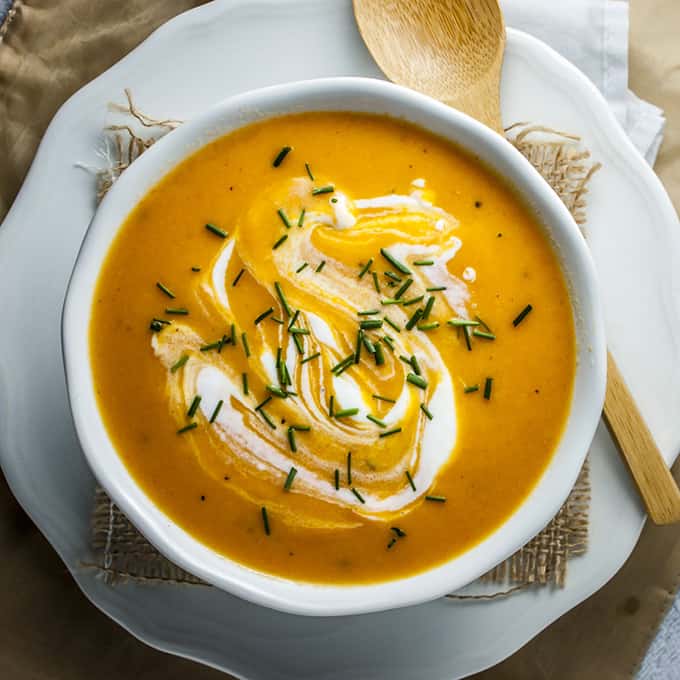 Ingredients
1 tbs olive oil
1 large white onion, diced
3 c low sodium vegetable broth
1 lb carrots, peeled and sliced
1 tbs fresh ginger, chopped
1/4 c sour cream (tofutti for vegan)
salt and freshly ground black pepper to taste
2 tbsp fresh chives, for garnish
Instructions
Melt butter in a large, heavy pot over medium heat. Add onions and cook, stirring, until soft, about 5-6 minutes. Add broth, carrots and ginger and bring to a boil. Cover, reduce heat to medium low, and simmer until carrots are soft, about 30 minutes.
Puree with an immersion blender or carefully in batches using a standard blender. Stir in sour cream, season to taste, and serve garnished with fresh chives.
Nutritional Information
Calories 124
Total Fat 3.6g
Saturated Fat 0.5g
Trans Fat 0.0g
Cholesterol 2mg
Sodium 384mg
Potassium 440mg
Total Carbohydrates 21.2g
Dietary Fiber 3.8g
Sugars 9.0g
Protein 1.9g
Weight Watchers Points: 2
PointsPlus: 3
https://www.homesweetjones.com/2014/11/creamy-carrot-ginger-soup/
Adapted from Skinny Taste.