I have an unhealthy love for mashed potatoes. I always have. When I was in high school my dad gave me a cookbook completely dedicated to mashed potatoes and I lovingly read every recipe and tried several. My favorite was what the cookbook called "Mashed Potatoes Anna" which was your standard heavy cream and butter recipe – maybe extra heavy on the heavy cream and butter.  My sophomore year I cooked a giant pot for all 40 members of my yearbook committee and proposed "Mashed Potatoes" as our yearbook theme.  I told you, unhealthy love.
Sadly, high school was probably the last time my waistline could handle Mashed Potatoes Anna. Well, not really that sad because over the years I've perfected the creamy, fluffy, decadent-tasting skinny mash.  Mashed Potatoes Maggie?
Fat free sour cream and broth add creaminess and flavor without the fat, a small amount of light butter provides the buttery flavor, and – sneakiest of all – cauliflower replaces a portion of the potatoes.  No one would know unless you told them (or maybe if they were violently allergic to cauliflower, I guess).

So, the skinny part is covered by our ingredients.  The fluffy bit relies on a touch of technique.  You'll want to run everything through a food ricer and then whip it with a hand mixer.
Even if you're not as mashed potato obsessed as I am, I really recommend getting a ricer. I love the Oxo version I bought off Amazon but I was also happy with the cheapo version I picked up at IKEA back in the day.
If you haven't used one before, a ricer is like a garlic press for potatoes. Processing them in the ricer will incorporate air and guarantee a light, fluffy mash.  Though made for potatoes, you can also press the cauliflower.  Just be warned that lots of liquid will be released that can make your mash watery.  Press out the liquid first into the sink or a separate container and then squeeze the remainder to use.

As long as we're talking about technique… Don't bother peeling your potatoes before you boil them. Just slice them into 2-3 chunks. After boiling, the skins will slip right off saving you lots of time and finger cuts.
If you're a mashed potato lover, give this recipe a try.  If you're like us, it will be your new family favorite.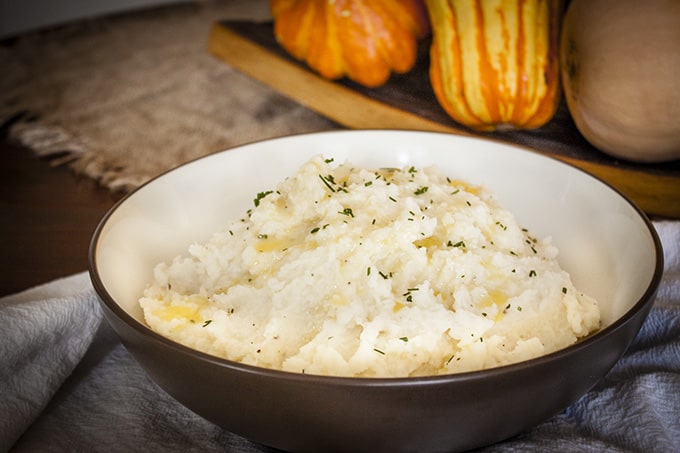 Ingredients
3 large russet potatoes (about 2.25 lbs)
1 medium head cauliflower, broken into florets (about 1.25 lbs)
1/4 c chicken stock
1/2 c fat-free sour cream
2 tbs skim milk
1 tbs light butter (I use Balade)
2 tbs chives, minced (optional)
salt and freshly ground black pepper
Instructions
Cut potatoes into large chunks, place in a large pot, and cover with cold, salted water. Bring to a boil over high heat and simmer until soft, about 25-30 minutes. Drain in a colander and set aside.
Meanwhile, bring another large pot of salted water to a boil and add cauliflower. Boil until very soft, about 20 minutes. Drain in a colander (same colander is fine) and set aside.
When potatoes are cool enough to handle, remove the peels.
Using a potato ricer, press potato and cauliflower back into one of the large pots over low heat. When working on the cauliflower, do a first, gentle press over a bowl or sink to remove the excess water first.
Add chicken stock, sour cream, milk, and butter, Whip with a handmixer or stir to combine. Add chives, season to taste, and serve warm.
Nutritional Information
Calories 125
Total Fat 1.0g
Trans Fat 0.0g
Cholesterol 1mg
Sodium 105mg
Potassium 743mg
Total Carbohydrates 25.6g
Dietary Fiber 4.8g
Sugars 4.4g
Protein 4.7g
Weight Watchers Points: 2
PointsPlus: 3
https://www.homesweetjones.com/2014/11/lowest-calories-creamiest-skinny-mashed-potatoes/