This simple recipe makes a comforting vegan/ vegetarian entree or a hearty side.  Sauteed mushrooms, nutty farro, and fragrant thyme come together quickly for a healthy dish that will warm you up on a chilly Fall day.
I use Trader Joe's 10 minute farro and can get this on the table in 20 minutes including all the chopping.  The last time I made it I served it with Brussels sprouts and roasted carrots for a healthy, filling vegetarian meal that could have easily been made vegan if I could lay off the butter.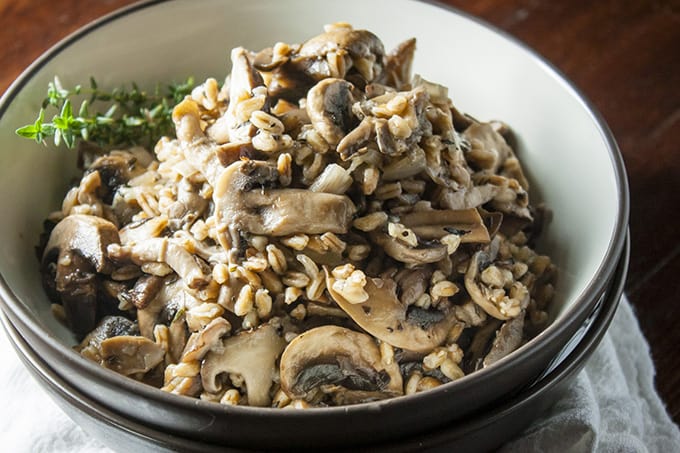 Ingredients
1 c semipearled or quick cooking farro (I use Trader Joe's 10-minute farro)
2 c low sodium chicken broth (use vegetable broth for vegan/ vegetarian)
1 tbs olive oil
1/2 c onion, diced
2 cloves garlic, minced
1 lb assorted fresh mushrooms (crimini, portabella, shirataki, etc), sliced
1 tbs fresh thyme, chopped
salt and freshly ground black pepper, to taste
Instructions
Cook farro in broth according to package directions. Add additional broth or water if needed.
Meanwhile, heat olive oil in a large skillet over medium heat. Add onions and saute, stirring, until onions are beginning to turn translucent, about 5 minutes. Add garlic and mushrooms and continue to saute until mushrooms release their juices and begin to soften, about 5 more minutes. Add thyme and season to taste.
Combine mushroom with cooked farro and adjust seasoning as needed.
Serve with a sprinkle of herbs and Parmesan cheese, if desired.
Nutritional Information
Calories 237
Total Fat 4.9g
Saturated Fat 0.5g
Trans Fat 0.0g
Cholesterol 0mb
Sodium 242mg
Potassium 393mg
Total Carbohydrates 38.0g
Dietary Fiber 4.7g
Sugars 3.6g
Protein 11.3g
Weight Watchers Points: 4
PointsPlus: 6
https://www.homesweetjones.com/2014/11/sauteed-mushrooms-farro/