Turkey roulade is an elegant presentation of your favorite comfort foods.  Turkey breast and stuffing are rolled up together and braised to juicy perfection. The pretty presentation when you slice the roll looks far more impressive than you'd expect from the effort.  If you're having a smaller holiday gathering and don't need to eat turkey leftovers for days, this is the perfect dish for you.  Serve over mashed potatoes and with a side of cranberry sauce for a reasonably portioned Thanksgiving feast. Of course, that only applies until folks start reaching for seconds.
Use any type of stuffing.  I use my favorite apple sausage stuffing recipe with cranberries and sage.
While this is far faster to cook than an entire turkey, the initial preparation is more involved. The beautiful result is worth the up-front effort.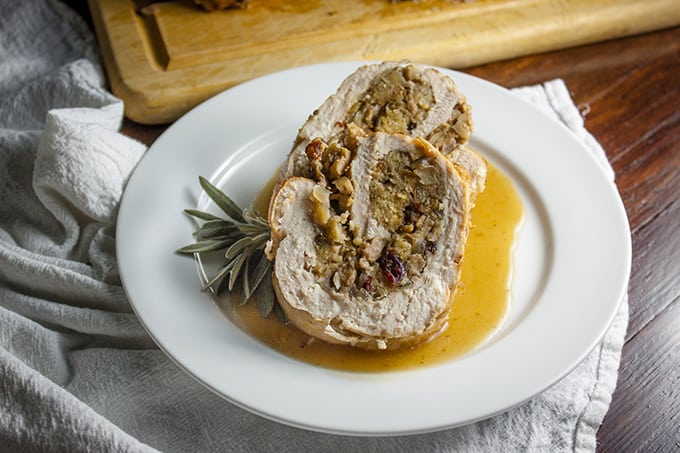 Ingredients
3-4 pound turkey breast
4-6 cups prepared but uncooked stuffing
salt and freshly ground black pepper, to taste
2 tbs olive oil
1 c onions, sliced
1-/12 c chicken broth
Instructions
Preheat oven to 375F.
Cut the breast meat from the bone and reserve the bones for stock.
Cover the counter with plastic wrap and arrange the turkey breast in an approximately rectangular shape. Cover with another layer of plastic wrap.
Using a meat tenderizer or rolling pin, pound the turkey to 1/4 o 1/2-inch thickness, shaping the meat into a more perfect rectangle as you pound.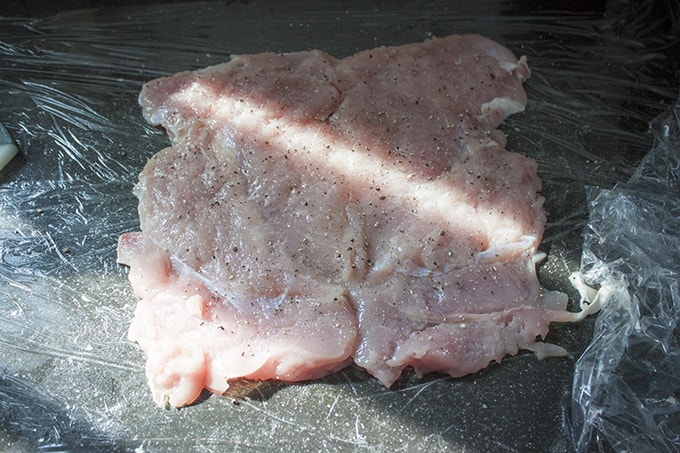 Uncover, season with salt and pepper, and spread the stuffing mix over the flattened turkey.
Roll the turkey like a sushi roll. It helps to start by lifting the edge of the bottom plastic wrap and tightly squeezing as you roll. Some stuffing may squeeze out the edges.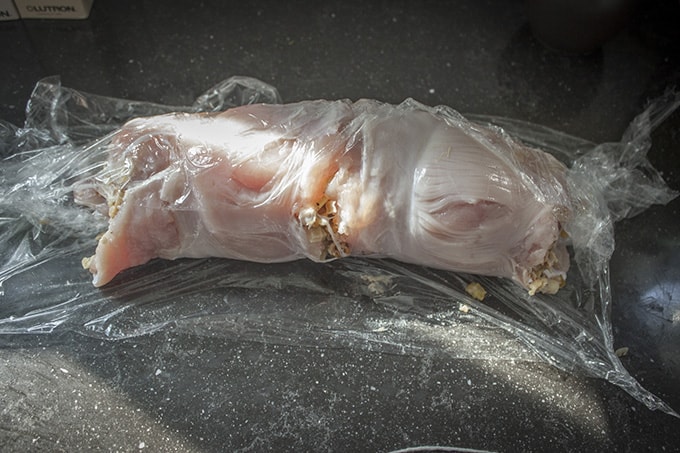 Using kitchen string, tie the roll every 2 inches to hold it together. You may want to tie it together lengthwise as well.
Heat 2 tbs olive oil in a dutch oven over medium high heat.
Gently place the roulade in the pot and cook, turning, until evenly browned. About 3-5 minutes per side.
Add onion and broth to the dutch oven, cover, and place in the preheated oven until the turkey is cooked to an internal temperature of 160F, about 1 hour.
Remove the turkey to a cutting board and let sit 15 minutes before slicing.
Using a sharp knife, cut the roulade into 1 inch slices. Serve with turkey gravy.
https://www.homesweetjones.com/2014/11/turkey-roulade/