We've had guests in town almost every weekend the last month and ended up eating out far more than we like. This eating rampage culminated in Starchtopia 2014, also known as Thanksgiving.  Once we emerged from our comas, we committed to a few weeks of light meals at home before the holidays.
We were planning a simple baked salmon and green beans tonight but when I hit the Trader Joe's after work they were out of the wild-caught salmon we've become hooked on. In a confused haze I picked up a package of chicken sausage and broccolini with vague memories of this Food & Wine recipe.
Luckily, the other ingredients were staples tucked away in the pantry and the recipe was faster than I remembered. Even more surprising, with a few alterations I managed to get it down to "baked salmon and green bean" calorie levels without losing any flavor.
Even Brad, who regularly insists he hates polenta, loved this dish. If you're craving rustic Italian flavors without all the fat and calories, give this a try for a quick and easy gluten-free meal.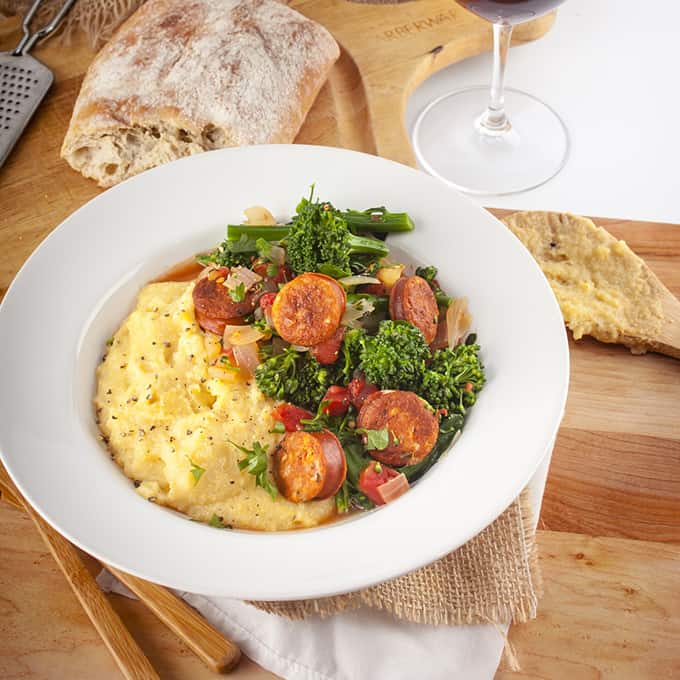 Ingredients
2 lbs broccolini
olive oil spray (I use my Misto)
12-oz spicy Italian chicken sausage, sliced (I use Trader Joe's)
1 onion, diced
3 cloves garlic, minced
1/4 c white wine
1/2 c low sodium chicken broth
1 14-oz can no salt added petite dice tomatoes
1 tsp dried thyme
salt & freshly ground black pepper, to taste



Polenta

1-1/4 c yellow cornmeal
3-1/2 c low sodium chicken broth
1 oz Parmesan cheese
salt & freshly ground black pepper, to taste
Instructions
Bring a large pot of salted water to a vigorous boil. Add broccolini and boil until just tender, about 2-3 minutes. Using tongs, transfer the broccolini to a large bowl of ice water to stop the cooking process. When cool, cut into 1-2 inch pieces.
Meanwhile, heat a large pan or braiser over medium-high heat and spray with olive oil. Add sliced sausage and cook until brown on both sides, about 5-7 minutes. Transfer to a separate bowl.
Reduce heat to medium and add onion to the pan, Cook, stirring, until onions are translucent, about 5 minutes. Add the wine and bring to a boil. Return sausage to the pan and add chicken broth, tomatoes, and thyme. Season with salt and pepper.
Bring to a boil, reduce heat, and simmer uncovered for 15 minutes.
Stir in the chopped broccolini and adjust seasoning.
While simmering the sausage, prepare polenta. Bring chicken broth to a boil and slowly add cornmeal, whisking constantly. Reduce heat to low and simmer until thick and creamy, 5-10 minutes. Stir in Parmesan and season to taste.
Serve Broccolini and Sausage mixture over polenta.
Nutritional Information
Calories 296
Total Fat 7.3g
Saturated Fat 2.5g
Trans Fat 0.0g
Cholesterol 40mg
Sodium 540mg
Potassium 232mg
Total Carbohydrates 32.3g
Dietary Fiber 6.5g
Sugars 6.2g
Protein 18.8g
Weight Watchers Points: 6
PointsPlus: 7
https://www.homesweetjones.com/2014/12/broccolini-chicken-sausage-polenta/