Homemade marshmallows are such a fantastic gift. Inexpensive but incredibly special, I've been making them for friends and coworkers the last several years.  I set a record this year with 10 batches – 15 pounds – in a weekend. With a little assembly line action I got these down to less than 25 minutes of active time per batch.  Under normal circumstances, I'd expect to spend 40 minutes to an hour.

Homemade marshmallows aren't difficult at all – just messy.  Experience helps, though, and you'll find that the more you make these, the less sticky your kitchen afterwards.

Some special equipment is required:  you absolutely must have a stand mixer since the thick marshmallow fluff will burn out the motor in a hand blender.  After an hour of non-stop whipping on day two, even my trusty KitchenAid was starting to complain. You'll also need a candy thermometer. I've been using this cheapo $5 one for years without issue.
For gifts, I like to make a variety of flavors and slip them into a cellophane treat bag stapled shut and tied with some cute baker's twine.  Or gift them with a mug and tin of homemade cocoa mix.

If you make more than a few batches and using the items linked here, you can get these down to under $.50 a bag.

My go-to flavors are vanilla, chocolate and peppermint.  Vanilla is a classic, of course, and the peppermint tastes amazing melted in hot chocolate.  Chocolate is my latest favorite as it tastes just like a mug of cocoa on its own.  Add a little extra salt for a salted chocolate delicacy.  Also, while I didn't do it this year, I'll often dip these in melted chocolate. From there you can roll them in graham cracker crumbs for s'more marshmallows or in crushed candy cane for a holiday treat.  Go crazy and discover your own favorite flavor.
A 13×9″ baking dish is great for the more standard 1 inch cubes but you can use a 9×9 or 8×8 for giant marshmallows or cut them out with cookie cutters for custom shapes..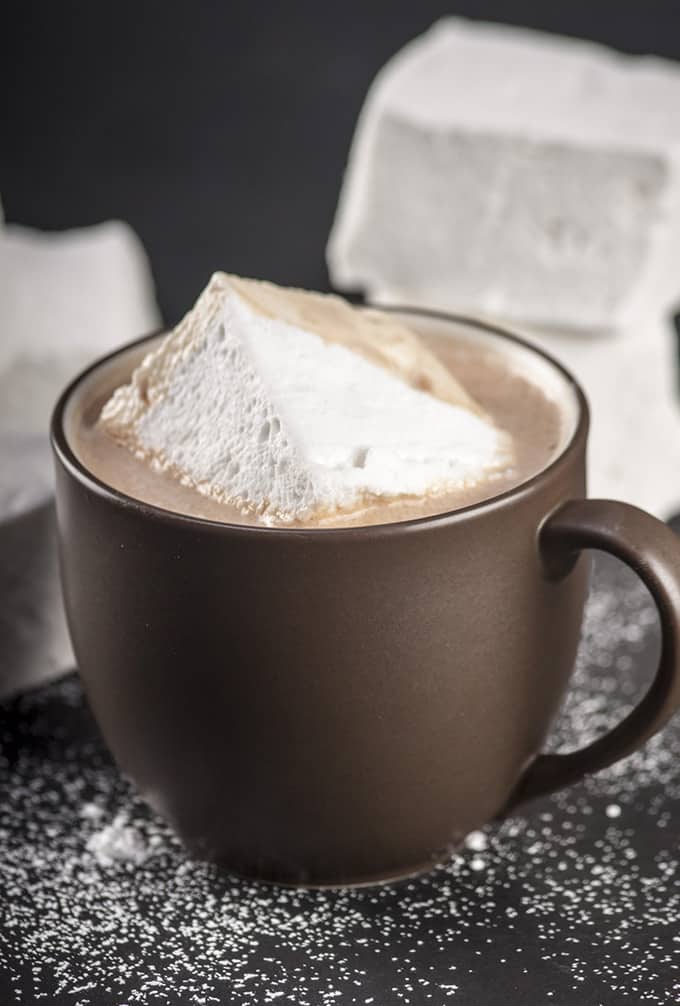 Ingredients
3 envelopes gelatin
1/2 ice cold water
12 oz sugar
1 c light corn syrup
1/2 c water
1 pinch salt
1 tsp vanilla extract
1/4 c powdered sugar
1/4 c corn starch
non-stick spray



Special Equipment

stand mixer
candy thermometer
pizza cutter
Instructions
Combine gelatin and ice water in the bowl of the stand mixer. Let the gelatin "bloom" while making the syrup.
Combine sugar, corn syrup, remaining 1/2 c water and salt in medium pot over medium heat. Cook, covered, 10 minutes.
Uncover and insert candy thermometer. Increase heat to high and continue cooking, without stirring, until temperature reaches 240F, about 5-10 more minutes. Remove sugar mixture from heat.
Using the whisk attachment, turn stand mixer to low and slowly pour sugar mixture into the bowl in a thin stream.
Over the next few minutes, increase speed to maximum as allowed without splashing.
Run the stand mixer on maximum until mixture is white, fluffy, and approximately tripled in volume, about 10-12 more minutes. Add vanilla during the last minute of mixing.
Meanwhile, sift together powdered sugar and corn starch in a small bowl.
Spray a 13x9" baking dish with oil. Rub with a paper towel to ensure the bottom and sides are covered with a thin layer. Sprinkle with corn starch mixture and swirl around until the dish is thoroughly coated. Knock out excess and reserve.
When marshmallow fluff is done mixing, transfer to the baking dish. Smooth into an even layer using a spatula sprayed with non-stick spray and sprinkle with additional corn starch mixture.
Let sit at least 4 hours or up to 24.
Sprinkle a large cutting board or work surface with corn starch mixture and careful peel marshmallow from the baking dish onto the cutting board. Using a pizza cutter coated with corn starch mixture, cut into desired shapes. I cut 6 rows by 9 columns for a total of 54 marshmallows. Cookie cutters can also be used.
Roll the cut marshmallows in remaining cornstarch mixture and shake off excess.
Marshmallows can be stored in an airtight container up to a week.
Peppermint Marshmallows
Replace 3/4 of the vanilla extract with peppermint extract.
Immediately after transferring to the baking dish, randomly dot with 7-8 drops of red food coloring and swirl the food coloring throughout the marshmallow fluff using a skewer or butter knife.
Chocolate Marshmallows
Slowly add 1/4 c cocoa powder to the mixer during the final minute of mixing, after the vanilla extract. Sprinkle the cocoa as close to the center of the mixer as possible to avoid creating a mess.
Add 2 tbs cocoa powder to the corn starch and powdered sugar mixture.
Nutritional Information
Calories 46
Total Fat 0.0g
Cholesterol 0mg
Sodium 1mg
Potassium 0mg
Total Carbohydrates 11.9g
Sugars 8.04
Protein 0.3g
Weight Watchers Points: 1
PointsPlus: 1
https://www.homesweetjones.com/2014/12/homemade-marshmallows-vanilla-chocolate-peppermint/