Last month Brad and I spent the weekend at Lake Arrowhead Resort for our close friends' wedding. The ceremony was so beautiful and the setting just perfect. We made a weekend out of it with great friends, spa treatments, and lots of food and drinks.
The very first dish I ordered at the hotel restaurant was a  vegan and gluten-free quinoa and mushroom stack with red pepper coulis.  I loved it so much I promised myself I'd create something similar when I got home.
I'm absolutely thrilled with the way this came out. We've had it twice since coming home and I'll be making it yet again soon. The zesty, marinated portabello and fresh-tasting spinach have so much flavor and substance that even my meat-eating husband loved this one.
The most important element is the roasted red pepper coulis. If you don't have time to roast the peppers yourself, jarred peppers will work in a pinch. Just avoid adding the oil to the blender or food processor.  Aerating can cause the oil to become bitter – something I learned the hard way.  Stir the olive oil in at the end for a sweet, creamy sauce that ties together all the flavors of the dish.  This recipe makes a lot of sauce but it's so delicious I doubt you'll have leftovers.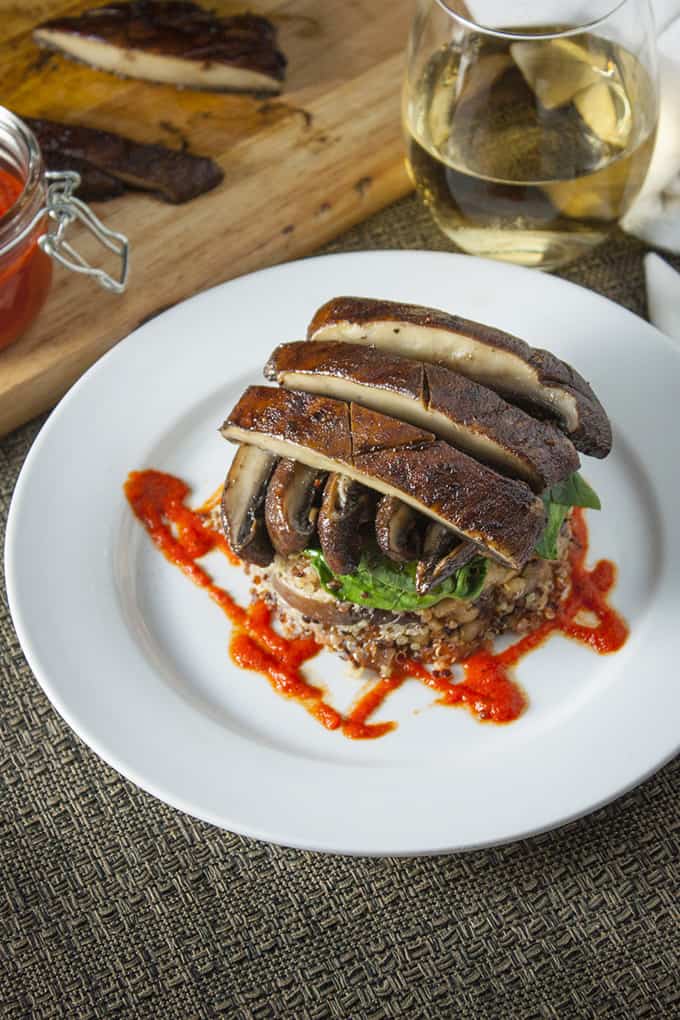 Ingredients
1 tbs Dijon mustard
3 tbs olive oil, divided
2 tbs balsamic vinegar
salt and freshly ground black pepper
4 whole portabello mushrooms
1 c quinoa
2 c vegetable broth
2 shallots, chopped
12 oz shitake mushrooms, sliced
1 tbs fresh thyme, chopped
8 oz baby spinach



Roasted Red Bell Pepper Coulis

3 red peppers
2 tsp red wine vinegar
1 tsp white wine
1/2 shallot
2 tbs olive oil
salt and freshly ground black pepper, to taste
Instructions
Preheat oven to 425F.
Combine mustard, 2 tbs olive oil, balsamic vinegar, salt and pepper in a small bowl. Coat portabello mushrooms with the marinade and bake, gills up, on a foil-lined baking sheet until softened, about 15-20 minutes. Slice into 1 inch slices.
Meanwhile, cook quinoa in vegetable broth according to package instructions. Add additional water if needed.
Heat remaining 1 tbs olive oil in a large pan over medium heat. Add shallots and saute, stirring, until translucent, about 5 minutes. Stir in shitake mushrooms and thyme. Continue cooking until mushrooms release their juices, about 5 more minutes. Stir cooked quinoa into mushroom mixture and season with salt and pepper.
Add spinach to now-empty quinoa pot and cook, turning with tongs, until just wilted, about 2-3 minutes.
Divide quinoa between 4 plates and top with spinach and portabello mushroom slices. Serve with roasted red bell pepper coulis.
Roasted Red Bell Pepper Coulis
Place bell peppers under a broiler as close to the heat source as possible. Broil on high, turning regularly, until skin is charred on all sides, about 20 minutes.
Place peppers in a plastic bag or a large bowl covered with plastic wrap to steam off skins.
When cool enough to handle, peel peppers and remove seeds.
Puree roasted pepper, vinegar, wine, and shallot in a food processor. Transfer to a bowl and whisk in olive oil.
Don't add the olive oil to the food processor or it will oxidize and become bitter. If you forget and do puree the olive oil, add a spoonful of sugar.
Coulis can be prepared up to two days in advance.
Nutritional Information
Calories 431
Total Fat 21.6g
Saturated Fat 3.1g
Trans Fat 0.0g
Cholesterol 0mg
Sodium 688mg
Potassium 1394mg
Total Carbohydrates 50.8g
Dietary Fiber 8.2g
Sugars 7.3g
Protein 14.7g
Weight Watchers Points: 10
PointsPlus: 12

* Note that nutritional information is slightly inflated because it assumes all the marinade will be eaten.
https://www.homesweetjones.com/2014/12/quinoa-portabello-mushrooms-stacks-roasted-red-pepper-coulis/