Our standard comfort food around here is Indian take-out. More often than not, the call is made when it's almost dinner time and neither of us feels like cooking.
If I could anticipate my laziness, though, I'd make this dish every time. Just throw a few things in the slow cooker and let the smell of the spices warm the whole house.
A half hour before you're ready to eat, cook up some basmati rice (I love my Zojirushi for this!) and stir in some peas for a low calorie, gluten-free meal. I also like to whip up a quick raita of nonfat yogurt, shredded cucumber, and cilantro.
You'll notice that I left out the spinach in these pictures – trust me that it's even better included.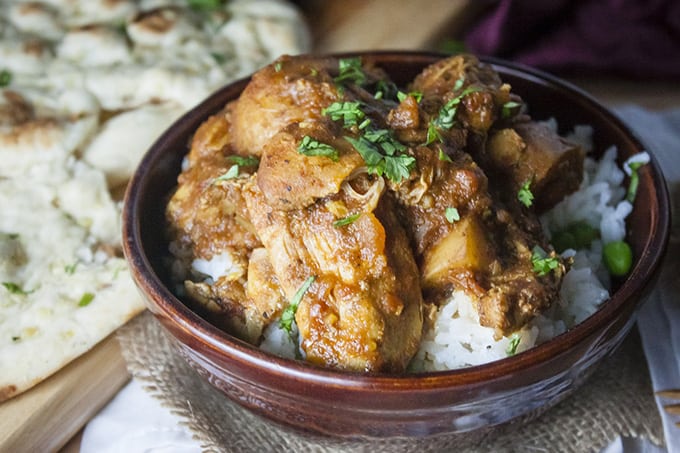 Ingredients
2 tbs red wine vinegar
1 tbs tomato paste
1 tbs garam masala
1-2 tbs Madras curry powder, to taste
2 tbs fresh ginger, minced
2 cloves garlic, smashed
2 14.5-oz cans no-salt-added diced tomatoes
Salt and freshly ground black pepper
1.5 lb red skinned potatoes, cut into 1/2-inch pieces
6 4-oz boneless, skinless chicken thighs
5-oz baby spinach
1/2 cup chopped fresh cilantro, plus extra for garnish
Instructions
Combine the vinegar, tomato paste, 1/2 tbs garam masala, 1/2 tbs curry powder, ginger, garlic, and tomatoes with their juices in a blender or food processor. Season with salt and pepper and puree until well slightly chunky.
Place the potatoes in a 5 - to 6-quart slow cooker. Season chicken with salt and pepper and sprinkle with the remaining 1/2 tbs garam masala and 1/2 tbs curry powder. Layer the chicken over the potatoes and pour the sauce over the chicken. Cook 4 hours on high or 6 hours on low.
Stir in the baby spinach until wilted. Season again with salt, pepper, and additional garam masala and curry, if needed. Garnish with cilantro.
Nutritional Information
Calories 265
Total Fat 3.5g
Saturated Fat 0.6g
Trans Fat 0.0.g
Cholesterol 66mg
Sodium 126mg
Potassium 675mg
Total Carbohydrates 28.5g
Dietary Fiber 5.2g
Sugars 6.5g
Protein 30.6g
Weight Watchers Points: 5
PointsPlus: 6
https://www.homesweetjones.com/2014/12/slow-cooker-indian-chicken-curry/