I've long been intrigued by the cauliflower fried rice recipes that have been popping up across the web and finally had a chance to play around with the concept.  I'm already a lover of cauliflower but was hesitant about the amount of work required.  It turns out it's super easy. Just a quick pulse in a food processor followed by a fast stir fry and you have a 100 calorie dish that captures everything you love about fried rice.
This recipe is a perfect base for the fried rice of your dreams.  Customize it however you like – add mushrooms, bean sprouts, chicken, shrimp, tofu, or any of your other fried rice favorites.
Substitute liquid aminos for the soy sauce to make this gluten free and paleo.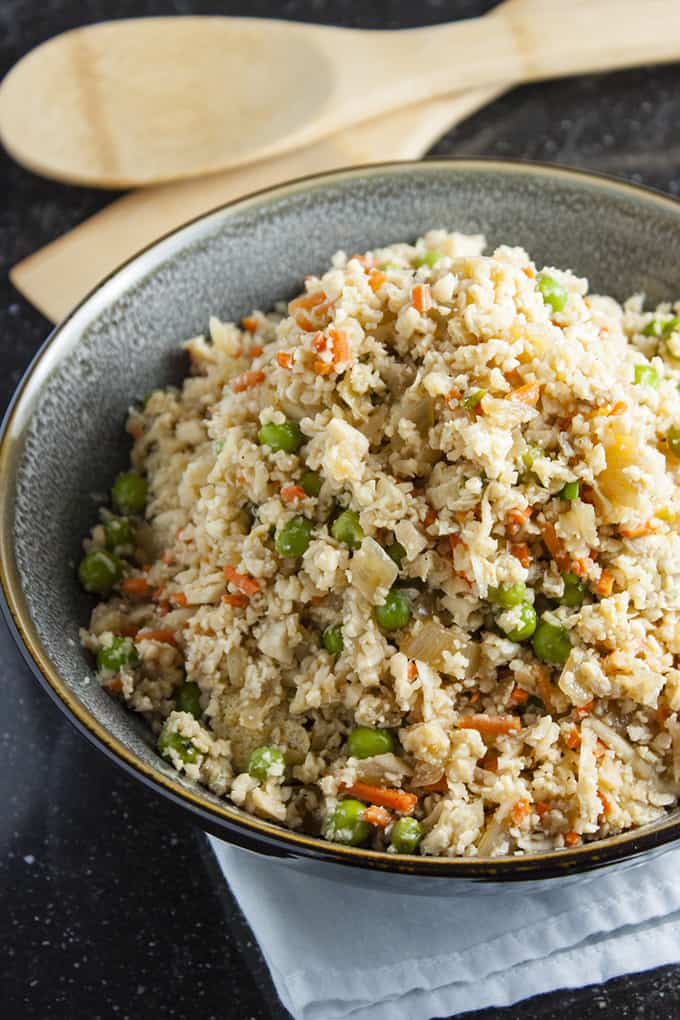 Ingredients
1 large head cauliflower (about 4 c), broken into florets
3/4 c onion, diced
non-stick spray (I use my misto)
2 eggs, lightly beaten
1/4 tsp sesame oil
1/2 c carrots, 1/4 in diced
1/2 c frozen peas
1/4 c green onions, chopped
1/4 c low-sodium soy sauce
Salt and freshly ground black pepper, to taste
Instructions
Pulse cauliflower florets in a food processor and until just barely rice or couscous sized.
Heat a wok or large skillet over medium-high heat and spray with non-stick spray. Add the onions and stir fry until translucent and golden, about 8-10 minutes. Transfer to a bowl and set aside.
Whisk the egg with the sesame oil and add to the wok. Cook, stirring, until just barely cooked through. Transfer to the bowl with the onion and reserve.
Add cauliflower, carrots, peas and green onion. Stir fry 3 minutes over medium high heat. Add the soy sauce, reduce heat to medium low, and cover. Cook another 3 until cauliflower is tender.
Stir in egg onion mixture and cook, stirring, another minute. Season to taste with salt, pepper, or additional soy sauce and serve garnished with green onions.
Nutritional Information
Calories 99
Total Fat 2.9g
Saturated Fat 0.8g
Trans Fat 0.0g
Cholesterol 82mg
Sodium 966mg
Potassium 447mg
Total Carbohydrates 13.1g
Dietary Fiber 4.6g
Sugars 6.2g
Protein 7.2g
Weight Watchers Points: 1
PointsPlus: 2
https://www.homesweetjones.com/2015/01/cauliflower-fried-rice/