We made this insanely decadent, buttery, cheesy garlic knot pull apart bread over the holidays so 1) the pictures aren't quite up to standard since most of our lighting equipment was packed up and 2) the nutritional stats on these aren't quite up to 2015, post-New Year's resolution standard.   It's so ridiculously tasty I had to share it anyway. Treats that are worth ditching the diet for are exactly what the "splurge" category of this blog is for.

Cooked in a cast iron skillet, these cheesy garlic knots develop a crispy, buttery crust that's completely addictive. I kept sneaking back to the fridge for "one more." Serve them with marinara sauce for dipping and you have a Super Bowl snack people will talk about all year.

The recipe and technique are from my hero, Kenji, over at Serious Eats and I recommend you check out his beautiful step-by-step photos.  The only change I made was to substitute turkey pepperoni for regular. Why mess with perfection?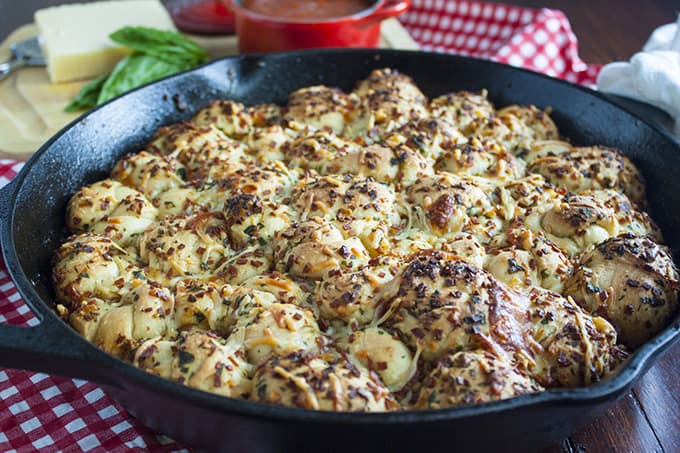 Ingredients
2 tbs unsalted butter
2 tbs extra-virgin olive oil, plus more for drizzling
4 oz turkey pepperoni, finely diced
1/4 tsp red pepper flakes
2 tbs fresh garlic, minced
1/4 c fresh parsley leaves, chopped
1/2 c Parmesan cheese, grated, plus more for sprinkling
Flour for dusting
1 lb pizza dough (I used Trader Joe's)
1/4 c Pecorino Romano cheese, grated



Special Equipment

10-inch Cast Iron Skillet
Instructions
Melt butter with olive oil in a 10-inch cast iron skillet over medium heat. Add finely diced pepperoni and cook, stirring periodically, until beginning to crisp, about 2-3 minutes. Add the pepper flakes and garlic and cook, stirring, until fragrant, about 1 minute. Stir in parsley and chives and transfer to a large bowl. Stir in Parmesan cheese and set aside.
Lightly flour a work surface and divide the dough in half. Working on half at a time, roll the dough into a long strip about 4 inches wide. Using a bench scraper or pizza cutter, slice 1"x4" ribbons. Tie each ribbon into a knot and place in the bowl with the pepperoni mixture. Using your hands, gently toss to combine so that each knot is thoroughly coated then place in the skillet in a single layer. Drizzle with additional olive oil, cover tightly with plastic wrap, and sit aside at room temperature until doubled in size, about 4 hours. Alternatively, refrigerate until doubled in size, 12 to 16 hours.
When ready to bake, preheat oven to 425°F. Remove the plastic wrap and sprinkle the garlic knots with Romano cheese. Transfer to the oven and bake until golden brown and crisp, about 25 to 30 minutes.
Remove from oven and drizzle with more olive oil. Sprinkle with additional Parmesan. Serve immediately with warm marinara sauce on the side.
Nutritional Information
Calories 546
Total Fat 38.6g
Saturated Fat 12.7g
Trans Fat 0.0g
Cholesterol 50mg
Sodium 1013mg
Potassium 76mg
Total Carbohydrates 33.3g
Dietary Fiber 2.7g
Protein 15.8g

https://www.homesweetjones.com/2015/01/cheesy-pepperoni-garlic-knot-pull-apart-bread/