Oh baby.
You're about to blow some people away with this chicken.
Never has so much flavor come out of such inexpensive ingredients with so little effort.

Honestly, all you have to do is throw some marinade ingredients and chicken parts in a freezer bag the night before. Then, when you come home from work the next day, slice up a lemon, orange, and onion, toss it all together with some herbs, and throw it in the oven.  An hour later you'll have incredibly tender chicken with crispy skin and complex citrus flavor.

Entertaining fancy guests? Add a blood orange and use fresh herbs. Scrambling to materialize something dinner-like from empty shelves? Use dried herbs and whatever citrus you have on hand.
This is just as delicious, if slightly less photogenic, with boneless, skinless chicken breasts.

While the chicken is baking, whip up a salad, some veggies, or rice for a paleo, gluten-free, extremely satisfying meal.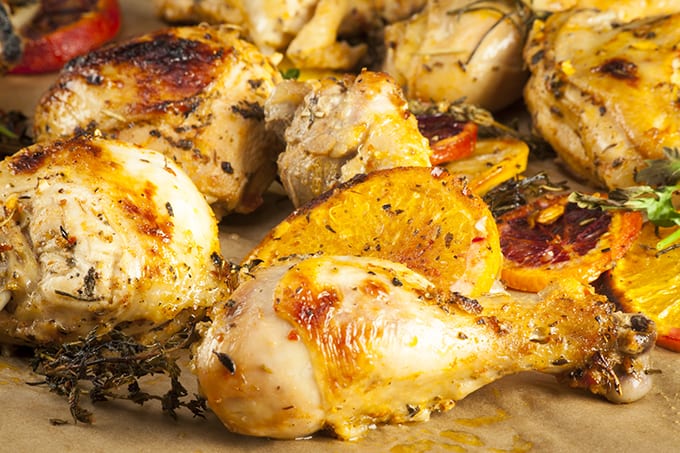 Ingredients
3-4 lbs chicken parts
1 medium white onion, thinly sliced
1 orange, sliced
1 lemon,sliced
6 springs fresh thyme, coarsely chopped
4 springs fresh rosemary, coarsely chopped



Marinade

2 tbs olive oil
4 cloves of garlic, minced
2 tbs sugar
juice of one lemon
juice of one orange
1 tbs Italian seasoning
1/2 tsp paprika
1 tsp onion powder
1/4 tsp crushed red pepper flakes, or more to taste
salt and freshly ground pepper, to taste
Instructions
Whisk together marinade ingredients and transfer to a freezer bag. Add chicken, seal, and massage the marinade to distribute evenly.
Let sit, refrigerated, at least 2 hours or up to 2 days, turning occasionally to distribute the marinade.
When ready to cook, preheat oven to 400 degrees.
Transfer chicken and marinade to a 13x9" baking dish, skin-side up. Nestle onions, citrus slices, and herbs among the chicken parts. Adjust seasoning to taste.
Bake, uncovered, until chicken reaches an internal temperature of 160 degrees, about 1 hour for skin-on, bone-in chicken parts, or 30-40 minutes for boneless, skinless breasts.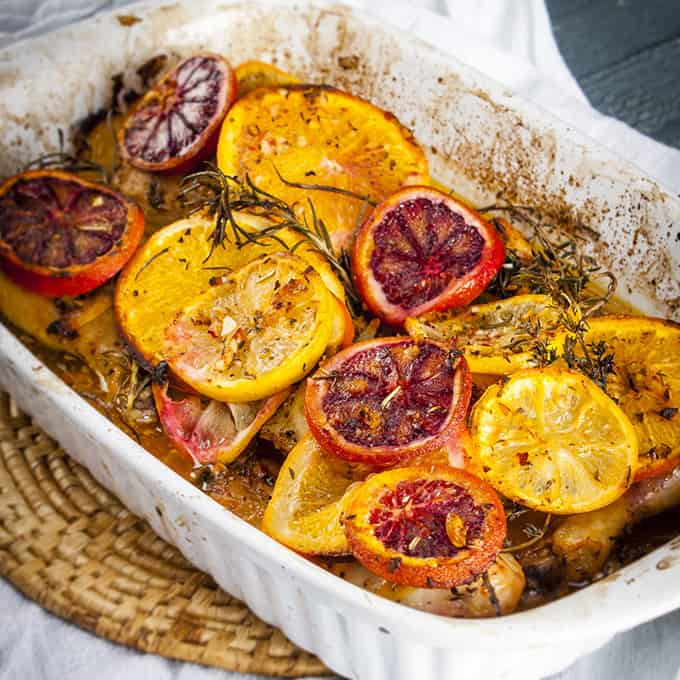 Nutritional Information
Calories 240
Total Fat 7.6g
Saturated Fat 1.6g
Cholesterol 89mg
Sodium 74mg
Potassium 298mg
Total Carbohydrates 8.4g
Dietary Fiber 1.0g
Sugars 6.4g
Protein 33.4g

https://www.homesweetjones.com/2015/01/easy-citrus-herb-baked-chicken/
Huge thanks to 
Comfort of Cooking
 for the original recipe. Check out their beautiful pictures!