Sometime over the last few years I've fallen head over heels in love with arugula. I'm sure I hated it as a kid but now it's one of those foods that makes my eyeballs roll back in their sockets while I make Homer Simpson noises through thick drool.
Horrible visual. Sorry.

This Chicken Milanese is just that kind of dish. Crispy, lemony, tender chicken topped with a peppery fresh salad is a perfect light and easy meal that tastes deceptively elegant. Baking rather than frying the chicken reduces the fat and calories while simplifying prep and clean-up. Win-win.

Pounding the chicken breast into thin fillets makes for tender meat that cooks up quickly. The arugula has so much flavor you only need the simplest dressing of lemon juice and good olive oil. You end with something restaurant quality without all the grease.

You can swap out gluten-free breadcrumbs to make this gluten-free. Either way this makes for a great, sub-300-calorie weeknight meal for when you're craving elegance but want to save room in the calorie budget for a glass of wine or two.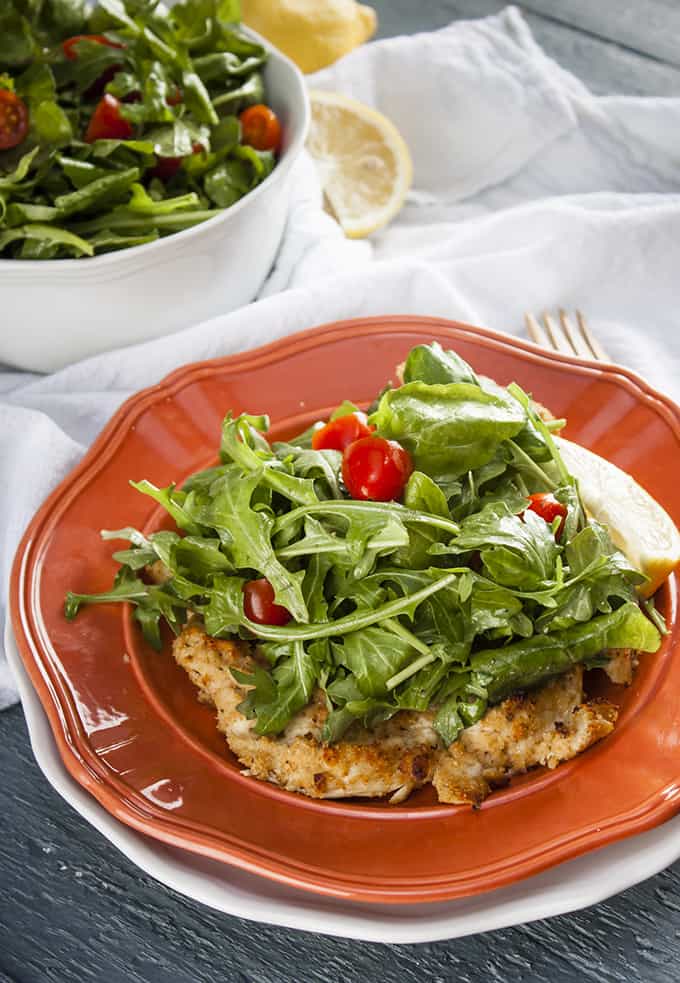 Ingredients
2 8-oz boneless skinless chicken breasts
1/2 cup Italian seasoned breadcrumbs (gluten-free, if needed)
1/4 cup Parmesan cheese
1 tbs lemon juice
1 tbsp olive oil
salt and fresh ground black pepper, to taste
olive oil spray (I used my misto)



Salad

2 tsp olive oil
2 tbsp lemon juice
1/2 c cherry tomatoes, halved
kosher salt and pepper to taste
6 cups baby arugula
Instructions
Preheat oven to 450°.
Combine salad ingredients in a medium bowl and season with salt and pepper. Set aside.
Combine breadcrumbs and grated cheese in one bowl.
Slice each chicken breast in half lengthwise. Sandwich each breast piece between two sheets of plastic wrap and, one at at time, pound each piece to a quarter inch thick using a meat tenderizer or rolling pin.
Season each cutlet with salt and pepper. Drizzle with lemon and olive oil, then place in the breadcrumbs, pressing to adhere breadcrumbs to the chicken.
Place chicken on a baking sheet covered with foil and spray with olive oil.
Bake chicken until golden brown, about 15 minutes.
Serve topped with arugula and tomato salad with a lemon wedge on the side.
Nutritional Information
Calories 274
Total Fat 11.4g
Saturated Fat 2.2g
Trans Fat 0.0g
Cholesterol 78mg
Sodium 400mg
Potassium 636mg
Total Carbohydrates 12.8g
Dietary Fiber 1.6g
Sugars 2.4g
Protein 29.5g
Weight Watchers Points: 6
PointsPlus: 7
https://www.homesweetjones.com/2015/01/lightened-chicken-milanese/