This recipe is for the folks like me out there looking for a way to reconcile football playoff snacking with New Year's healthy eating resolutions.
I originally posted this recipe last year but the pictures were embarrassingly gross-looking.  We needed a re-shoot to capture all the deliciousness of this super skinny variation of a game-day favorite.
Speaking of pictures – check out this beautiful grey background Brad made. He re-purposed a piece of white picket fence we took down as part of the remodel and I couldn't be more thrilled to have a little more variety in our backdrops. Best husband ever!
But back to this awesome dip…
Queso is a pretty big deal around Chez Jones so having a lower calorie alternative is important.  Serve this at your Super Bowl party or with margaritas for Happy Hour at home.
Be warned that the dip doesn't reheat well and is best eaten immediately after it's made.  Luckily, that's not a problem given how quick and easy it is to make.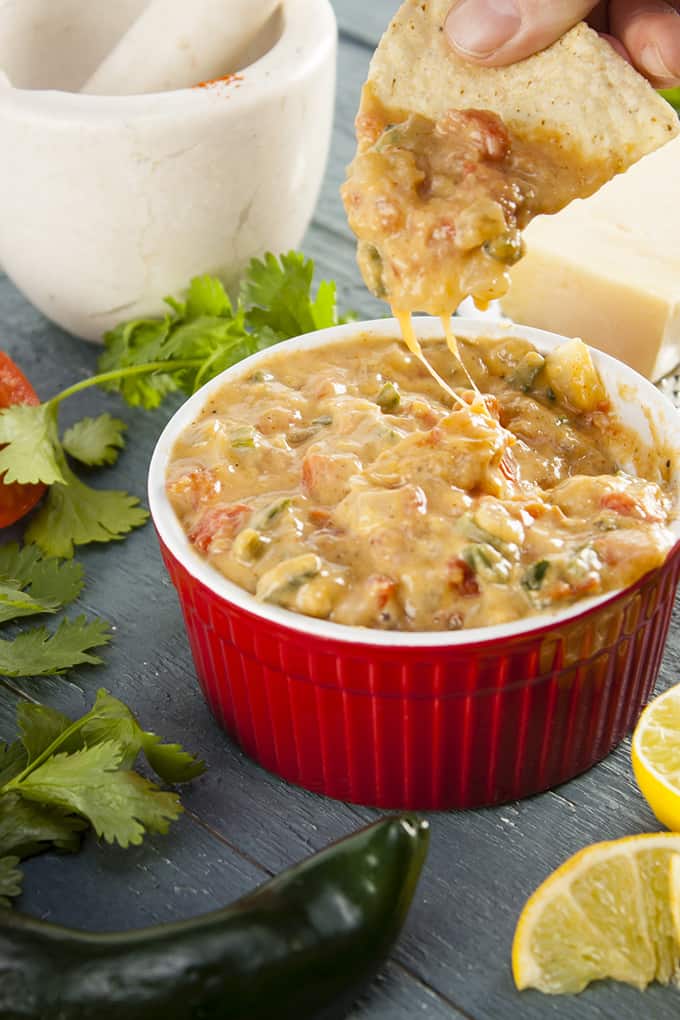 Ingredients
olive oil spray
1 small onion, diced
1 large poblano pepper, diced
1/2 c chicken or vegetable broth
1-1/4 c non-fat milk
3 tbs cornstarch
7-oz reduced fat sharp cheddar, shredded (about 1 3/4 c)
1 15-oz can no salt added diced roasted tomatoes with chiles, well drained (I use Muir Glen Organic)
1 tsp group cumin
1 tsp ground chipotle pepper
salt and freshly ground black pepper, to taste
1 tbs fresh cilantro, chopped
squeeze of lime
Instructions
Whisk together 1/4 c milk and cornstarch in a small bowl or mug. Set aside.
Spray a large saucepan with oil and heat over medium heat. Add the onion and poblano and saute, stirring frequently, until the onion begins to become translucent, about 6-7 minutes.
Add the broth and remaining milk to the saucepan and simmer about 5 minutes, stirring occasionally.
Add the cornstarch mixture and reduce heat to low. Stir quickly until the mixture has thickened, about 1 minute.
Stir in cheese and cook until melted, another 1-2 minutes.
Add well-drained tomatoes, spices, cilantro and lime. Adjust seasoning to taste and serve immediately.
Nutritional Information
Calories: 60
Fat: 2.7 g
Saturated Fat: 1.6 g
Trans Fat: 0.0 g
Cholesterol: 9 mg
Sodium: 226 mg
Total Carbohydrate: 5.8 g
Dietary Fiber: 0.7 g
Sugars: 2.2 g
Protein: 4.3 g
Weight Watchers Points: 1
Points Plus: 1
https://www.homesweetjones.com/2015/01/lightened-queso-cheese-dip/