I've been messing around with light Stroganoff for a few years now but have always been disappointed by the lack of flavor.  After a few sub-par attempts last winter I took a break and resigned myself to the idea that years of curries and salsas had rendered our palates too jaded for Russian cuisine.
Then I came across a recipe by Alton Brown that used goat cheese and my mouth immediately started watering imagining the flavor.  Combine that with a little kick of cayenne and I finally have a vegetarian Stroganoff I can get behind.
To get all the delicious goat cheese flavor into this hearty dish while still keeping the calories reasonable I used Trader Joe's Goat's Milk Creamy Cheese.  This stuff is my all time favorite cheese to spread on crackers.  If you don't have access to a Trader Joe's, you can substitute regular chevre.  It will be just as delicious but the nutritional info will be a bit different.
If you multi-task on prep you can pull this together in about 30 minutes.  Leftovers are great and make a fantastic lunch the next day.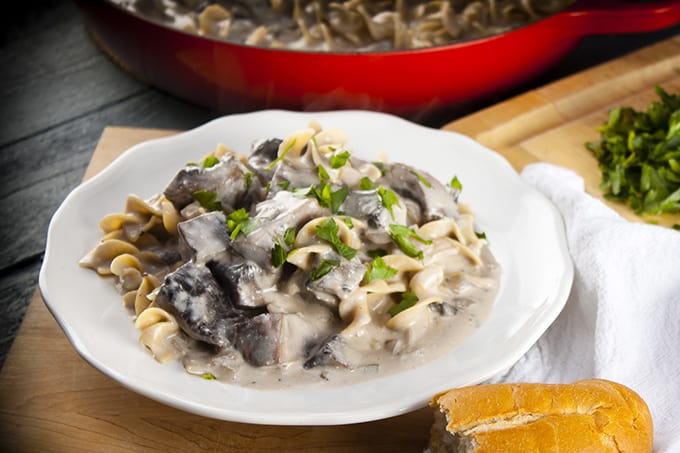 Ingredients
6 oz egg noodles
1 tbs butter
1 tbs olive oil
1 onion, chopped
1 lb portobella mushrooms, cut into 1-1/2" dice
2 tbs flour
1 c vegetable broth
1/2 c fat free sour cream
1/2 c fat free Greek yogurt
4.5 oz (1 container) Trader Joe's Goat's Milk Creamy Cheese (or substitute regular chevre)
1/4 cup chopped fresh parsley
1/4 tsp cayenne pepper, or to taste
salt and freshly ground black pepper, to taste
Instructions
Cook noodles according to package instructions. Set aside.
Meanwhile, heat butter and oil in a large skillet, braiser, or heavy pot over medium heat. Add onions and saute until softened and translucent, about 4-5 minutes.
Stir in mushrooms and covered. Cook, stirring occasionally, until mushrooms are dark, softened, and beginning to release their juices, about 5-8 minutes.
Sprinkle with flour and cook an additional 2-3 minutes, stirring.
Add vegetable broth and bring to a boil. Simmer, stirring, until slightly thickened, about 5 minutes.
Stir in sour cream, yogurt, and goat cheese. Season assertively with cayenne pepper, salt, and freshly ground black pepper.
Add drained pasta and stir to combine. Garnish with parsley and serve.
Nutritional Information
Calories 276
Total Fat 12.1g
Saturated Fat 5.0g
Trans Fat 0.0g
Cholesterol 37mg
Sodium 803mg
Potassium 723mg
Total Carbohydrates 28.8g
Dietary Fiber 3.2g
Sugars 8.4g
Protein 14.8g
Weight Watchers Points: 6
PointsPlus: 7
https://www.homesweetjones.com/2015/01/lightened-up-mushroom-stroganoff/