I originally posted this recipe exactly a year ago today but it's so fantastic and we eat it so often I needed to update the pictures. See?
I love salmon with a little hint of sweetness. This recipe brings that perfect, delicate touch of sweet along with a big, fat, groin-punch of Omega-3s.
While the health benefits and deliciousness of this dish are awesome, my favorite part is the ease and speed of preparation and clean up. It's the main reason we make this so often. It takes a total of 12 minutes from the second I step foot in the kitchen with a few groceries to serving a complete dinner – with zero dishes to clean.
Seriously, I lay a sheet of foil over a cookie sheet. Place the salmon on the foil, salt, pepper, drizzle with maple syrup and put it under the broiler for about 8 minutes. While it's cooking, I throw some steam-in-bag vegetables in the microwave for 3-4 minutes. I put everything on a plate, sprinkle with walnuts, throw away the vegetable bag and foil, put away the baking sheet and I'm done. We have a super healthy, incredibly delicious meal in less time than it would take to sit in the drive through.
I know you're wondering if something this easy and healthy can really be so delicious but trust me, it is. Try it out and let me know what you think!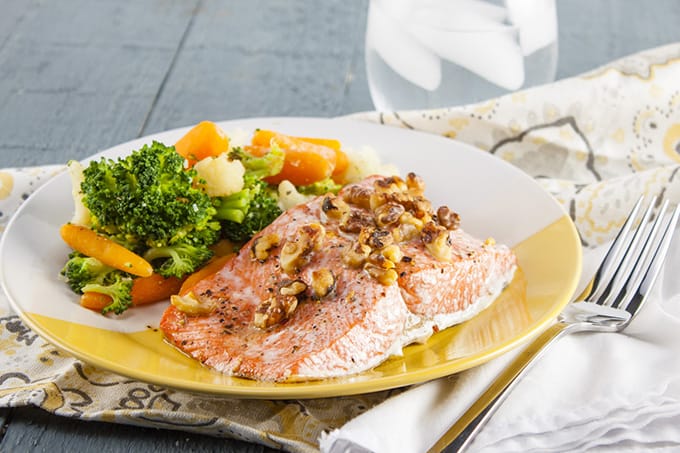 Ingredients
4 4-oz filets of wild-caught salmon
salt and freshly ground black pepper, to taste
2 tbs maple syrup
1/4 c toasted walnuts, crushed
Instructions
Season salmon with salt and pepper and place on a foil-lined baking sheet. Drizzle with maple syrup and place under a broiler on high heat. Broil until salmon is only slightly pink inside, approximately 8 minutes.
When cooked, sprinkle with toasted walnuts and serve.
Nutritional Information
Calories: 224 ; Fat: 11.6 g; Saturated Fat: 1.3 g; Trans Fat: 0.0 g; Cholesterol: 50 mg; Sodium: 51 mg; Total Carbohydrate: 7.5 g; Dietary Fiber: 0.5 g; Sugars: 6.0 g; Protein: 23.9 g; Points: 5 ; Points Plus: 6 ;
https://www.homesweetjones.com/2015/01/maple-walnut-salmon/