Pad See Ew is a popular Thai dish of wide noodles cooked in a sweet, salty, smokey sauce. The most critical component is the "wok taste" – that smokiness from slightly charred noodles.
Everything about it makes it a perfect candidate for a shirataki noodle swap. Since shirataki noodles don't burn, you can let the sugars in the sauce char without fear of overcooking the noodles. They'll also do a perfect job of soaking up all the yummy flavors. Oh, and then there's that little thing about reducing the calorie by half. That's nice, too.

As part of our New Year's healthy eating plan, I'm preparing a shirataki dish at least once a week and Brad has officially declared this his favorite.  Even the next day's leftovers inspired him to text and to say how much he loved it. I have to agree!
For those new to shirataki noodles (or this blog), they're vegan, gluten-free, calorie-free noodles made entirely from the konjac yam. They don't have flavor of their own and absorb the taste of whatever sauce they're in.
Get 10% Off on All Miracle Noodle Products  Coupon Code: AFF10 

If you're gluten-free or can't find the Dark Soy Sauce (I live in Los Angeles and couldn't find it even at my local Asian market), you can easily make you own:
Combine 1/4 c water and 1 c brown sugar in a saucepan over medium heat until sugar is dissolved and syrup is boiling. Add 1/2 c soy sauce (gluten-free if needed) and stir until thickened. Store any leftovers in the fridge.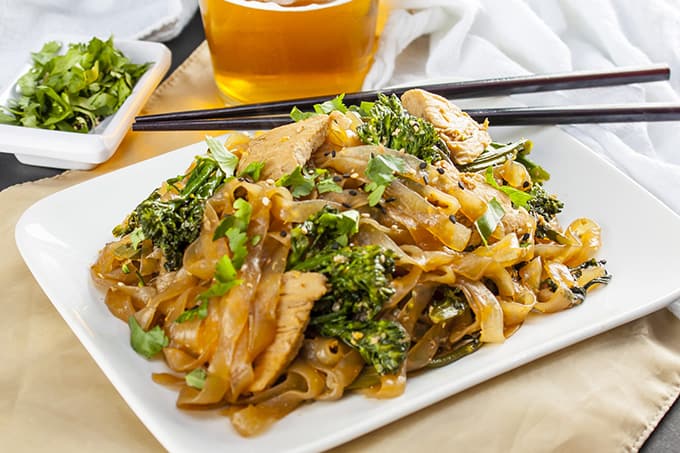 Ingredients
6 tbs sweet dark soy sauce (see note above)
6 tbs oyster sauce (use gluten-free, if desired)
2 tbs low sodium soy sauce (use gluten-free, if desired)
2 tbs white vinegar
2 tbs sugar
6 7-oz packages Fettucine Miracle Noodles
oil spray (I use my Misto)
12 oz chicken breast, thinly sliced
4 cloves garlic, finely chopped
1 lb Chinese broccoli (can substitute broccolini or baby broccoli)
2 large eggs, scrambled
Instructions
Whisk together sweet dark soy sauce, oyster sauce, thin soy sauce, vinegar and sugar to make the sauce. Set aside.
Drain the noodles in a colander and rinse thoroughly with hot water. In a wok or large, heavy-bottomed pan, dry-fry noodles over high heat until all water is evaporated and the noodles are squeaky. Set aside.
Spray the wok with oil. Add garlic and chicken and saute until chicken is almost cooked through. Set aside with the noodles.
Add the Chinese broccoli and cook until just wilted. Set aside with the chicken and noodles.
Add the eggs and scramble until just barely cooked. Return noodles, chicken, and broccoli to the wok and add the sauce. Stir to combine and continue to cook over high heat until the liquid has evaporated and sauce begins to char.
Serve immediately.
Nutritional Information
Calories 238
Total Fat 4.7g
Saturated Fat 0.8g
Trans Fat 0.0g
Cholesterol 147mg
Sodium 2024mg
Potassium 386mg
Total Carbohydrates 22.0g
Dietary Fiber 1.5g
Sugars 14.3g
Protein 26.1g
Weight Watchers Points: 5
PointsPlus: 6
https://www.homesweetjones.com/2015/01/skinny-chicken-pad-see-ew/
Huge thanks to
Rachel over at Rachel Cooks Thai
– one of my new favorite blogs – for the recipe.