I've mentioned before that queso is very serious business in this family. I could comfortably survive on a diet of just margaritas and queso – and have, in fact. For about three days, anyway. Then it becomes a little… er… uncomfortable.
But still worth it.

The purist Jones queso as passed down through the years by Brad has just two ingredients: velveeta and rotel. While I wouldn't be surprised to learn that velveeta is vegan in the same way that oreos are vegan (so gross), I've long been working on a vegan queso that is made from actual food.

Cashew crema is, of course, the classic deliciously creamy yet animal-product-free sauce but it's a little heavy on the calories for me. I've lightened things up here with pureed cauliflower and a small amount of carrot for extra veggie-based creaminess and color. The result, while certainly distinguishable from the real thing, is perfectly satisfying.

If you're laying off the animal products but can't imagine game day without a bowl of queso, this is the recipe for you. As an added bonus, it's accidentally gluten-free and intentionally low fat!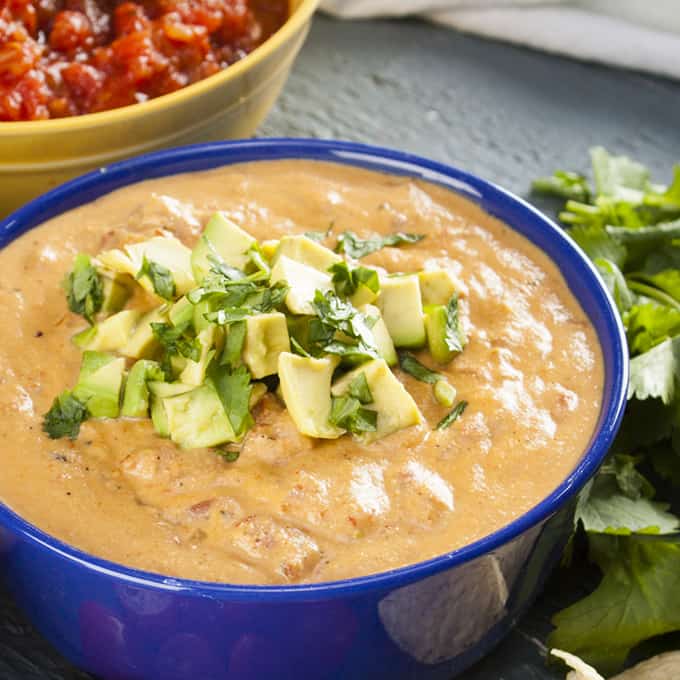 Ingredients
1/2 c cashews
3/4 c cauliflower
1 oz carrot
1.25 c unsweetened almond milk
1/4 c vegetable broth
1-2 chipotle peppers, to taste
1/4 tsp mustard powder
1/2 tsp white vinegar
1 clove garlic
6 tbs nutritional yeast
olive oil spray
1/4 c onions
1/2 tsp salt
1/2 tsp cumin
1/2 tsp freshly ground black pepper
1/4 tsp cayenne
ground chipotle pepper, to taste
1 15-oz can diced tomatoes with green chiles (I use Muir Glen Organic), well drained
Instructions
Pour boiling water over the cashews and let sit at least 10 minutes.
Meanwhile, place cauliflower and carrot in a large bowl, ad 1/4 c water, and cover tightly with plastic wrap. Microwave for 10 minutes. (Alternatively, if you don't have a microwave, you can boil the vegetables until tender.)
Drain cashews. Add soaked cashews, cauliflower, carrot, almond milk, vegetable broth, chipotle peppers, mustard, vinegar, garlic, and nutritional yeast to a blender. Puree until smooth.
Heat a medium saucepan over medium heat and spray with olive oil. Add onions and saute, stirring, until softened and translucent, about 3-5 minutes. Pour almond milk mixture into the saucepan and bring to a simmer. Add salt, cumin and black pepper and simmer until thickened, about 10 minutes, stirring occasionally. Stir in diced tomatoes and adjust seasoning to taste.
Serve with tortilla chips and enjoy.
Nutritional Information
Calories 84
Total Fat 3.9g
Saturated Fat 0.7g
Trans Fat 0.0g
Cholesterol 0mg
Sodium 178mg
Potassium 357mg
Total Carbohydrates 8.9g
Dietary Fiber 3.0g
Sugars 2.2g
Protein 5.1g

https://www.homesweetjones.com/2015/01/vegan-queso-dip/