January 2 always feels like the first real day of the New Year.  For me, January 1 is dedicated to recovering from New Years Eve celebrations and generally being lazy. After a season of overindulgence, Brad and I shook off the last of the holiday fog today.  We packed up our decorations, cleaned the house, and took a beautiful hike through Runyon Canyon.
We're feeling motivated to eat extra light to make up for the past month and this dish is definitely a great way to kick things off. Under 200 calories, vegan, and gluten-free, this Pad Thai is as delicious as the traditional. It's a Christmas miracle!
Actually, it's just the miracle of shirataki noodles. If you've read this blog before, you've heard this spiel about 10 times already. For those who haven't heard, shirataki noodles are zero-calorie vegan, gluten-free noodles made from the konjac yam.  We absolutely love them and they'll be playing a huge role in our 2015 healthy eating plan.
Get 10% Off on All Miracle Noodle Products  Coupon Code: AFF10 
I'm crazy excited because my favorite brand of shirataki noodles, Miracle Noodle, has launched a new product line and is sponsoring a giveaway of their awesome new products. Enter below to win:
Two boxes (4 servings each) Weight Management Soup in Zesty Southwest Lentil
Two boxes (4 servings each) Energy Support Soup in Thai Coconut
Two boxes (4 servings each) Cleanse and Detox Soup in  Mild Lemon Curry
One bag (12 servings) Miracle Matcha Health Mix-in of white tea matcha, flax seed, chia seed, and goji berries
One canister (20 servings) Miracle Matcha white matcha tea
Three Miracle Matcha Health Shots
Use the tool below to enter the contest between now and January 15.  I'll post the winner on January 16.
Back to the recipe…
Pad Thai is defined by the sauce.  Tart, sweet, and salty, Pad Thai sauce is traditionally made from fish sauce, tamarind, and cane sugar.  The trickiest part of making it vegan was to find a substitute for the salty, umami fish sauce.   A combination of mushroom broth and soy sauce does the trick.  Just don't skimp on the tamarind – I tried a few pastes and the brick of pure dried fruit is perfect.  After a swap of soft tofu for the egg, the Pad Thai is ready to go.
Add in any extra vegetables you love or mix in some pre-cooked chicken or shrimp for the carnivores in your life.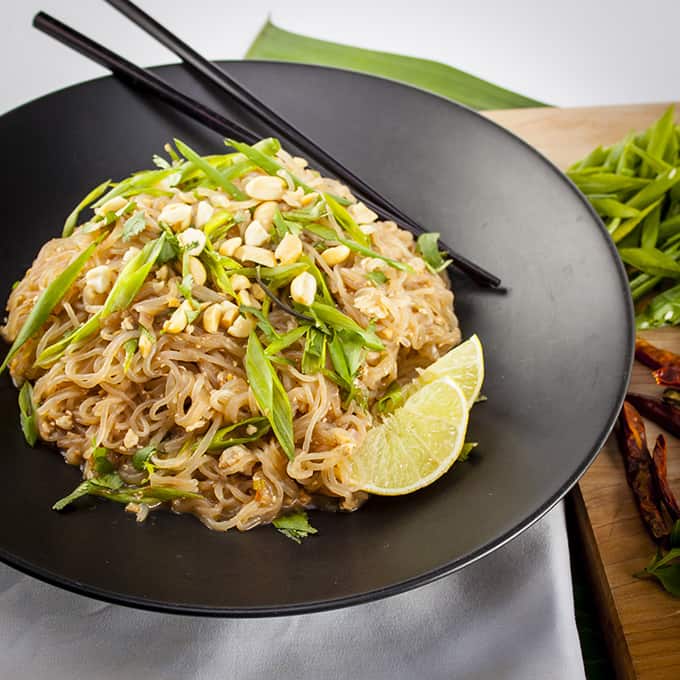 Ingredients
6 7-oz packages shirataki noodles (I use Miracle Noodle)
1/2 c shallots, thinly sliced
1 bunch green onions, green and whites separated; whites chopped and greens thinly sliced on the diagonal
1/2 tsp crushed red pepper
1 tbs garlic, minced
1 tbs ginger, minced
1-1/2 c bean sprouts
6 oz soft tofu
2 tbs cilanto, chopped
2 tbs peanuts, coarsley chopped
sriracha, to taste
lime wedges, for serving



Pad Thai Sauce

1/4 c wet tamarind
1 c boiling water
1 cube mushroom bouillon
1/4 c + 1 tbs low sodium soy sauce
1/4 c brown sugar
2 tbs table sugar
1 tbs PB2 (you can substitute peanut butter)
Instructions
Prepare the shirataki noodles
Drain the noodles and rinse thoroughly with hot water. Boil noodles for one minute and drain. Place in a wok or large pan over high heat and dry fry until water is dissolved. Set aside.
Prepare the Pad Thai sauce
Soak the tamarind and bouillon in the boiling water for at least 15 minutes, mashing and whisking periodically. Strain through cheesecloth or force through a fine sieve, squeezing out as much liquid as possible. Discard the stems and seeds.
Add soy sauce, sugars, and PB2 to the tamarind mixture. Whisk until sugars are dissolved and set aside.
Stir-fry the Pad Thai
Place a wok or large pan over medium-high heat and spray with non-stick spray. Add shallots, the white parts of the green onions, and red pepper. Stir fry until shallots are tender, about 2-3 minutes.
Add garlic, ginger, and bean sprouts and saute until fragrant, about another minute. Deglaze with a small amount of sauce if anything threatens to stick.
Add tofu and noodles, stir to combine breaking tofu into small pieces that resemble egg.
Add remaining sauce and green onions and stir to combine.
Garnish with cilantro and peanuts. Serve with sriracha and lime wedges.
Nutritional Information
Calories 199
Total Fat 4.9g
Saturated Fat 0.7g
Trans Fat 0.1g
Cholesterol 0mg
Sodium 1046mg
Potassium 482mg
Total Carbohydrates 33.7g
Dietary Fiber 2.2g
Sugars 21.0g
Protein 10.4g
Weight Watchers Points: 4
PointsPlus: 6
https://www.homesweetjones.com/2015/01/vegan-shirataki-pad-thai-miracle-noodle-giveaway/