I'd been toying around for a few weeks with the idea of veggie stacks. I wasn't sure exactly what I wanted besides eggplant… maybe ratatouille stacks with roasted zucchini, peppers, and goat cheese or mushrooms with a roasted pepper coulis or something Greek-inspired with sumac and feta (all of which will probably still come up on this blog).
I finally landed on eggplant with tomatoes and mozzarella. Essentially a healthier version of Eggplant Parmesan. I was a genius! Surely no one's ever thought of this!

A Google search later I realized that everyone has thought of it from Mario Batali to Martha Stewart to a dozen of my favorite bloggers. Oh well. That must mean it's awesome, right? Right, actually. This dish was incredibly awesome. And surprisingly filling for just 100 calories a stack. I was planning to eat two with a Caesar salad for dinner and ended up packing up the second for lunch the next day.

Light, healthy, and easily made gluten-free and vegan, these Eggplant Parm stacks are now in the regular dinner rotation.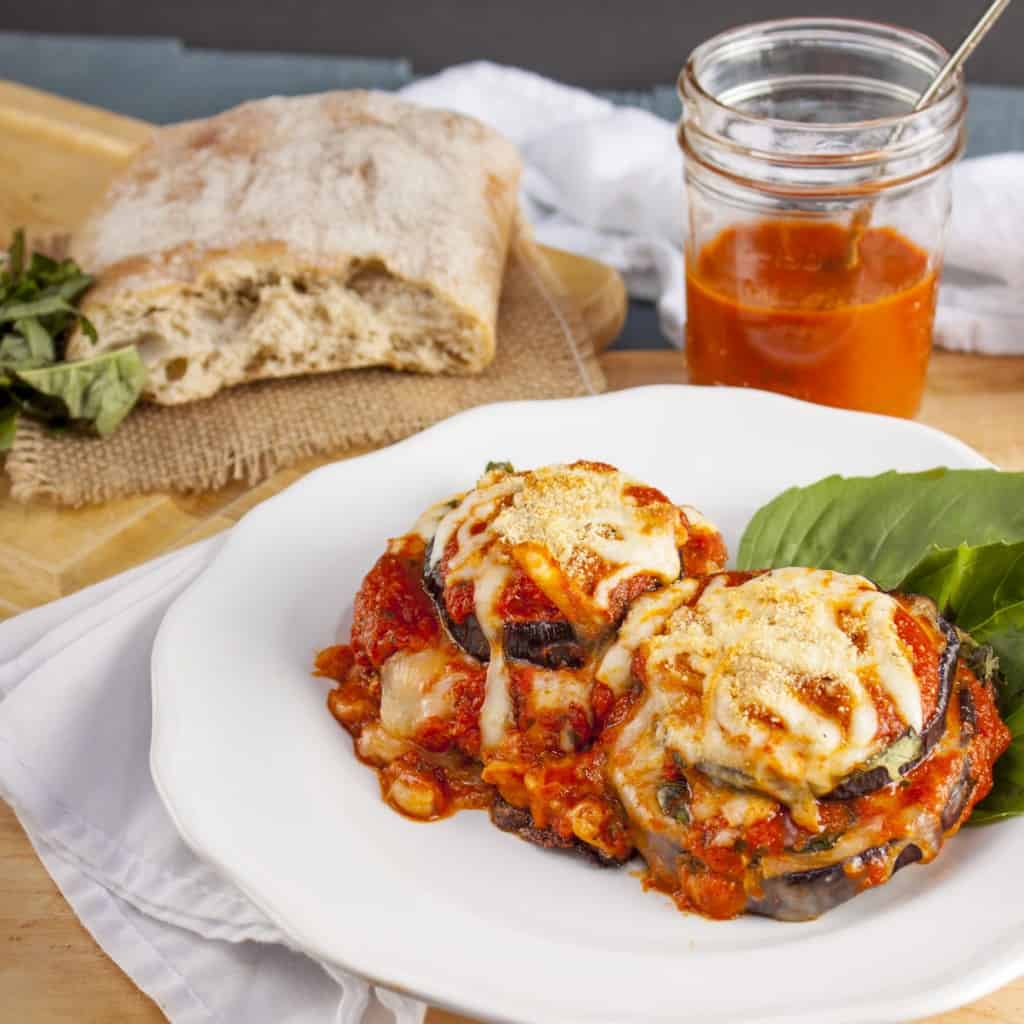 Ingredients
1 eggplant
1/4 c basil
1 c tomato sauce
4 oz mozzarella (substitute vegan if desired)
1 tbs breadcrumbs (substitute gluten-free if desired)
olive oil spray (I used my misto)
Instructions
Bake the Eggplant:
Preheat oven to 425F.
Slice the eggplant into 12 approximately 3/4-inch rounds.
Optional: Heavily salt each round and place in a colander set over the sink or a plate for 30 minutes. The salt will draw out the bitter juices. Rinse off the salt and pat reach round dry with a paper towel.
Spray a foil-lined baking sheet with olive oil. Bake the eggplant rounds in a single layer until golden brown and fragrant, about 20-25 minutes.
Prepare the stacks:
Arrange the four largest eggplant rounds on the foil. Sprinkle with salt, pepper, basil and mozzarella. Top with 1-1/2 tablespoons of tomato sauce.
Place the next 4 largest eggplant rounds atop each stack and repeat the layers before adding the smallest eggplant rounds. Top with the remaining basil, tomato sauce and mozzarella. Sprinkle each with breadcrumbs and spray with olive oil.
Return to oven and bake another 5-7 minutes until the cheese is melted and breadcrumbs are golden-brown.
Nutritional Information
Calculated using light mozzarella:

Calories 96
Total Fat 3.5g
Saturated Fat 1.1g
Trans Fat 0.0g
Cholesterol 10mg
Sodium 528mg
Potassium 473mg
Total Carbohydrates 11.3g
Dietary Fiber 5.1g
Sugars 6.1g
Protein 7.3g
Weight Watchers Points: 1
Points Plus: 2
https://www.homesweetjones.com/2015/02/baked-eggplant-parmesan-stacks/