While we were up in Seattle for the Summer, Brad's dad grilled up some salmon on a cedar plank and blew my mind. I couldn't believe how much flavor the wood imparted to the fish and how evenly it cooked. I came home determined to recreate the experience. The difference between me and Brad's dad, however, is I'm incredibly lazy and a little bit cheap. Er, frugal.

The frugal part was easy to satisfy. I found these cedar planks on Amazon for less than $2 each – each one is large enough for a one pound fillet.

Most importantly, though, I wanted to be able to make these without having to go outside, walk down the stairs, and clean the spiders off the grill. It turns out that part was easy to satisfy, too. Cedar plank salmon is super simple to make in the oven. In fact, I've been making it in my little toaster oven so I don't even have to wait to preheat the full-size sucker.
You can make this in under 15 minutes if you soak the planks ahead of time. (Protip: soak them weeks in advance and just store in the freezer until you're ready to use.) Steam some vegetables in the meantime and you have a super fast and healthy dinner that tastes like summer in Seattle.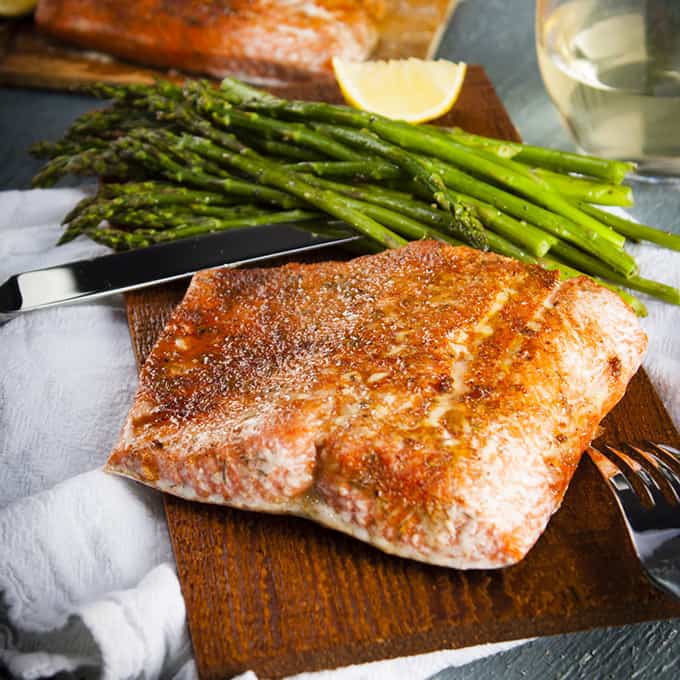 Ingredients
olive oil spray (I use my misto)
1 lb wild caught skin-on salmon filet
2 tbs salmon rub (see below or swap your favorite - omit sugar for paleo)



Salmon Rub

1 tbs paprika
1 tbs kosher salt
1 tbs brown sugar (packed)
2 tsp lemon pepper
1 tsp black pepper
1 tsp powdered garlic
12/ tsp dried tarragon
1/2 tsp dried thyme
1/2 tsp mustard powder
pinch of cayenne pepper



Special Equipment
Instructions
Soak the plank in water for at least 45 minutes. You can do this in advance and freeze the plank until you're ready to use it.
Spray some oil on the plank and place it in the oven while you preheat to 350F.
Place salmon skin-side down on plank. Massage salmon rub into fish. Bake until flesh is just cooked through and flakes easily, about 10-14 minutes.
Nutritional Information
Calories 156
Total Fat 4.1g
Saturated Fat 1.0g
Trans Fat 0.0g
Cholesterol 87mg
Sodium 60mg
Potassium 26mg
Total Carbohydrates 3.7g
Sugars 2.7g
Protein 24.1g
Weight Watchers Points: 3
PointsPlus: 4
https://www.homesweetjones.com/2015/02/cedar-plank-salmon-oven/