Brad and I first started dating two weeks before Valentine's Day over a decade ago.  After our first week together, he asked if I wanted to go out next Saturday.  Of course I did!  He asked me if I knew what day it was.  Of course I did!
Even though our relationship was new, we were both for some reason excited to go a little big and romantic.  He made reservations at the hip new club, covered his apartment in candles, and even did all his laundry. I couldn't wait until the evening to see him so I came over in the morning to play video games with him and his buddy. It was a fun, crazy night that we still reminisce over and, after that, we stumbled into a tradition of going out every year on Valentine's day.

Until two years ago, anyway, when I finally got fed up with sitting in traffic for 40 minute to get to a restaurant a mile and  a half away or paying an absurd amount of money for a prix fixe menu that didn't include any of the dishes that were the reason I chose the restaurant in the first place.
In 2013 we made a sacred pact to never eat out on V-Day again and I couldn't be happier with the decision.  Not only is it much less stressful and much less expensive, I love a chance to play with all kinds of fun, romantic dinner ideas.

If you're looking for something super adorable, give these conversation heart cakes a try.  I made them with airy angel food cake (courtesy of Alton Brown) and whipped cream to keep them light and lower calorie but make them with any of your favorite cake and frosting recipes.  I used this heart-shaped individual-sized cake pan to make a cake that's the perfect size for sharing with your sweetheart but I imagine you could also cut the hearts out of a sheet cake using a cookie cutter. However you decide to make them, I know your family will get a kick out of these adorable cakes.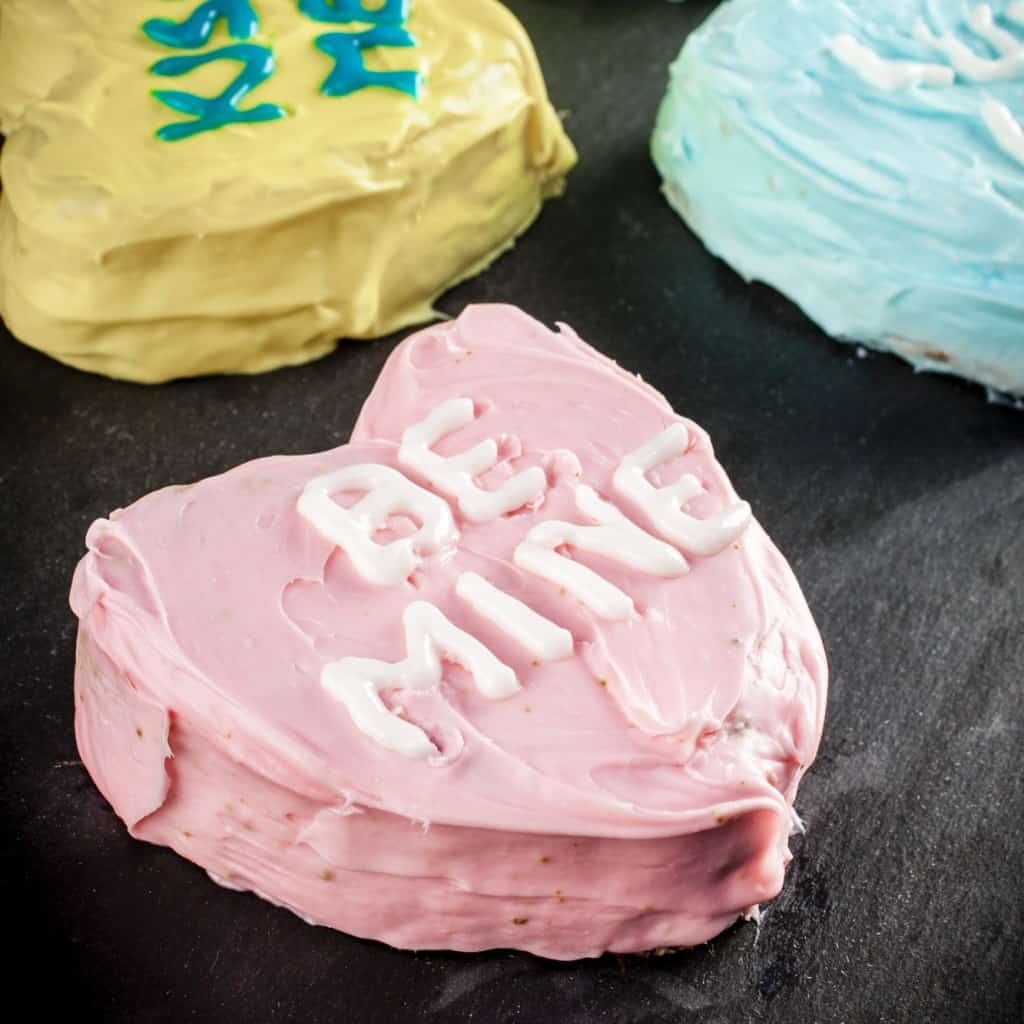 Ingredients
Angel Food Cake

1 3/4 c superfine sugar
1/4 tsp salt
1 c cake flour, sifted
12 egg whites
1/3 cup warm water
1 tsp vanilla
1 1/2 tsp cream of tartar



Whipped Cream Frosting

4 oz reduced-fat cream cheese, softened
1/4 c white sugar
1/2 tsp vanilla extract
1 c heavy cream
natural food coloring



Special Equipment

Cake Decorating Gel
Instructions
Bake Cakes
Leave egg whites in the bowl of a mixer until room temperature, about 30 minutes.
Meanwhile, preheat oven to 350 degrees F.
Combine 1 c sugar with the cake flour and set aside.
At slow speed, whisk together egg whites, water, vanilla, and cream of tartar. Increase speed to medium and add 3/4 c sugar and continue to whisk until medium peaks form.
Adding only a small amount, use a spatula to gently fold in the flour mixture until all is combined.
Carefully spoon the mixture into the ungreased heart-shaped cake pans filling about 2/3 full.
Bake until the top is golden, no longer sticky to the touch, and a skewer inserted into the middle of the heart comes out dry, about 15-20 minutes.
Prop the cake pan on it's side against a wall to cool. Once cool, run a sharp knife around the edge of the hearts and remove.
Make Frosting
Use egg beaters or a stand mixer to combine cream cheese, sugar, and vanilla.
While the mixture is still whipping, slowly pour in the heavy cream. Whip, scraping the bottom occasionally, until stiff peaks form.
Transfer 1/4 c of the frosting to a smaller bowl and add a small amount of food coloring.
Decorate Cakes
Frost each cake with approximately 1/4 c frosting. Write sweet messages using cake decorating gel.
Nutritional Information
Calories 188
Total Fat 5.4g
Saturated Fat 3.3g
Cholesterol 18mg
Sodium 84mg
Potassium 110mg
Total Carbohydrates 31.8g
Sugars 25.3g
Protein 4.2g
https://www.homesweetjones.com/2015/02/conversation-heart-cakes/