This delicate, richly flavorful soup is so worth the extra few minutes of simmering the aromatics with the broth and straining.Brad and I were both blown away by the mouthwateringly complex the flavors of this simple broth.
This recipe is inspired by Bourride, a French fish stew thickened with aioli. However, I wasn't super excited about the calories and fat of mayonnaise stew and instead served the aioli on the side with toasts so folks could stir in as much or as little as they like. It turns out that the broth had so much flavor I didn't need the aioli at all.

I think this soup is best with a dense whitefish such as halibut, sea bass or monkfish but it would still be fantastic with a less spendy choice like tilapia or sole.

This is an awesome choice for when you really want to blow away your dinner guests but don't want to spend an hour in the kitchen. Utterly delicious, filling, but light enough that you can justify a glass of or two of wine, this will be a new favorite.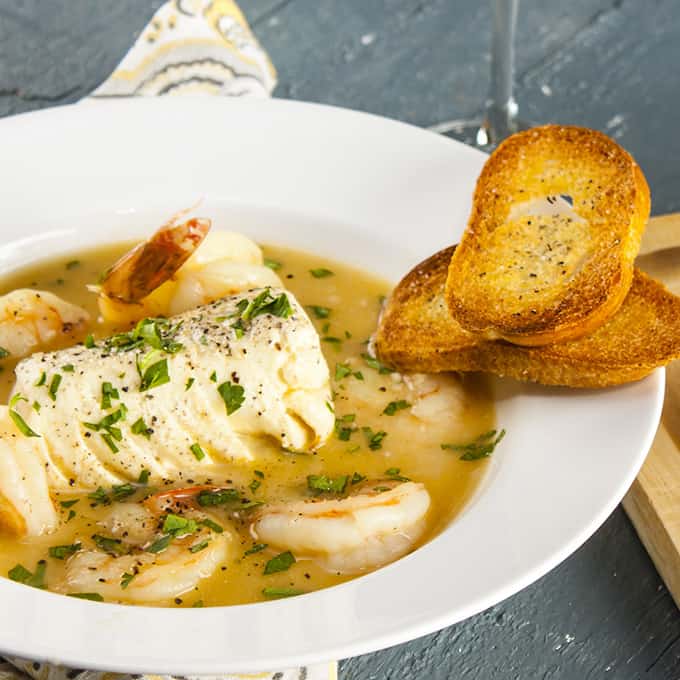 Ingredients
1 tbs olive oil
1 tsp. fennel seeds
¼ tsp. cayenne
2 cloves garlic, crushed
2 leeks, white parts only, roughly chopped
2 onions, roughly chopped
2 plum tomatoes, quartered
1 bay leaf
1½ c dry white wine
4 c seafood stock
2 c water
1 tbs butter
2 tbs flour
1 lb skinless firm white fish, such as halibut or monk fish, pin bones removed
1/2 lb medium shrimp, peeled and deveined, tails removed
1 pinch saffron threads
kosher salt and freshly ground black pepper, to taste
2 tbs minced parsley
Instructions
Heat oil in a large saucepan over medium heat. Add the fennel seeds, cayenne, garlic, leeks, onions, tomatoes, and bay leaf. Cook, stirring occasionally, until onions are translucent and leeks are soft, about 15 minutes.
Add wine and bring to a boil. Simmer until reduced by half, about 10 minutes.
Add seafood stock and water. Bring to a boil and reduce heat to medium. Cook until slightly reduced, about 15 minutes.
Pour broth through a fine-mesh strainer into a large container.
Melt butter in the pot and add flour. Cook, stirring, until fragrant, about 2 minutes. Slowly whisk in the strained broth.
Sprinkle broth with saffron and add fish and shrimp. Season with salt and pepper. Cook until fish is firm and shrimp are pink, about 3 minutes. Using a slotted spoon, transfer the fish and shrimp and divide between 4 bowls. Ladle broth on top of fish and garnish with parsley.
Serve with toasted baguettes and aioli on the side, if desired.
Nutritional Information
Calories 398
Total Fat 10.4g
Saturated Fat 3.3g
Trans Fat 0.0g
Cholesterol 177mg
Sodium 581mg
Potassium 743mg
Total Carbohydrates 20.9g
Dietary Fiber 3.1g
Sugars 7.3g
Protein 41.3g
Weight Watchers Points: 8
PointsPlus: 8
https://www.homesweetjones.com/2015/02/seafood-stew/