Once a week, usually Tuesday, we have "Fish and Veggie" night – usually just a simple baked salmon with steamed or blanched vegetables on the side. It's Brad's favorite dinner of the week and I love it because most of our fish and veggie recipes take under 15 minutes from grocery bag to plate.

Sometimes I miss the chance to do something a little fancier, however, so I recently kicked it up with this sesame-crusted seared Ahi. It still took under 15 minutes – including the time to whip up a delicious Asian Cucumber Salad – but was a nice break in the salmon-green-bean routine.

I had some leftover crème fraîche from the salmon rillettes so mixed in a little wasabi to make a sauce for Brad.  He gave it his seal of approval.  I'm not a wasabi fan and stuck with soy sauce which was also great.
This recipe is gluten-free, paleo-friendly, and heart healthy. Serve it with an Asian Cucumber Salad, Spicy Garlic Snow Peas, or Sauteed Baby Bok Choy for a fast and easy meal under 300 calories.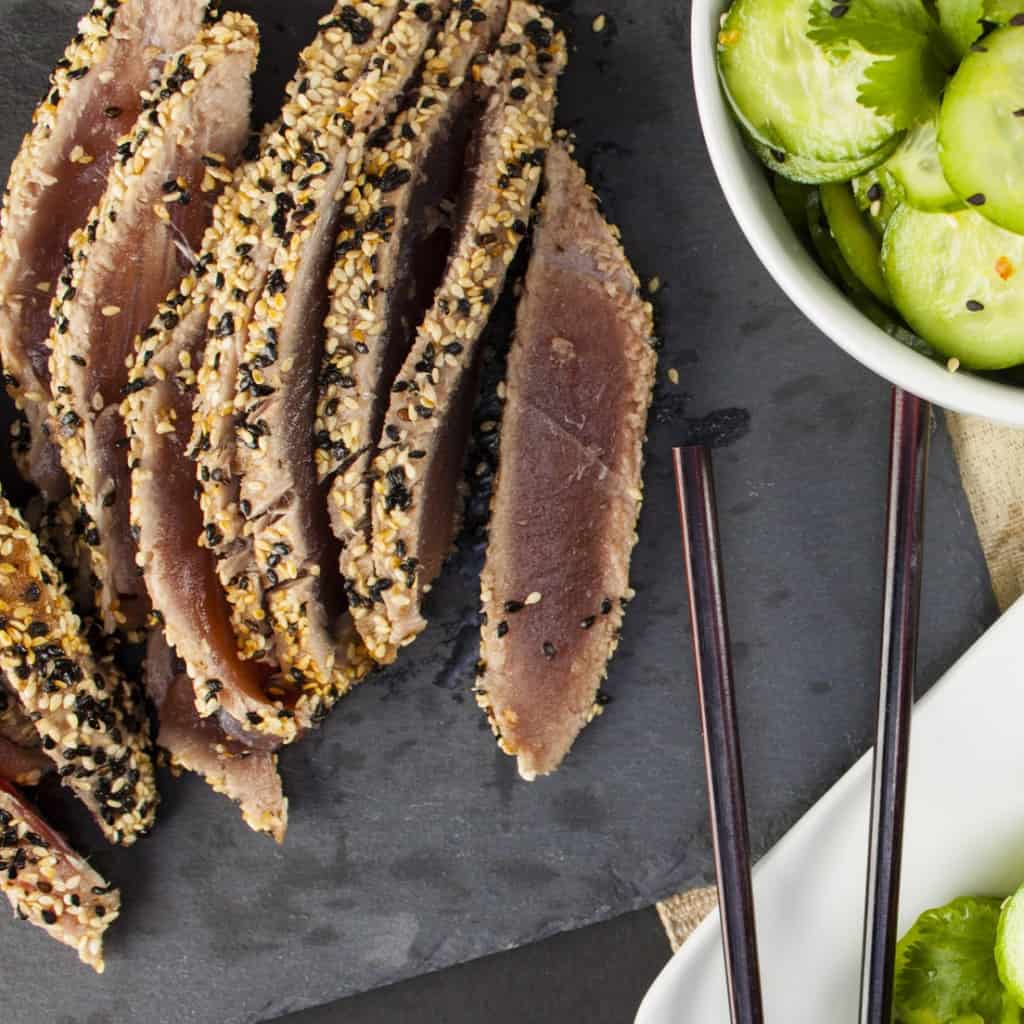 Ingredients
1 lb sashimi-grade ahi tuna steaks
salt and white pepper, to taste
1/4 c sesame seeds (mix of black and white)
1 tsp high smoke-point oil (I use MCT oil)
1/4 c crème fraîche
1 tbs wasabi, more or less to taste
Instructions
Let ahi sit out until room temperature. Dry with paper towels and season all sides with salt and pepper.
Pour sesame seeds into a plate and press each side of the ahi steaks into the seeds until coated.
Heat a heavy-bottomed skillet over high heat. Turn on range hood as oil will smoke heavily. When hot, add oil.
Cook ahi about 30 seconds to 1 minute per side.
Let tuna sit at least 5 minutes before slicing into thin strips.
Meanwhile, combine wasabi and crème fraîche in a small bowl.
Serve tuna with wasabi crème fraîche on the side.
Nutritional Information
Calories 198
Total Fat 7.3g
Saturated Fat 1.5g
Trans Fat 0.0g
Cholesterol 44mg
Sodium 2mg
Potassium 554mg
Total Carbohydrates 2.7g
Dietary Fiber 1.2g
Protein 29.4g
Weight Watchers Points: 4
PointsPlus: 5
https://www.homesweetjones.com/2015/02/sesame-crusted-seared-ahi-wasabi-creme-fraiche/