I'm sorry it's been so long, guys! My new gig promises to be crazy fun but is mostly just crazy crazy right now. Let me make it up to you with this recipe for what I can confidently say is the best Mulligatawney soup since Seinfeld.

Since there's no definitive recipe or even flavor composition for Mulligatawney, I've experimented with quite a few drastically different interpretations over the last two years. This Aryuvedic recipe adapted from the WARMTH cookbook has the best flavor and creamy texture. Who would expect something so delicious to be so healthy?

Under 300 calories a serving, this soup is vegan, gluten-free, and can easily be made paleo by excluding the garbanzo beans. It's also incredibly frugal with each filling bowl clocking in at under two dollars.
Serve with a side salad and/ or naan for an easy, healthy, comforting meal.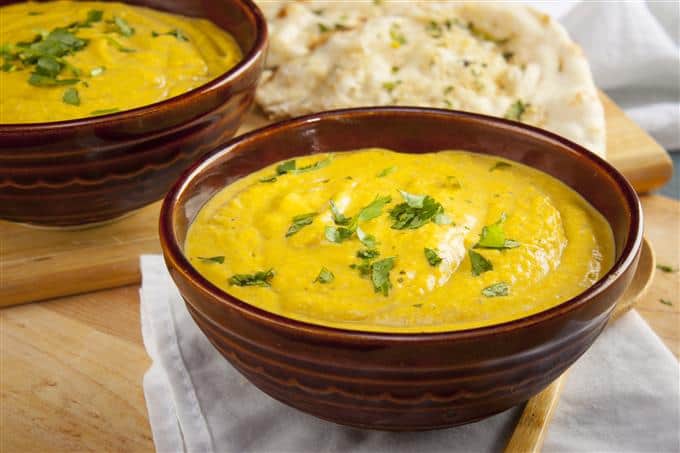 Ingredients
1 tsp oil (I use MCT or olive oil)
1 yellow onion, finely diced
1 tbs ground coriander
1 tsp turmeric
1/2 tsp freshly ground black pepper
1 pinch cayenne pepper, more or less to taste
1 medium tomato, diced
1 large potato, diced
1 carrot, diced
1/2 green pepper, diced
4-5 c boiled water
1 14.5-oz can chickpeas, drained and rinsed
1/2 c finely shredded dried coconut, no sugar added (I use Bob's Red Mill)
1 cup coconut milk
a handful of fresh cilantro, finely chopped
the juice of a lemon
salt and additional black pepper, to taste
Instructions
Heat the oil in a large saucepan over medium-low heat. Add diced onions and saute until translucent and beginning to turn golden, about 5-8 minutes. Add turmeric, coriander, black pepper, and cayenne pepper and saute another minute, until fragrant.
Add tomato, potato, carrot, and green pepper. Season with salt and pepper. Cook with the lid on stirring occasionally, until the vegetables are softened and beginning to stick, about 10 minutes.
Add the boiling water, bring to a boil, then reduce heat to a simmer. Simmer on low heat until the vegetables are completely cooked, about 5 minutes.
Add the chickpeas, coconut, and coconut milk and cook for another 5 minutes.
Blend with an immersion blender until smooth. Alternatively, blend carefully in batches in an upright blender.
Stir in cilantro, lemon juice, and season to taste.
Nutritional Information
Calories 283
Total Fat 10.3g
Saturated Fat 7.9g
Trans Fat 0.0g
Cholesterol 0mg
Sodium 335mg
Potassium 855mg
Total Carbohydrates 42.8g
Dietary Fiber 9.2g
Sugars 10.7g
Protein 8.9g
Weight Watchers Points: 6
PointsPlus: 7
https://www.homesweetjones.com/2015/04/best-mulligatawney-soup/