Does a giant bowl of creamy noodles packed with Spring vegetables for under 150 calories sound too good to be true?  Creamy AND vegan? Noodles AND gluten-free?
Brad didn't believe me either until I used this recipe to try out Miracle Noodle's new spinach shirataki noodles.

Granted, this is a very different dish that your traditional Pasta Primavera but the creamy sauce and fresh vegetables hit all the same notes.
I adapted my favorite vegan "alfredo" sauce and kicked it up with extra vegetables.  I went for spinach, mushrooms, and peas but this would also be great with peppers, asparagus, broccoli, or any other combination or your favorites.

This was my first venture into using shirataki noodles in a non-Asian dish.  The spinach flavor works well here but for traditional shirataki – or if you're new to the noodles in general – I'd stick with old favorites like Kung Pao Chicken, Pad See Ew, or Thai Curry.
Get a 10% Discount on Miracle Noodles with Code: AFF10

If you haven't used shirataki noodles before, they're calorie-free, gluten-free, vegan noodles made from the konjac yam.  The packing liquid can be a little stinky when you first open a package but just follow the steps in the recipe to prepare them for deliciousness.  Note that the new spinach noodles have 10 calories a serving because, you know, they're made with real spinach.

This dish is just as healthy as you'd expect a yam noodles  and vegetables smothered in pureed cauliflower to be but I promise it's much more delicious.  It won't fool anyone into thinking it's an actual fatty pasta dish but it's just the thing when you want a giant bowl of creamy pasta for fewer calories than a glass of wine. Did I mention it's gluten-free, vegan, and paleo? Have that extra glass of wine!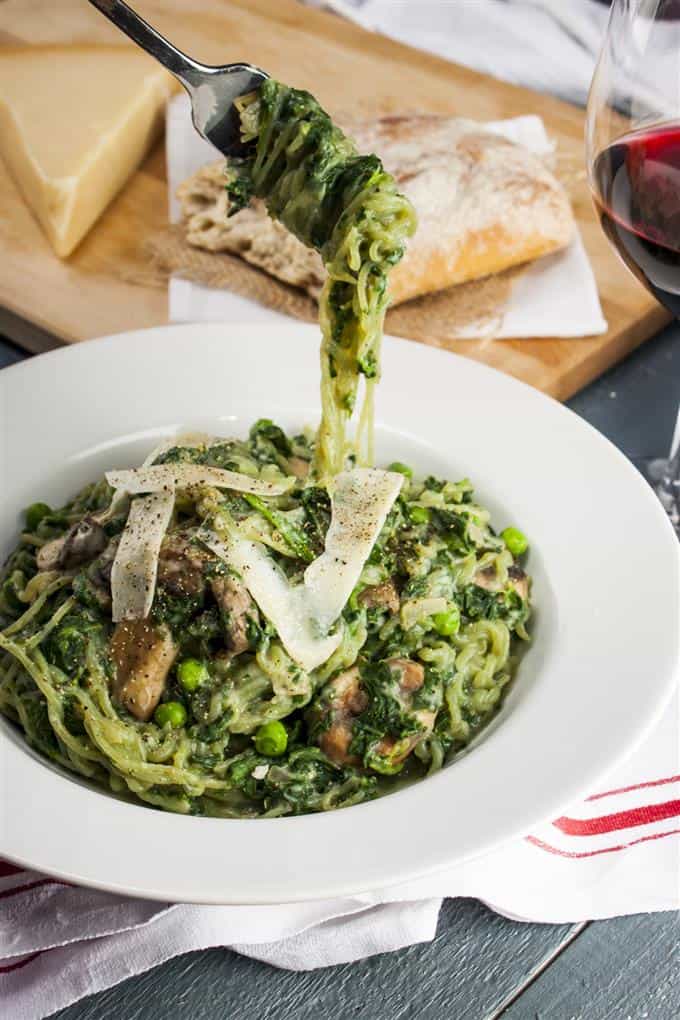 Ingredients
1 head garlic
olive oil
1 large head cauliflower, cut into florets
1/2 c vegetable broth
½ cup milk (substitute dairy free milk of choice for vegan)
2 tbs nutritional yeast
1 tsp powdered onion
1 pinch nutmeg
1 pinch cayenne pepper
salt and freshly ground black pepper
6 7-oz packages Spinach Shirataki Noodles
1 12-oz package frozen spinach
olive oil spray (I use my misto)
1/2 onion, diced
12-oz mushroom, sliced
1 c frozen peas
Instructions
Prepare Sauce
Preheat an oven or toaster oven to 450F.
Drizzle garlic with oil and wrap in tin foil. Cook garlic 30 minutes.
Meanwhile, bring a large pot of salted water to a boil. Add cauliflower florets and cook until tender when pierced with a fork, about 10 minutes.
Using a slotted spoon, remove cooked florets to a blender. Add vegetable broth, milk, nutritional yeast, powdered onion, nutmeg, cayenne pepper, salt to taste, and lots of freshly ground black pepper to the blender. When cool enough too handle, squeeze roasted garlic from its cloves into the blender. Puree cauliflower-garlic mixture until very smooth.
Sauce can be prepared a day in advance and stored in the refrigerator.
Prepare Noodles
Empty shirataki noodles into a colander and rinse well with cool water.
Boil for 2-3 minutes and drain into colander. Set aside to dry.
Transfer frozen spinach to a microwaveable container, cover, and microwave until just thawed, about 4 minutes. Squeeze liquid from spinach over the sink and set aside.
Heat a large, heavy pot or braiser over medium heat. Spray with oil and add onions and mushrooms. Cook, stirring, until onions are translucent and mushrooms have released their juices, about 5-8 minutes. Season with salt and pepper and continue cooking until mushroom liquid has evaporated.
Add cauliflower sauce, spinach, noodles, and peas. Cook until heated through and adjust seasoning as needed.
Nutritional Information
Calories 143
Total Fat 1.0g
Trans Fat 0.0g
Cholesterol 0mg
Sodium 199mg
Potassium 1000mg
Total Carbohydrates 23.5g
Dietary Fiber 7.1g
Sugars 6.4g
Protein 12.2g
Weight Watchers Points: 2
PointsPlus: 3
https://www.homesweetjones.com/2015/04/super-skinny-spinach-pasta-primavera/