I spent last week in London and Porto for work. It was a crazy hectic few days trying to accomplish everything that needed to be done and, while it was beautiful and wonderfully productive, I ended up averaging just 4-5 hours of sleep a night (not much by my lazy standards) and was pretty worn out by the end of the week.
This is the type of dish that's perfect for a day like that: one-pot, less than 30 minutes, almost completely sourced from items in the pantry, and tasty enough not to disappoint after the wonderful flavors of Portugal.

This delicious, comforting recipe comes courtesy of my sister. Her original is made with pork chorizo and an extra can of garbanzo beans.  Her kids love it – even the picky eaters – so this is confidently tagged "Kid Friendly."
I always make extra sofrito and store it in the freezer and there's no need to defrost before throwing it into this recipe.

This comforting, easy to make dish is vegan, gluten-free, and just 355 calories a serving, excluding rice.  Packed with 20g of protein it will make your body as happy as your tastebuds.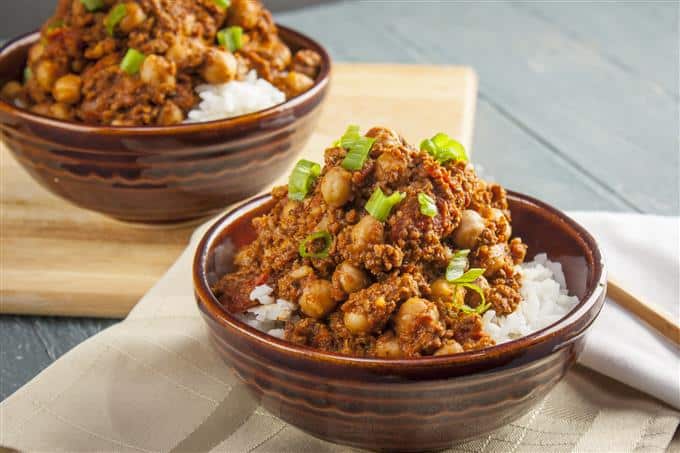 Ingredients
Olive oil spray (I use my Misto)
12 oz soy chorizo (I use Trader Joe's)
1 c sofrito
2 15-oz cans no salt added garbanzo beans, drained and rinsed
1 15-oz can no salt added diced tomatoes sauce
2 packets Sazon (I use Badia)
1-1/2 c vegetable broth
salt and freshly ground black pepper, to taste
green onions for garnish, optional
Instructions
Heat olive oil in a large skillet over medium heat. Add the chorizo and cook, stirring, until fragrant and beginning to brown.
Add sofrito and saute until hot.
Add garbanzo beans, tomato, sazon and broth. Simmer, covered, 15 minutes. Uncover and simmer another 5 minutes, stirring occasionally. Adjust seasoning to taste and serve over rice.
Nutritional Information
Calories 355
Total Fat 11.8g
Saturated Fat 1.6g
Trans Fat 0.0g
Cholesterol 0mg
Sodium 1041mg
Potassium 393mg
Total Carbohydrates 43.4g
Dietary Fiber 11.0g
Sugars 9.3g
Protein 20.0g
Weight Watchers Points: 7
PointsPlus: 9
https://www.homesweetjones.com/2015/04/vegan-spanish-chorizo-chickpeas/