Fresh corn, red potatoes, and plump shrimp simmered in traditional Old Bay seasoning make a crazy fun Summer meal that's as delicious as it is easy to put together.

Brad took me to my first crawfish boil several years ago and I loved the relaxed, easy atmosphere – especially considering that the hosts were cooking for about 30. The giant pot over a fire and trash bag-lined tables were a bit much for a dinner at home but made for a perfect Summer party. Cooking with friends in the sunshine is one of my all-time favorite activities. While the crawfish were a little briny for my taste, I couldn't get enough of the corn, potatoes, soft garlic cloves.

This recipe captures all the fun of a Summer boil on a smaller scale. Shrimp are certain to please most tastes and there are extra corn and potatoes for vegetable lovers like me. I wouldn't recommend substituting anything for the Old Bay – at under $4 a large container it's worth picking some up to keep in the pantry.

Serve this in large, shallow bowls with plenty of the flavorful sauce on the side for dipping and lots of napkins.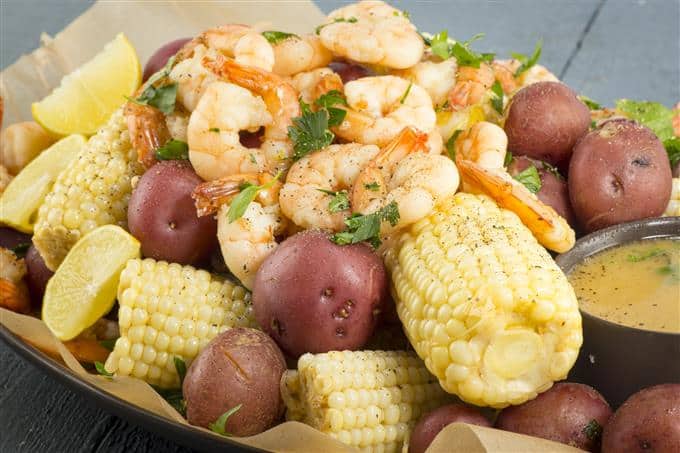 Ingredients
2 lemons, halved, plus wedges for serving
1/2 c Old Bay Seasoning
8 cloves garlic, smashed
1 large red onion, quartered
6 sprigs fresh thyme
1 lb baby red potatoes
4 ears corn, husked and halved
1 lb large shrimp, deveined but unpeeled
2 tbs unsalted butter
2 tbs flat-leaf parsley, chopped
Instructions
Fill a large pot with 4 quarts of water and bring to a boil. Squeeze each lemon half into the water and add the Old Bay Seasoning, garlic cloves, red onion quarters, and thyme sprigs. Reduce heat, cover and simmer for about 5 minutes.
Add the potatoes and boil until just tender, about 15 minutes. Add the corn and cook until tender, about 5 more minutes.
Add the shrimp and cook until opaque and beginning to curl, about 2-3 minutes.
Using a slotted spoon, transfer the shrimp and vegetables to a large bowl. Toss with the butter and about 1 cup broth until the butter is melted. Transfer the shrimp and vegetables to a parchment-lined platter, sprinkle with parsley, and serve with the buttery broth and additional lemon wedges on the side.
Nutritional Information
Calories 379
Fat 10g
Saturated Fat 5 g
Cholesterol 225 mg;
Sodium 735 mg
Carbohydrate 41 g
Fiber 9 g
Protein 30 g
https://www.homesweetjones.com/2015/06/easy-home-shrimp-boil/