This is the first Summer in years we haven't bought season tickets to the Hollywood Bowl. Between my work schedule and saving for a new property it seemed like the smart move and so far I haven't missed it. We're still planning to catch a few shows but don't have every weekend planned.
The Hollywood Bowl is one of my all-time favorite venues. A giant, open-air amphitheater at the base of the Hollywood Hills it looks stunning and has a very relaxed atmosphere. It also attracts tons of local talent. Best of all, the Summer concerts allow you to bring your own wine and beer. Usually we'll picnic before a show but, on special occasions, we eat at the fancy wine bar just inside the entrance.

This salad was inspired by a dish from that wine bar and the flavors capture the easy elegance of an evening at the Bowl – fresh tomatoes and cucumber, sweet melon, creamy burrata, refreshing mint and just a hint of finishing salt and dressing to tie it all together.  It's a surprisingly wonderful combination.
The simpler the recipe, the more important the quality of ingredients so use the freshest produce you can find.
This salad takes only a few minutes to prepare but has layers of flavor that make it a great beginning to an impressive summer meal or a simple, light lunch.  Paleo and gluten-free, it should meet most guests' dietary requirements.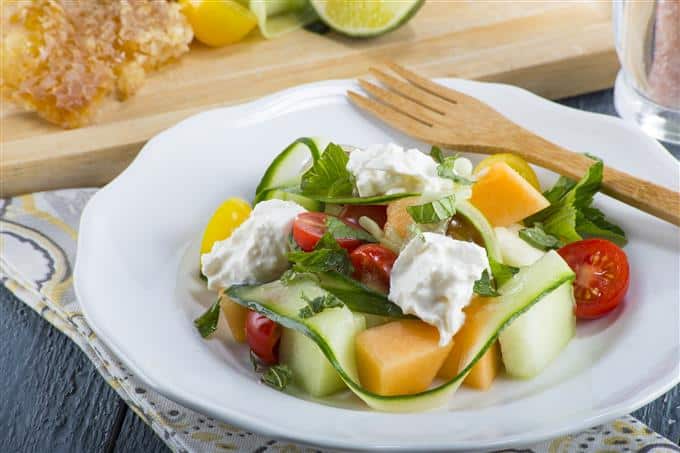 Ingredients
1/2 English cucumber
1 pint heirloom tomatoes, 1 inch dice or halved, if small
1/2 cantaloupe, 1 inch dice
1/2 honeydew, 1 inch dice
4 oz burrata
2 tbs fresh mint, chopped
coarse kosher or pink Himalayan salt



Dressing

1 tsp yogurt
1/2 tsp honey
1/2 tsp olive oil
1/2 tsp lime juice
water to thin, as needed
Instructions
Combine dressing ingredients and set aside.
Use a vegetable peeler to create thin ribbons of cucumber.
Combine cucumber ribbons, tomato, cantaloupe and honeydew in a large bowl and divide between 4 plates.
Dollop each plate with 1 ounce of burrata, sprinkle with fresh mint an a generous pinch of salt.
Drizzle with a small amount of dressing and serve.
Nutritional Information
Calories 135
Total Fat 8.0g
Saturated Fat 4.2g
Trans Fat 0.0g
Cholesterol 20mg
Sodium 99mg
Potassium 372mg
Total Carbohydrates 9.0g
Dietary Fiber 1.8g
Sugars 6.6g
Protein: 6.5g
Weight Watchers Points: 3
PointsPlus: 3
https://www.homesweetjones.com/2015/06/heirloom-tomato-melon-burrata-salad/