In May, Brad and I experimented with three different interpretations of Pollo Asado: Mexican, Cuban and Peruvian.  While all were delicious and will be shared here soon, the Peruvian chicken was the favorite at Chez Jones. The crispy skin and moist, flavorful meat guarantee we'll be making it again soon.
I've cooked chicken on a beer can on the grill many times in the past but this was my first experience in the oven.  It worked just as well keeping the meat moist while the outside became crispy.
While you'll want to marinate the chicken overnight for maximum flavor, the actual active time for this recipe is minimal.
The chicken is gluten-free and paleo-friendly.  We turned it into a Peruvian feast with rice, black beans, baked yucca in garlic sauce, and a side of Peruvian mayonnaise (you can make your own by flavoring your favorite mayo recipe with lime juice and aji chile).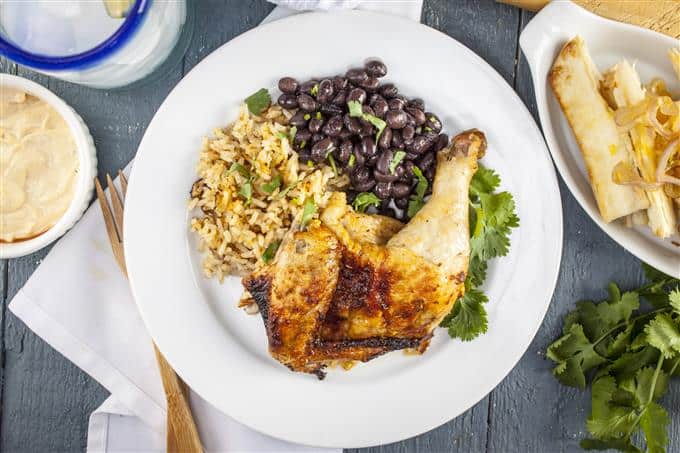 Ingredients
2 tbs olive oil
2 tbs lime juice
4 garlic cloves, crushed
1/4 c mint leaves
1 tbs dried oregano
2 tsp kosher salt
2 tsp cumin
2 tsp smoked paprika
1 tsp freshly ground black pepper
zest of 1 lime
1 habanero chile, seeds removed, more or less to taste (can substitute serrano or jalapeno)
1 4-4.5 lb chicken
1 can beer
Instructions
Place olive oil, lime juice, garlic, mint, oregano, salt, cumin, paprika, pepper, lime zest and chile in a blender or food processor. Puree until smooth, about 10-20 seconds.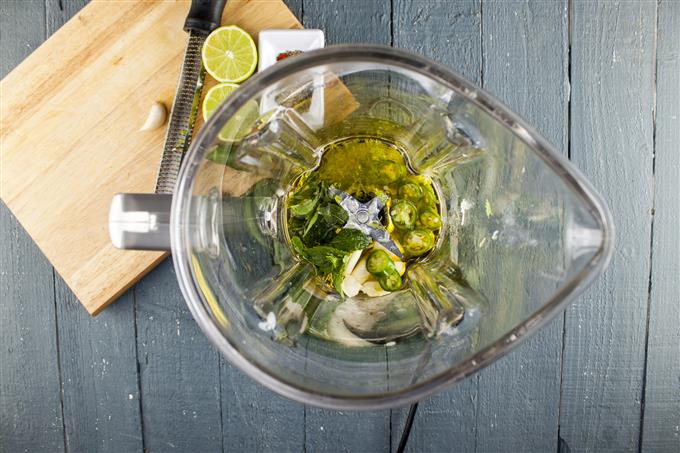 Rub the paste on the chicken both over and under the skin.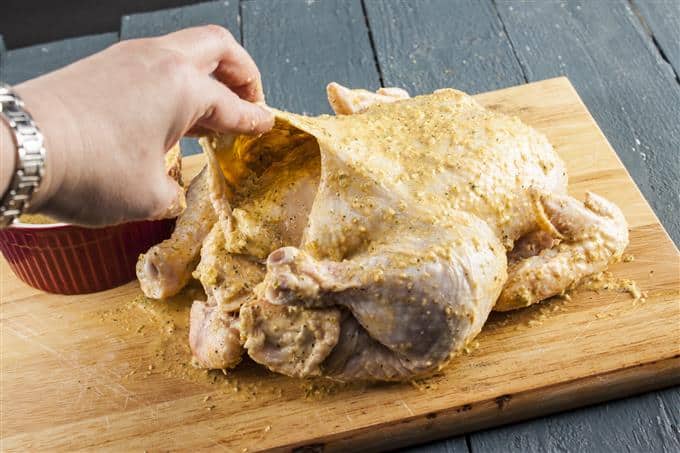 Place the chicken in a large zip-lock bag and refrigerate for at least 4 hours or overnight.
Preheat the oven to 325F and place the oven rack in the lowest position.
Drink half the beer and center the can in a roasting pan or large braiser. Position the chicken so that it is upright with the beer can is inside the cavity.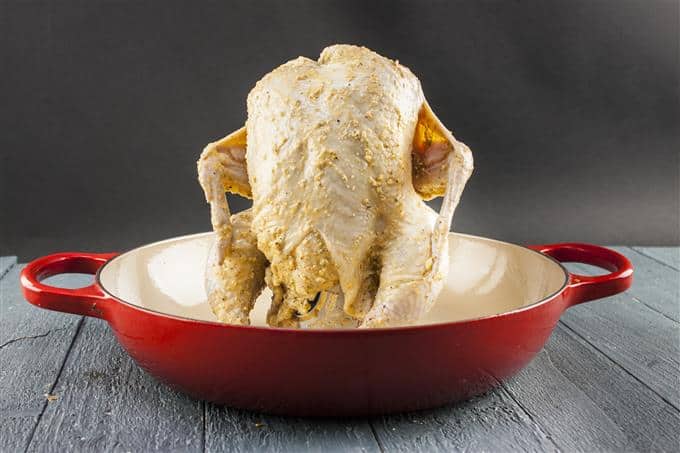 Cook until an instant-read thermometer inserted into the breast reads 140F, about 50 minutes.
Remove the chicken carefully and increase the oven temperature to 500 F.
When the oven reaches 500F, pour a cup of water in the pan and return the it to the oven. Continue roasting the chicken until its internal temperature reaches 165F. Let rest 5-10 minutes before serving. Remember that the beer can is hot.
Nutritional Information
Calories 215
Calories from Fat 75
Total Fat 8.4
Saturated Fat 2.3
Polyunsaturated Fat 2.0
Monounsaturated Fat 3.0
Cholesterol 101mg
Sodium 97mg
Potassium 276mg
Carbohydrates 0g
Dietary Fiber 0g
Sugars 0g
Protein 32.8
https://www.homesweetjones.com/2015/06/peruvian-pollo-asado/