We had gluten-free guests over for lunch and I knew I wanted to make our favorite salmon crab burgers (these pictures desperately need to be updated – I promise they're more delicious than they look).
Baked sweet potato fries are my favorite thing to serve on the side of these heavenly burgers, but the only way I know to make them crispy in the oven is to make a light batter with gluten-y flour. It turns out this isn't just my technique – all the packaged varieties also contain gluten in the coating to help crisp them.
Determined not to compromise on either the baked, crispy, or gluten-free requirements I spent the weekend before the lunch testing a variety of different recipes and techniques.

A light coating of egg whites and coconut oil turned out to be the perfect solution. Be sure to whip up the egg whites first to ensure a light, crispy batter. I was worried at first that my coconut-hating husband would protest to the use of coconut oil but he never tasted it and, until now, had no idea it was in there.  You could swap for another oil but I found that the fries made with saturated fat were a bit more crispy.

Even after baking 5 test batches of sweet potato fries we had no problem taking these down – they're that delicious.
I serve these with Trader Joe's amazing organic ketchup mixed with a little chipotle for a spicy kick that was the hit of our lunch.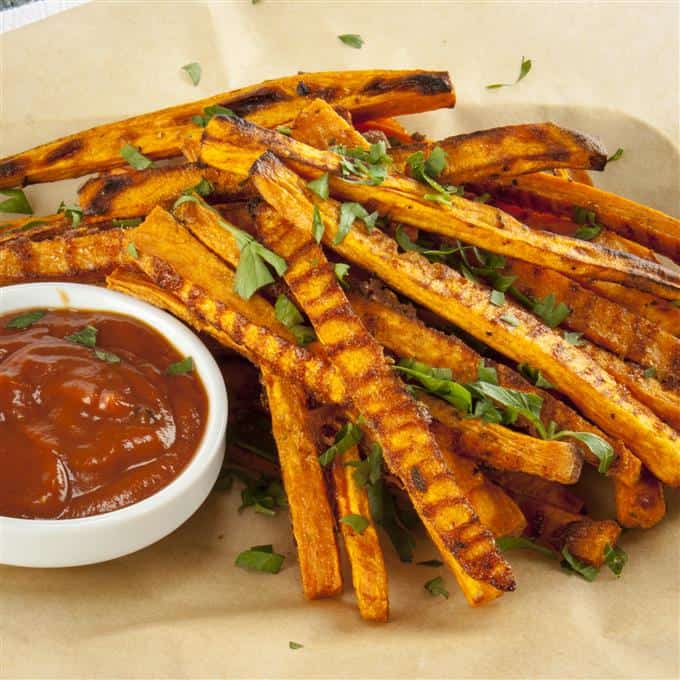 Ingredients
2 medium sweet potatoes, scrubbed clean and dried
1 egg white
1 tbs coconut oil
1/2 tbs cajun seasoning, more or less to taste
Instructions
Preheat oven to 450F.
Cut sweet potatoes into 1/4 - 1/2 inch batons, keeping the size as consistent as possible for easy cooking.
Whip egg white until soft peaks form. Stir in coconut oil and cajun seasoning.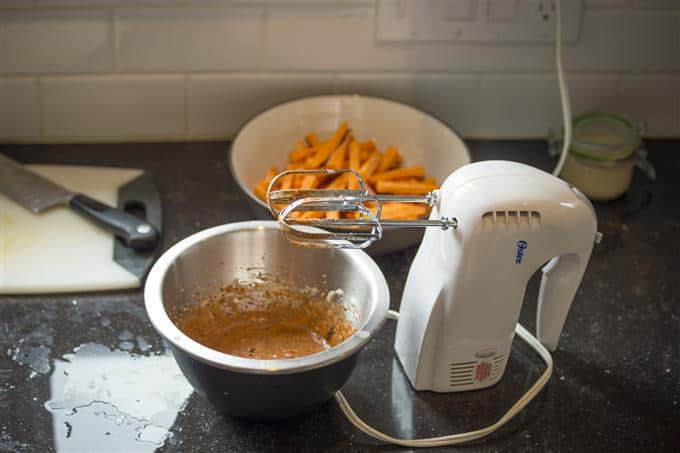 Toss sweet potato batons with egg white mixture until well coated.
Cover a baking sheet with parchment paper and spread the sweet potatoes in a single layer. Give them space so they don't steam.
Cook until centers are soft and outsides are crispy, about 12-15 minutes, turning halfway through.
https://www.homesweetjones.com/2015/07/baked-sweet-potato-fries-actually-crispy-gluten-free/