Every year we make a point to see every Shakespeare in the Park performance in Griffith Park.  Our local Independent Shakespeare Company does some of the most creative and entertaining stagings of classics I've ever seen.  We've been going for about 5 years now and their shows are always among the highlights of our summer.
This year we've been going early and spending a few hours hiking in the hills of the park before the show.  When we get back this is exactly the kind of dish we want to dig out of our picnic blanket. 
As I've mentioned many times on this blog, Brad and I are huge Susan Feniger fans so it wasn't a hard decision to try her Moroccan Carrot Salad with Spicy Lemon Dressing even though I've never really been crazy about carrot salad. Our instincts were right – this salad is nothing like the sweet and soggy carrot salads I'm used to.  The harissa and lemon of the dressing adds so much flavor and complexity to the crisp carrots. The salty feta and sweet carrots balance everything without being overpowering. It's amazing that so much flavor can come out of such a simple recipe.
I'm not the only one who thought so – Brad couldn't get enough of this salad and was happy to take the leftovers for lunch the next day.
I use DEA harissa paste that I buy from Amazon. It's super spicy but one tube has lasted 2 years.
Give this a try for an exotic twist at your next picnic or barbecue – or just serve it on the side of your favorite Moroccan dish. However you enjoy this salad I know you'll be blown away by the bold flavors that can fit in a 5 minute, 105 calorie dish.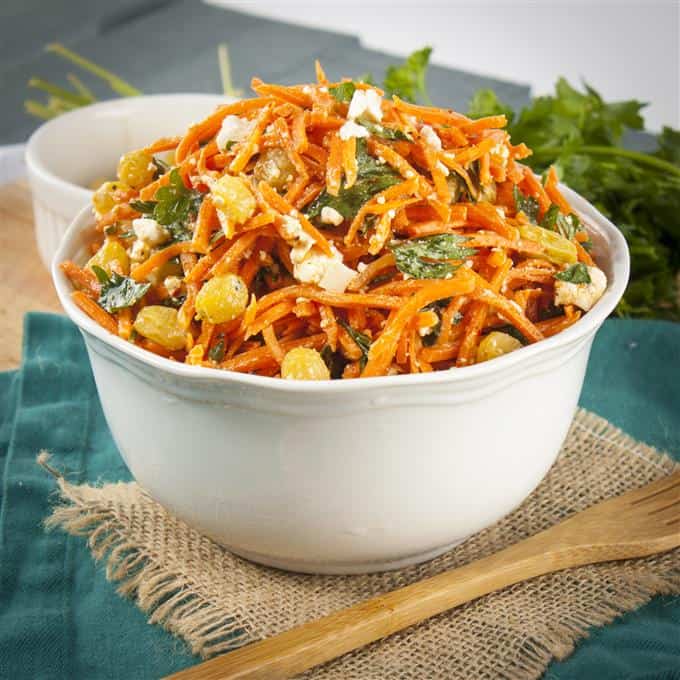 Ingredients
1 lb carrots, julienned or coarsely shredded
1/4 c golden raisins
1 c flat-leaf parsley, coarsley chopped
4 oz light feta, crumbled (I use Trader Joe's)



Dressing

1 tbs harissa paste, more or less to taste I use DEA
3 tbs lemon juice
2 tbs extra-virgin olive oil
Salt and freshly ground black pepper
Instructions
Combine dressing ingredients in a large bowl and whisk to combine.
Add the carrots, raisins, parsley and feta and toss well.
Let sit 20-30 minutes before serving.
Nutritional Information
Calories 105
Total Fat 5.8g
Saturated Fat 1.4g
Trans Fat 0.0g
Cholesterol 3mg
Sodium 348mg
Potassium 307mg
Total Carbohydrates 9.1g
Dietary Fiber 2.2g
Sugars 4.0g
Protein 4.4

https://www.homesweetjones.com/2015/08/moroccan-carrot-salad-spicy-lemon-dressing/