Perfectly seared sashimi-grade ahi and tender-crisp rapini drizzled with a sweet-tangy reduced balsamic vinegar over creamy polenta is simultaneously light and decadent.
This was my very first original recipe developed about 15 years ago after being inspired by something similar at an Italian restaurant in Santa Monica. A decade and a half later it's still one of my favorites.
Brad and I served this at our first dinner party about 12 years ago and it was a hit. For such an elegant dish it's surprisingly easy to prepare. The balsamic vinegar can be reduced in advance and just warmed before serving. Similarly, both the rapini and polenta can sit for a bit so you can quickly sear the ahi distraction-free.

As a fancy, slightly higher-effort variation, refrigerate the cooked polenta in a 13×9 glass baking dish for a few hours, then cut into triangles and grill or pan fry in butter until crisp on the outside.  If you leave the polenta soft as I did here, however, this is easy enough for a weeknight at home. And – as decadent as it tastes -is healthy enough to keep in regular rotation.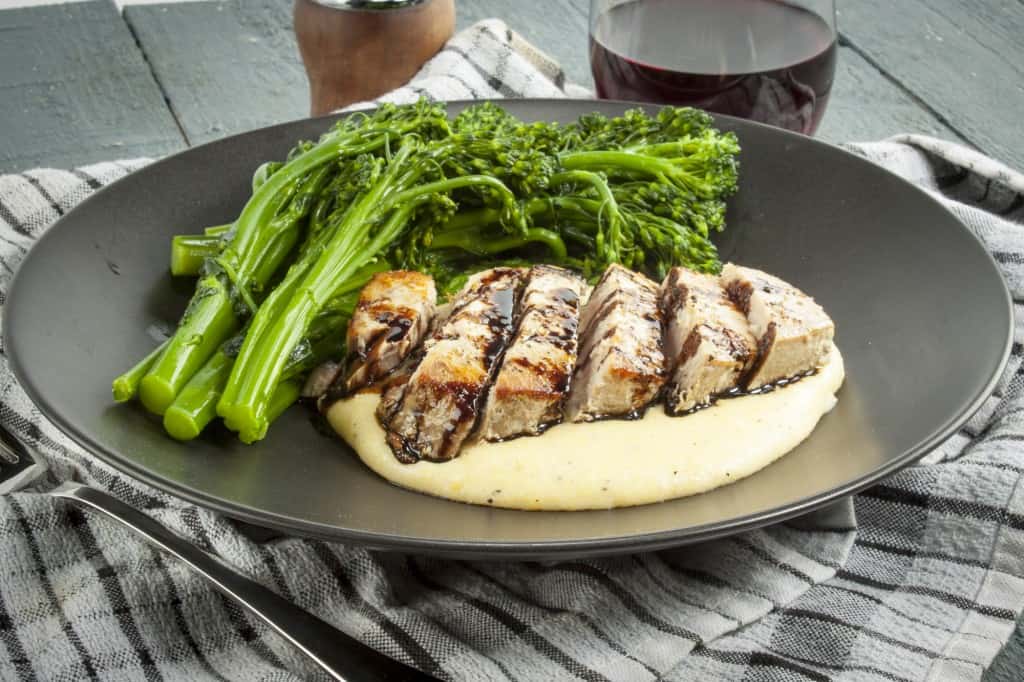 Ingredients
1 c balsamic vinegar
1 lb rapini (can substitute brocolini or baby broccoli)
4 6-oz ahi tuna steaks, room temperature
salt and freshly ground black pepper
1 tbs olive oil



Polenta

4 c low sodium chicken broth
1 c corn meal
1 oz Parmesan cheese
salt and lots of freshly ground black pepper, to taste
Instructions
Prepare Polenta: Bring chicken broth to a boil and slowly whisk in corn meal. Reduce heat and simmer until polenta is thick and soft, 15-20 minutes. Stir in Parmesan and season with salt and lots of freshly ground black pepper. Set aside and keep warm.
Prepare Reduced Balsamic Sauce: Meanwhile, bring balsamic vinegar to a roiling boil in a small pot over medium heat. Reduce until vinegar has the texture of syrup and coats the back of a spoon. Watch it carefully to ensure it doesn't burn.
Steam Rampini Place rapini or substitute in a large microwave-proof bowl, add 1-2 tsp,and cover tightly with plastic wrap. Microwave 90 seconds. Continue to microwave checking at 30 second intervals until the vegetables are bright green and tender-crisp. Be careful when removing the plastic wrap.
Sear the Ahi: Turn on the range hood fan as this will be smoky.
Season room temperature ahi steaks with salt and pepper. Heat oil in a heavy-bottomed pan over high heat until just beginning to smoke. Add ahi and cook about 1 minute on each side. Transfer to a cutting board and let them sit at least 5 minutes before slicing.
Serve: Spoon Polenta on a plate and place sliced ahi on top. Serve with rapini on the side and drizzle with reduced balsamic.
Nutritional Information
Calories 419
Total Fat 7.9g
Saturated Fat 2.2g
Trans Fat 0.0g
Cholesterol 80mg
Sodium 236mg
Potassium 502mg
Total Carbohydrates 36.3g
Dietary Fiber 5.9g
Sugars 2.2g
Protein 51.1g

https://www.homesweetjones.com/2015/09/seared-ahi-reduced-balsamic-rapini-polenta/