Classic Niçoise flavors of tuna, eggs, tomatoes and olives combine with refreshing cucumber and tangy-rich artichoke in a rustic but elegant sandwich.
I'm only a little embarrassed to say that this sandwich was inspired by a similar-looking roll in a magazine ad for bottled water:


Tasty-looking, yes?
This is a variation on a pan-bagnat, a traditional sandwich from the Niçoise region of France. It's pretty much a Niçoise salad stuffed into bread which, since bread makes everything better, makes it even more awesome.

I love the rustic presentation – somehow the simplicity makes these even more elegant. We had these accompanied by only a crisp Sauvignon Blanc and felt positively fancy despite having canned tuna-salad sandwiches for dinner. At only 20 minutes from fridge to table we'll be having these again soon.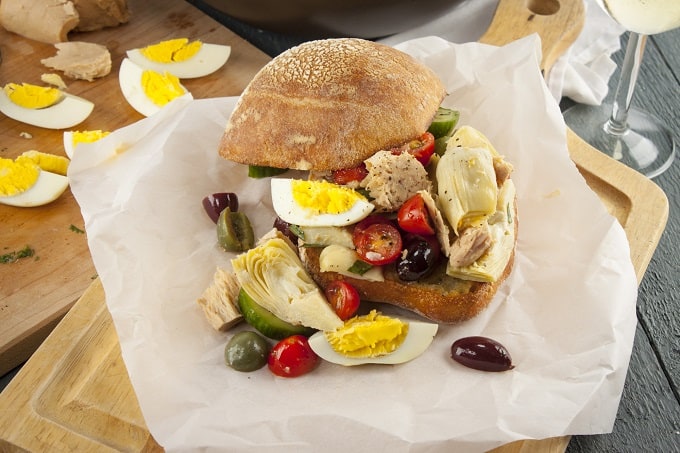 Please note that, because of the wide variety of bread options available, the nutritional information excludes the roll. If tracking your nutritional data, add the stats for the bread separately.
Ingredients
4 large eggs
12 oz grape tomatoes, halved
1/2 cup assorted olives, pitted and halved (I used castelvetrano and kalamata)
1 12-oz can solid white albacore in water
1 14-oz can artichokes in water, halved or quartered if large (I use trader joes)
1/2 English cucumber, cut into half-moons
4 ciabatta or pain rustique rolls
olive oil spray



Dressing

3 tbs olive oil
1 tbs white wine vinegar
1/2 tbs dijon mustard
1 tbs shallot, minced
1 tbs fresh tarragon, finely chopped
salt and pepper, to taste
Instructions
Place eggs in a medium pot and fill with water to cover eggs by one inch. Heat over medium heat until just boiling. Remove from burner and let sit, covered, for 10 minutes.
Meanwhile, whisk together dressing ingredients in small bowl.
Combine tomatoes, olives, tuna, artichoke, and cucumber in a large bowl and gently toss with dressing. Peel and quarter the eggs and add them to the salad.
Slice the rolls in half lengthwise, spray the cut sides with olive oil, and place cut-side up under a broiler for 1-2 minutes until golden brown.
Divide salad among the four rolls and serve.
Nutritional Information
Calories 301
Total Fat 17.6g
Saturated Fat 3.3g
Trans Fat 0.0g
Cholesterol 215mg
Sodium 617mg
Potassium 490mg
Total Carbohydrates 11.4g
Dietary Fiber 2.8g
Sugars 4.3g
Protein 26.3g
https://www.homesweetjones.com/2015/10/rustic-pan-bagnat-nicoise-sandwich/