I'm in Porto for work again this week and have been treated to some exceptionally excellent November weather. This is my first time spending a weekend here and, while I miss Brad madly, it's been nice having a chance to see more of the city than my hotel room and office.  Yesterday I went with a friend for lunch down by the river.  I didn't have a chance to touch up this photo but, for all it was taken with my phone, it barely needs it.  Porto is that stunning.

As much as I absolutely adore Porto much of the cuisine isn't suited for my tastes.  Vegetable preparation is pretty bland as most of the traditional dishes revolve around meat.  In fact, my very first dinner here our host called in advance to make sure the restaurant could accommodate his vegetarian friend – on our arrival the restaurant owner proudly offered a plate of meat with one fish cake for our vegetarian.  Luckily, I eat seafood because the fish really is a highlight in Porto.  I'm about stuffed with salted cod, bread and cheese, though, and am looking forward to some more veggie-centric, heavily seasoned dishes back home – something like this roasted pepper pie.

We made this the first time for a picnic at the Hollywood Bowl. It's excellent travel food since it can be served warm, cold, or room temperature.  It's a great autumn recipe – rich and decadent but still light and flaky, it's a great excuse to turn on the oven and fill your house with the luxurious fragrance of roasted peppers.  This hearty pie of crispy filo crust, creamy feta filling, roasted peppers, and exotic za'atar has become one of Brad's favorites.

Za'atar is a savory Middle Eastern blend of sesame seeds, sumac, salt, and thyme. I like to make my own with the following rations:
3 tbs thyme
2 tbs sumac
2 tbs roasted sesame seeds
1 tbs oregano
1/2 tsp salt
1/2 tsp cumin
If you have extra, try it on this simple 15-minute flatbread.

Serve this vegetarian pie on it's own or with a fresh side salad – arugula, sumac, olive oil and lemon juice perhaps?
I hope you love it as much as Brad and I do!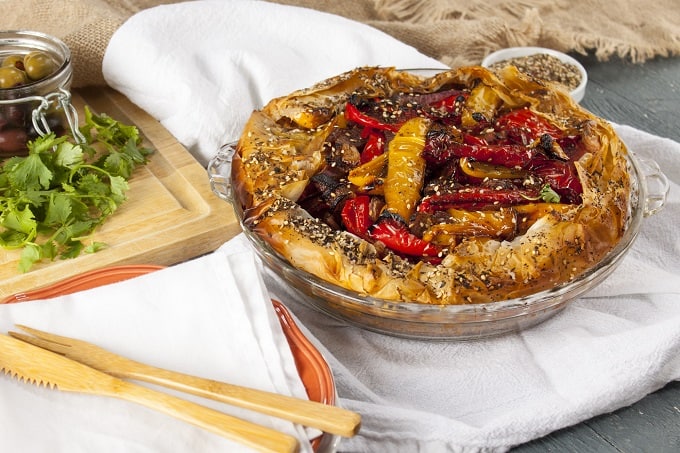 Ingredients
3 red bell peppers, seeded, stemmed, and cut lengthwise into 1.5" slices
3 yellow bell peppers, seeded, stemmed, and cut lengthwise into 1.5" slices
1 red onion, cut in half lengthwise and sliced crosswise in 3/4" strips
2 tbs extra-virgin olive oil
2-1/2 tablespoons za'atar, divided (see recipe above)
1/2 pound thawed frozen filo dough
1/4 cup melted butter
8 ounces neufchatel cheese, room temperature
1/2 cup crumbled light feta cheese
fresh cilantro, optional
Instructions
Preheat oven to 450F.
Prepare the Peppers
Toss sliced peppers and onions with 2 tbs olive oil and spread on a rimmed baking sheet. and sprinkle with 2 tbs za'atar. Roast vegetables, stirring once, until tender and beginning to blacken at the edges, about 30 minutes. Set aside.
Reduce oven to 375F.
Prepare the Crust
Unroll the filo on a work surface and cover with a damp towel to prevent from drying. Brush a 9- or 10-inch glass pie dish with butter. Lay one sheet of filo in the center of the pie dish, letting the edges overhang the edge and brush lightly with more butter. Layer with a second piece of file, slightly rotating to offset from the first piece. Continue layering filo layers lightly buttering between each. Drape the crust with a damp towel.
Prepare the filling
Add softened cream cheese to a large bowl and beat with a mixer until smooth. Stir in feta.
Assemble and Bake
Transfer the feta mixture to the pie and gently spread to evenly cover the bottom of the filo crust. Arrange pepper mixture on top.
Fold the overhanging edges of filo dough over the filling to partially cover the peppers and brush with the remaining butter. Sprinkle with remaining 1/2 tbs of za'atar.
Bake on the bottom rack until the crust if golden brown and crispy, about 40 minutes. Let cool 15 minutes and garnish with cilantro sprigs, if desired. Cut into wedges and serve warm or at room temperature.
Nutritional Information
Calories 372
Total Fat 21.4g
Saturated Fat 9.6g
Trans Fat 0.0g
Cholesterol 41mg
Sodium 764mg
Potassium 250mg
Total Carbohydrates 32.6g
Dietary Fiber 3.4g
Sugars 8.4g
Protein 12.2g

https://www.homesweetjones.com/2015/11/roasted-pepper-feta-filo-pie/