Looking for something fast, hearty, and thrillingly delicious but still easy on the calorie and bank budget? Not anymore! This dish, adapted from the eternally reliable Cook's Illustrated, is everything you could want in a weeknight dish (few ingredients, one pot, minimal prep) but fancy enough for entertaining (exotic flavors, elegant presentation, impressive yumminess).
If you ever need to throw a dinner party on a school night I guess this is the main course.

We must've had a bit of an end-of-season grape glut because our local market has had a great deal on grapes the past few weeks. Weirded out by poultry with grapes? Trust me, it's a spectacular pairing. As proof, I submit to you this and this and, well, the recipe you're about to read right now.

Serve over polenta, rice or pasta or on it's own with a salad and chunk of crusty bread. As is, this dish is gluten-free and paleo-friendly. Oh – and delicious. Don't forget delicious.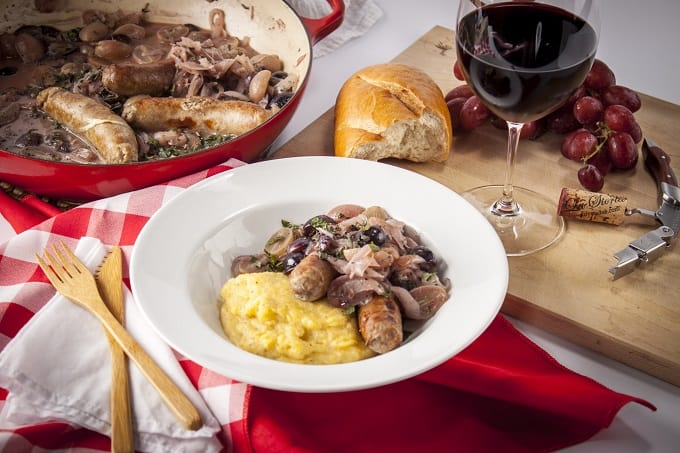 Ingredients
olive oil spray (I use my Misto)
1.25 lbs lean sweet Italian turkey sausage (I use Jenny-o)
1 lb seedless red grapes, halved lengthwise (about 3 cups)
1 onion, halved and thinly sliced
1/4 tsp crushed red pepper, more or less to taste (optional)
1/4 c water
1/4 cup dry white wine
1 tbs fresh oregano, chopped
2 tsp balsamic vinegar
2 tbs fresh mint, chopped
salt and freshly ground black pepper, to taste
Instructions
Heat a large pan over medium heat and spray with oil. Add sausages and cook, turning once, until browned on both sides, about 5 minutes.
Arrange grapes and sliced onions in the pan. Sprinkle with red pepper, if using.
Add water and immediately cover. Cook, covered, until sausage is cooked through and onions are soft, about 10 minutes.
Once sausages have reached an internal temperature of 165F, transfer to a serving plate and tent with foil.
Increase heat to medium-high and cook, stirring occasionally, until grape-onion mixture browns, about 8 to 10 minutes. Season with salt and pepper.
Reduce heat to medium and add wine and oregano. Cook, scraping up any browned bits, until wine is reduced by half, about 1 minute.
Remove from heat and stir in vinegar. Pour grape-onion mixture over sausages and serve garnished with mint.
Nutritional Information
Calories 219
Total Fat 2.8g
Saturated Fat 0.7g
Trans Fat 0.0g
Cholesterol 93mg
Sodium 711mg
Potassium 244mg
Total Carbohydrates 20.7g
Dietary Fiber 3.0g
Sugars 14.9g
Protein 23.7g
https://www.homesweetjones.com/2016/01/rustic-italian-sausage-and-grapes/