Happy 2016! I hope you had an awesome New Year.
This year I surprised Brad with a trip to Catalina for their annual Gala in the Avalon Casino. If you've never been, the casino is a large, beautiful art deco building with a massive ballroom and movie theater that was built in 1927. It's never had any gambling – it's name is based on Italian for public building or gathering place or something. It's an absolutely stunning building and usually the only way to see the ballroom is on a paid tour. It was so special to be able to dress up and party in 20s style.

To make it even more special, we took a helicopter to the island instead of the ferry – spectacular views and so much fun!

If you had a little too much fun over the holidays, this is the perfect dish to start your year off right.
So, I've given this spiel more times than I can count on this blog but shirataki noodles are noodles made from the konjac yam. They're vegan, gluten-free and, best of all, calorie free. OK, maybe the real best part of all is that they're absolutely awesome in Asian-based recipes. This shirataki recipe is extra special because, unlike most of my others where the shirataki noodles are a substitute for a more traditional but higher calorie noodle, they're actually the original intended star of the dish.

This recipe was adapted from my hero Kenji over at Serious Eats. I of course had to lightify it to be New Years resolution appropriate – under 300 calories a hearty serving. Over half the calories are from the tahini (sesame paste) so if you add less you'll lighten it up even more.

This noodle salad is refreshingly tasty and super easy to make. It only takes a few minutes to rinse the pasta and mix the dressing.

If you can't find shirataki noodles at your market, I have mine on Amazon Subscribe and Save. Or go directly to the Miracle Noodle site and use coupon code AFF10MN for 10% off.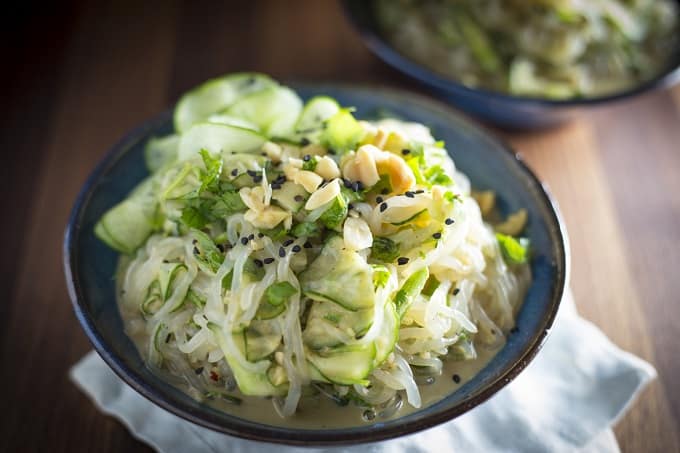 Ingredients
1 tbs canola oil
1 tsp red pepper flakes
1 tbs Sichuan peppercorns
4 7-oz bags shirataki noodles, drained
1 medium hothouse cucumber, peeled, seeded and thinly sliced
1/2 cup scallions, sliced
1 cup cilantro, chopped
1 tbs garlic, minced
1 tbs fresh ginger, minced
1/2 c tahini
2 tbs white vinegar
1 tbs balsamic vinegar
2 tbs soy sauce (use tamari for gluten-free)
3 tbs sugar
Instructions
Heat the oil in a small saucepan over medium heat until shimmering.
Place the red pepper and Sichuan peppercorns in a mug or other heatproof container and pour the hot oil over the spices. Set aside at least 5 minutes to let the oil infuse.
Meanwhile, rinse shirataki noodles in a strainer with cool water for 30 seconds. Transfer to a large bowl and add sliced cucumbers, scallions, and cilantro.
In a small bowl, combine garlic, ginger, tahini, vinegars, soy sauce and sugar. Strain the oil and whisk into the dressing.
Toss noodles with dressing. Garnish with chopped peanuts and sesame seeds, if desired.
Nutritional Information
Calories 294
Total Fat 20.8g
Saturated Fat 2.3g
Trans Fat 0.0g
Cholesterol 0mg
Sodium 457mg
Potassium 137mg
Total Carbohydrates 22.7g
Dietary Fiber 6.0g
Sugars 16.4g
Protein 8.1g
https://www.homesweetjones.com/2016/01/sichuan-shirataki-cucumber-sesame-noodle-salad/