If you're planning a football party and want to keep the menu veggie-based, this amazingly authentic pulled-pork-style barbecue jackfruit is just the thing. Vegan, gluten-free and delicious, it will satisfy even picky meat eaters.
When I was done testing this recipe I debuted it at a tailgate before a Kenny Chesney concert at the Rose Bowl. Brad and I were at the end of a gluten-free vegan week and I wanted to keep it going despite our tailgate plans.
It ended up being a sweltering day in the triple digits – not unusual for LA even in autumn. Our group had the foresight to bring a tent for shade but the folks next to us were not as prepared. Rather than watch them slowly die of heat stroke we invited them to share our shade and feast. The first girl who tried this pulled-jackfruit couldn't believe it was vegan. She ran it over to her husband and asked him to "taste this tri-tip." He took a bite, gave it a nod of approval, and got back to chatting with his friend. She ran back squealing with joy that he'd believed it was tri-tip.
I've personally never had tri-tip – or any real meat barbecue for that matter – but I take that as the ultimate seal of approval: strangers at a Kenny Chesney tailgate believed this was meat.
There are two critical ingredients to this recipe: jackfruit and really excellent barbecue sauce.

You can find canned jackfruit at some Asian markets – especially Southeast Asian. I found it for $2.29 a can at our local Indian market. Be sure to get green jackfruit in brine – there's also ripe jackfruit in syrup that will not work for this dish.  Just cut out the dense core and the remaining fruit has a very meaty texture that absorbs the flavor of whatever sauce you use.

Regarding the BBQ sauce, Gates is my all-time favorite. It's vegan, gluten-free and has SO MUCH FLAVOR it makes me crazy. I'm not affiliated with them in any way except that I give them a lot of money. The only place I can find it IRL is at a chain called Barbecues Galore but you can also buy it on their site or from Amazon (yay Prime!). Of course, if you already have a family favorite it will shine in this recipe.

This is a hit served with cole slaw and potato salad made with my favorite vegan mayonnaise. As an added bonus – especially for entertaining – it's at least as good when prepared in advance. Just reheat when you're ready to serve.
For another great vegan jackfruit recipe, try my jackfruit tortilla-style soup over at cancerv.me.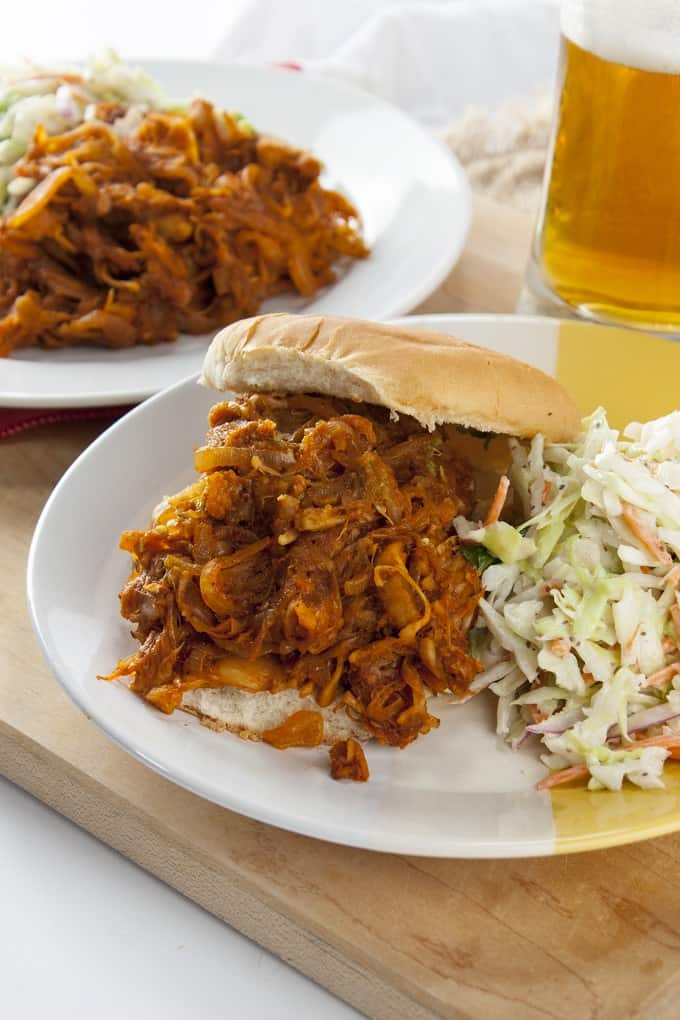 Ingredients
2 20-ounce cans young green jackfruit in brine
1 tbs oil
1/2 onion, finely sliced
2 Tbsp brown sugar
2 tsp smoked paprika
1 tsp garlic powder
1/2 tsp freshly-ground black pepper
1/2 tsp chili powder
1/2 c vegetable broth
1 cup BBQ sauce, divided
additional salt and black pepper, to taste
Instructions
Drain and rinse the jackfruit. Cut out the dense inner core and discard. Transfer remaining fruit to a large bowl and toss with brown sugar, smoked paprika, garlic powder, black pepper, and chili powder.
Heat oil in a large skillet over medium heat. Add thinly sliced onion and saute until translucent, about 5 minutes. Add jackfruit and cook, stirring, until jackfruit is beginning to brown, about 3-4 minutes.
Add vegetable broth and 3/4 cup BBQ sauce. Reduce heat and simmer, uncovered, 30 minutes or until sauce has thickened. Stir occasionally using the spoon to break apart the jackfruit chunks as they soften.
Season to taste. Shred the jackfruit with two forks and top with additional BBQ sauce, if desired.
Nutritional Information
Calories 198 Total Fat 3.7g
Saturated Fat 0.5g
Cholesterol 0mg
Sodium 743mg
Potassium 68mg
Total Carbohydrates 36.4g
Dietary Fiber 15.1g
Sugars 10.1g
Protein 4.1g

https://www.homesweetjones.com/2016/01/vegan-bbq-pulled-pork-style-shredded-jackfruit/