I can't believe April is almost over. The last few months have flown by in a blur – a trip to Italy, two snowboard trips, a new job for me, enormous progress finishing our home remodel… it's been crazy but incredibly fun and productive.
Now that the days are getting longer we're ready to nest at home a bit. One of our winter projects was building a patio in the backyard and we've loved spending the evenings outside.

This dish is just the thing as the days get warmer. Coconut shrimp always taste like vacation to me but this baked version won't put a crimp in any swimsuit plans. While the shrimp are baking whip up a simple side like a salad, fries, or corn on the cob. In this case, I made a quick slaw of shredded jicama, cabbage, and red pepper in a lime and yogurt dressing.
Marmalade and mustard is my go-to dipping sauce for coconut shrimp. It's embarrassingly easy but, as much as I'd like to make something fancy and elaborate, this pairing really can't be improved upon. Seriously, whatever coconut shrimp recipe you end up using, make this sauce.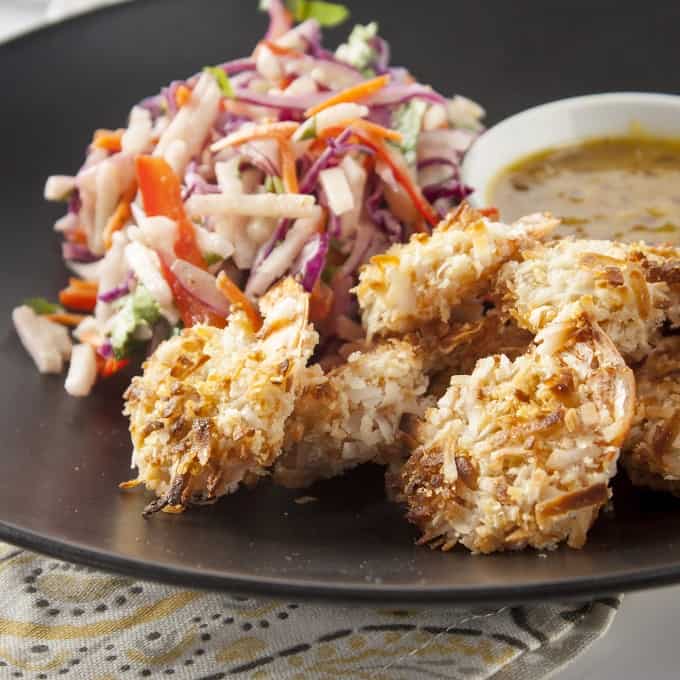 Ingredients
1 pound large shrimp, peeled and deveined
1/3 cup cornstarch
1 teaspoon salt
3/4 teaspoon cayenne pepper
1/2 tsp freshly ground black pepper
3 egg whites
2 cups coconut flakes



Orange Mustard Dipping Sauce

1/4 c marmalade
1/4 c Dijon mustard
Instructions
Preheat oven to 400F.
Combine cornstarch, salt, cayenne and black pepper on a plate. Beat egg whites in a small bowl until foamy. Spread coconut flakes on a separate plate.
One at a time, dredge shrimp in the cornstarch mixture, dip in egg whites shaking off excess, and roll in the coconut being sure to press flakes into the shrimp so they are well-covered. Place shrimp on a parchment-lined baking sheet.
Bake, flipping once, until shrimp are cooked through and coconut is golden brown, about 15-20 minutes.
Meanwhile, mix together dipping sauce ingredients in a small bowl. Serve shrimp with dipping sauce on the side.
Nutritional Information
Calories 348
Total Fat 14.1g
Saturated Fat 11.9g
Trans Fat 0.0g
Cholesterol 162mg
Sodium 946mg
Potassium 222mg
Total Carbohydrates 32.5g
Dietary Fiber 4.5g
Sugars 14.8g
Protein 26.2g

https://www.homesweetjones.com/2016/04/gluten-free-baked-coconut-shrimp-orange-mustard-dipping-sauce/